WEST FRANKFORT — The Old King Coal and Coal Miners Memorial Park committees, along with Pride Committee, honored Dr. Andrew Wilton Springs, of Dewmaine, on Wednesday at a ceremony in Coal Miners Memorial Park.
A brick honoring Dr. Springs was placed in the park.
Springs was honored for heroic deeds that saved many lives on Oct. 27, 1914, during a gas explosion at Royalton North No. 9 Mine, which was located about 3 miles from Miners Cemetery at Royalton. Springs, who was half Comanche and half black, was one of 40 to 50 doctors at the mine that day.
Springs insisted on going into the mine with a pulmotor, an early version of a respirator. Deep in the mine, he and his team resuscitated man after man, some of whom had been left for dead.
The event also served as a birthday celebration. Wednesday was the 150th anniversary of Springs' birth and the 94th birthday of Dayton Franklin, a special guest at the ceremony. Franklin was a former member of Springs' Boy Scout troop.
Springs started the first African-American Boy Scout Troupe in the nation. The Colp-Dewmaine Troop became integrated and was the first Boy Scout Troop in Southern Illinois.
Jim Gentile, of the Colp Pride Committee, served as emcee for the event. He told the audience this event would be a "neighborhood event" instead of a formal event.
"It's hard to express how much we appreciated what Old King Coal Committee has done by honoring Dr. Springs with this brick," Gentile said.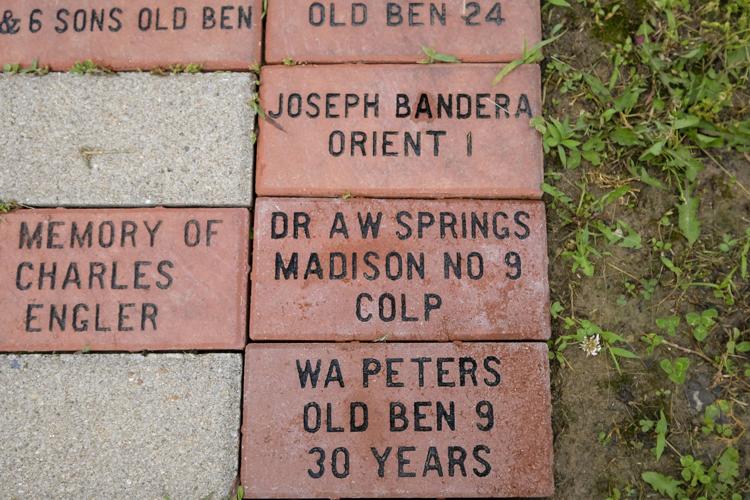 Gentile introduced Herrin Mayor Steve Frattini, Colp Village Trustee Marcella Clark, 2019 Old King Coal Paul Wilburg and Steve Sawalich, president of the Old King Coal Committee. Sawalich had never heard of Dr. Springs and his heroic actions until he was asked to participate in a ceremony to honor Springs last year in Royalton.
You have free articles remaining.
After Sawalich and other members of the memorial committee learned about Springs, they knew he needed to be honored as a part of Coal Miner's Memorial Park.
Franklin called Springs a mentor and friend.
"He was a wonderful man," Franklin said. "I can talk until I'm blue in the face, and I couldn't cover all the things this man did when he was here with me." 
He said Springs used to walk to No. 9 and then to Carterville from his office in Dewmaine for Boy Scout meetings. Franklin said sores were a problem in those days and it was not uncommon for a person to get a sore that would not heal. He said Springs made a salve from a stump in the woods that would heal those sores.
"I am honored to be able to talk about and honor this man who is so important to me," Franklin said.
Franklin said Springs had a lot of influence on him and his advice made sense.
"Some of those who knew him didn't appreciate him, maybe because of his color. Color did not mean anything to Dr. Springs. To him, everybody was a human being," Franklin said.
The event ended with two birthday cakes, one for Spring's 150th birthday and another for Franklin's birthday.
Sawalich also told the crowd that Coal Miners Memorial Park Committee is working on a new memorial to honor the men who died in the Orient Mine explosion on Dec. 21, 1951. It will be a 6-foot-tall black granite monument. The committee is accepting donations to help with the project.
Donations can be sent to OKC, P.O. Box 242, West Frankfort, IL 62896 or through the committee's Go Fund Me page, Old King Coal Monument Fund.