COBDEN — When she returned from summer break to begin her senior year at Cobden High School last year, Alejandra Lopez was surprised that her class schedule included the words "Guitar Building."
"Sometimes, the school just places you in classes and you have the choice of switching it to another one," she explained. On the first day of class, the high school's art teacher, Jeremy Crawford, informed about a dozen students that if they elected to stay in the class, they would be attempting something that students here had never tried before.
"I was like, 'OK, you know what, I'm just going to stay in this class and see how it goes,'" Lopez said she told herself at the time.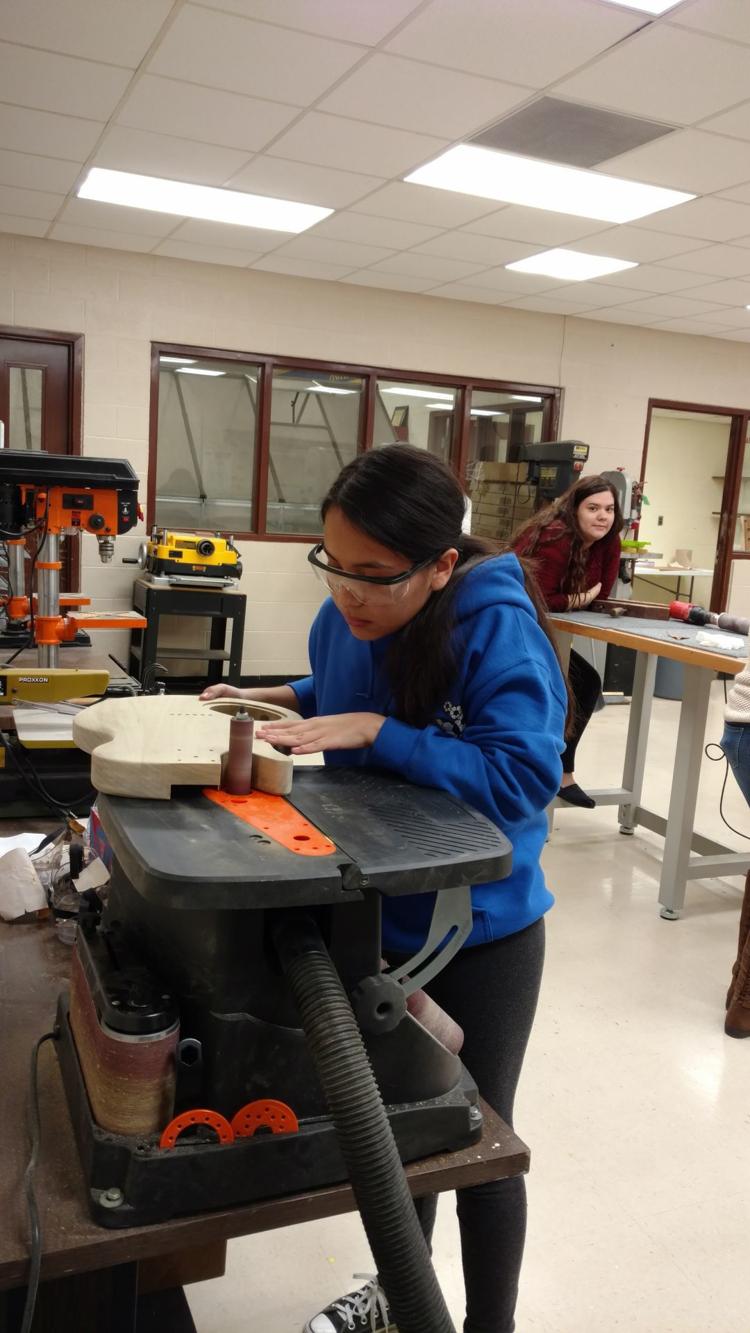 About eight months later, she had fully constructed her own custom electric guitar. She personalized her instrument by hydro dipping it in a swirl of vibrant purple, yellow, orange and pink paints.
"It's kind of still surreal knowing that I made a guitar," said Lopez, who is 18 and graduates on May 17.
About a year ago, Edwin Shoemate, the superintendent at Cobden Unit School District, was flipping through a monthly magazine he receives geared toward school administrators when he was struck by a piece on the National Science Foundation STEM Guitar Project.
STEM is an acronym for science, technology, engineering and math. The project combines lessons in these subjects with art and design. The creative class has pushed to transform the household STEM acronym into STEAM — with the added "A" for art — noting that art and design are also critical to building a diverse 21st century economy. 
Because this hands-on project combined so many learning opportunities for students, Shoemate said he thought it was just the kind of unique offering that would be a good fit for Cobden High.
"When I see neat things that I think would be good for our kids, or something different that's not typically seen in a high school or grade school, I try to find someone who might be willing to implement the project," he said. Shoemate reached out to Crawford, the high school art teacher, and he thought it was a great idea, too. 
Over the summer, Crawford spent five days at a workshop in Las Vegas during which he built his own electric guitar while learning how to relate the design-build process to specific classroom lessons. The school's expenses for Crawford's training were minimal. The National Science Foundation provided the classroom training, and offered a stipend that covered his lodging and meals. The district paid his airfare.
Ten students completed the guitar project at Cobden High this spring. It took students most of two semesters to finish. In the future, Crawford said he hopes that students can complete it in one semester to allow for more participation. There was a learning curve with the first class, however, both for the students and their teacher.
"It is very complicated," he said. "I didn't only teach it, I learned a lot."
Additionally, the students helped their teacher assemble new shop equipment that was needed for the project. That added to the completion timeline, but also served as a bonus experience for them.
At the start of class, each student received a guitar kit from the National Science Foundation STEM Guitar Project. The kits, which are assembled by community college students, contain all the materials the students need to build their instruments. "Once I handed out these kits, they were like, 'Wow, we're really doing this,'" he recalled. The students designed the form and shape of their own guitars, and cut them out on a bandsaw. After sanding and finishing their shaped wooden pieces, the students chose either a hand-rubbed oil for a natural finish, or hydro dip for creating swirled paint designs.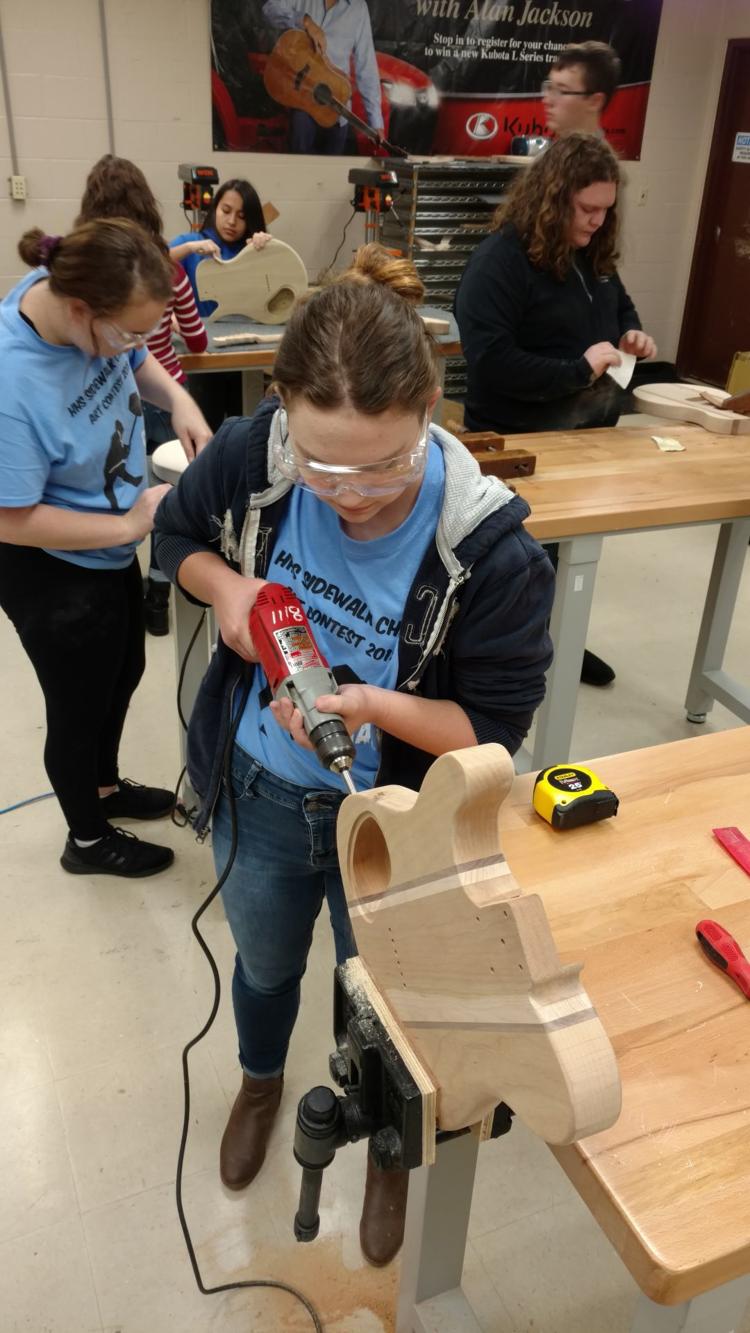 From there, they turned to soldering components and building, essentially, a  complete circuit for an electric guitar from scratch. Most students had little to no experience with woodworking, wiring and soldering, he said. Some were intimidated by the more complicated steps. A few of the students in the class had individualized educational plans, which are developed when a student has a disability to ensure they receive specialized instruction.
"I had a couple of kids that felt really overwhelmed through a lot of the class," Crawford said. "But they pulled through, and I did not do anything for them. I decided they were just going to have to learn on their own."
Afterward, all of the students felt a great sense of accomplishment, Crawford said. Lopez confirmed that was true for her. Lopez said she encourages students coming up behind her to sign up and give it a try.
"This is a class where you can just really bring out your creativity and also learn some really interesting procedures that go around building a guitar," she said. Lopez said she loved the hydro dipping process the most.
It involved filling a large container with water, swirling special oil-based paints inside and then dipping the guitar into the mixture. Lopez said she practiced with scrap wood first, because a mistake would mean she'd have to sand down her guitar and start over — a long process she hoped to avoid. Lopez has never had any guitar lessons, but she plans to teach herself how to play at least two songs this summer before she begins classes this fall at Shawnee Community College. The students were able to keep their guitars. 
The kits cost about $220 each; they were funded by federal grant funds made available because of Cobden's classification as a "Title" school that serves a large percentage of students whose families are low-income, according to Shoemate, the superintendent. 
Grant funding also helped the school purchase additional equipment and tools in order to create a full-service woodshop for students. The equipment was needed for the guitar building class, but will also allow the school to offer a separate woodworking class beginning next school year that will be taught by the high school agriculture teacher. 
Though grant funding helped make the inaugural class possible, Shoemate said that he also ensured that it was a sustainable project that the school could fund internally even if grant money isn't available every year. Crawford also helped raise money to support the program by raffling off the electric guitar that he made during the teacher training workshop. He designed it to feature the school's Appleknocker mascot.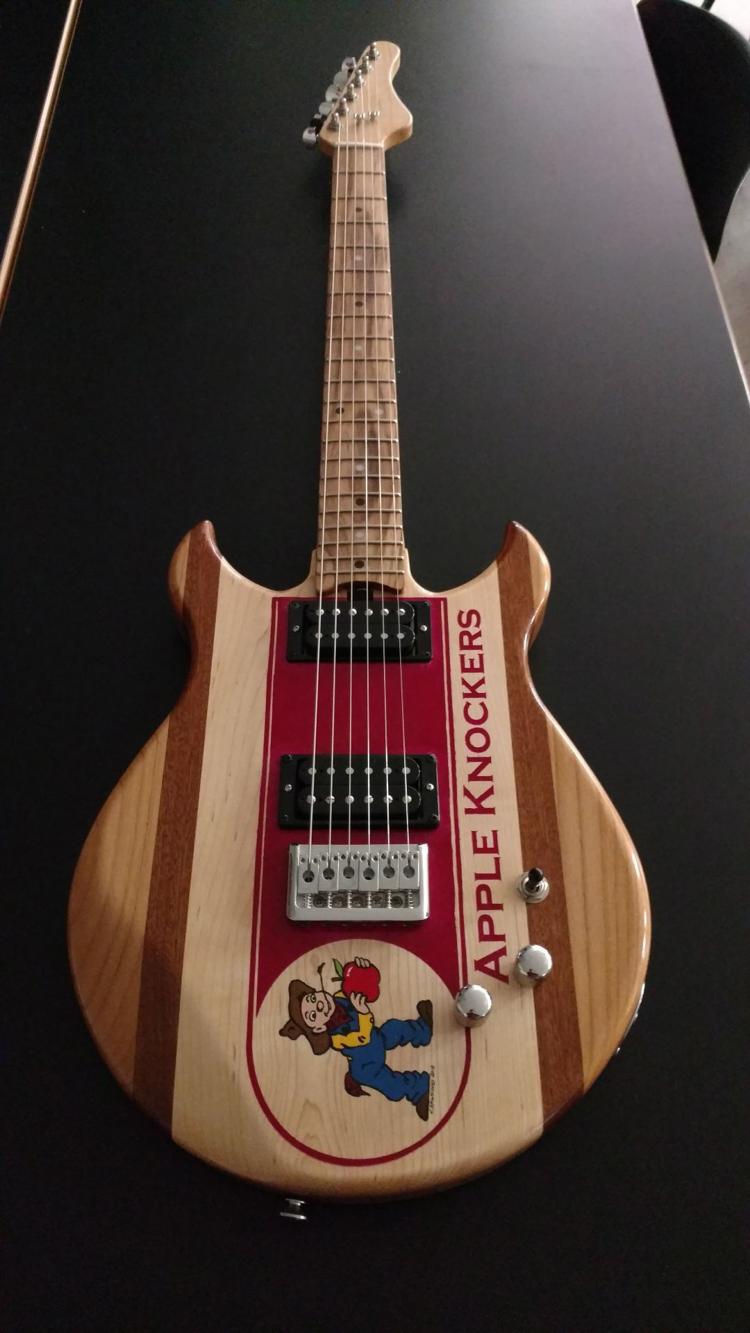 When the class began in the fall of 2018, students didn't know much about it. But now that the students have finished their guitars, Crawford said demand for the class has exploded. Nearly 40 students signed up to take the class next fall. Because he can only accept about a dozen students, an application process was created that required students to submit a paper. A committee of teachers was formed to serve as the selection committee.
With any new project, it's a bit of an experiment. But Shoemate said it's been well worth the effort to watch students complete their projects from start to finish. They walk away with math, engineering, art and business skills, he said. And it also helped boost the confidence of several of the students to know they could complete such a technically difficult project, he added. 
"It's exceeded my expectations," Shoemate said.
The students' guitars will be on display beginning Monday through June 29 at The University Museum at Southern Illinois University Carbondale campus. A reception, open to the public, is scheduled for 4:30 p.m. to 6 p.m. on Friday, May 10. The museum is located inside Faner Hall at 1000 Faner Dr. 
618-351-5079
On Twitter: @MollyParkerSI ​