ANNA — It was late Christmas Eve, and 16-year-old Kyle McMahan was driving home from his girlfriend's house when something caught his eye off the southbound Interstate 57 exit into Anna.
Kyle wasn't quite sure what it was, but turned his car around to go and take a closer look.
"I wasn't really sure what I exactly saw," Kyle said. "I hurried up and (turned my car around and) turned my hazards on and was running over to look and got over there …"
What had attracted his attention were three running lights atop a Chevy 250 pickup truck, which had slid down into the ravine off the I-57 exit. It was around 10 p.m., about 32 degrees, and Kyle didn't see any movement near the vehicle.
His quick thinking and care to get involved have earned him a Life Saver's Award from Union County Sheriff Scott Harvel. Harvel plans to present the award to Kyle at Anna-Jonesboro Community High School, where Kyle is a junior, on Wednesday morning.
Kyle recounts what happened that freezing night.
As he looked down into the ravine and saw the running lights, it also looked as if the truck's interior lights were on, he said.
"I wasn't really sure what I exactly saw," he said.
He said he pulled out his phone and turned on his flashlight as he approached the truck, which had rolled down into the ravine.
He said he saw a man, someone he thought was in his 70s, whose head was pinned by the driver's side door of the truck.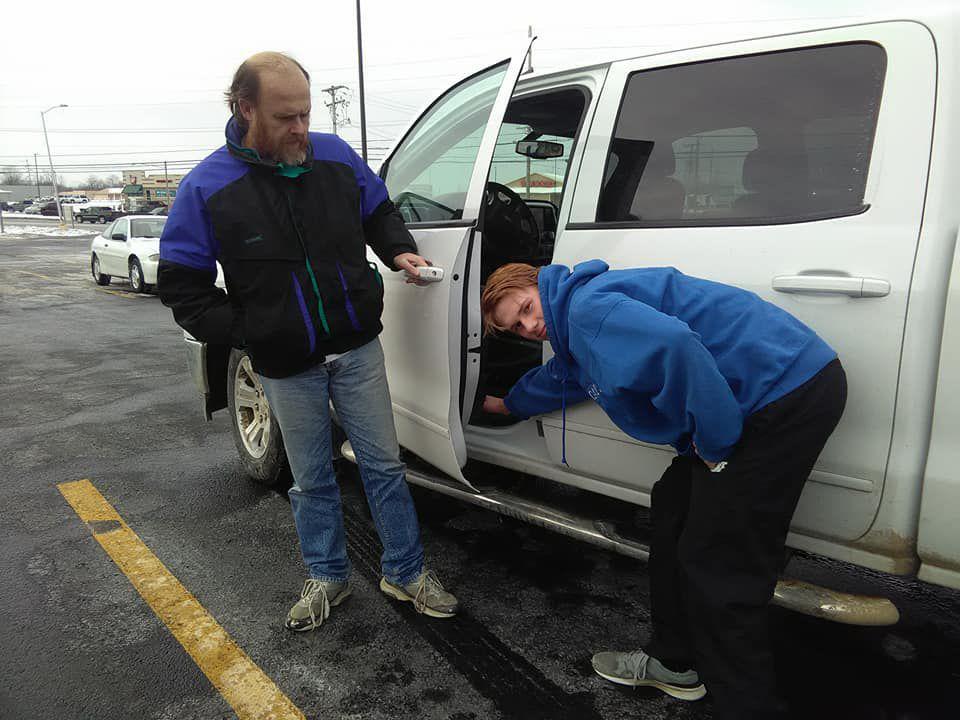 "I went over to the driver's side, the rear of the truck, and I could see his head … I could hear him … and his head was stuck in the door, between where the door shuts and … where the truck stopped. A tree was holding it from opening."
"He just kept saying, 'help me, help me,'" Kyle said.
A mix of excitement and nervousness hit him, as he wondered what to do next. What he did was call one of his older brothers, an emergency medical technician in the area, who helped to calm his nerves and told him to talk to the man to help calm him.
What he learned as he talked to the man was that he worked driving loads of trailers to and from Texas; he was on his way back to Texas after a trip to Chicago.
The man told Kyle he'd stopped to switch refueling tanks from the back of his truck. He had apparently neglected to set a brake on the truck, and the truck started to roll down the ravine. He tried to get back into the truck to put on the brake, but as the truck rolled, the driver's side door hit a tree, pinning the man's head in the bottom of the open door, Kyle said. 
His brother alerted other first responders; his brother and other EMTs arrived on the scene within about 15 minutes, Kyle said. After first responders and Union County Sheriff's deputies arrived, they were able to rescue the man in about another five to seven minutes, Kyle estimated.
Sheriff Harvel said the 71-year-old man was flown to St. Francis Medical Center in Cape Girardeau. No other information was available on his condition.
"I absolutely believe that Kyle's actions saved this gentleman's life," Sheriff Harvel wrote in an email. "If Kyle had not checked on the vehicle when he (saw) the lights of the vehicle off in the ravine who knows how long the gentleman would have remained trapped. I commend Kyle for his actions and felt like this was a great example of concern for another human being. When I heard about Kyle's actions I was inspired to recognize him publicly for saving the man's life."
Harvel said he has presented college scholarships to students before, but this is the first time he has presented a Life Saver's Award.
This is Kyle's first rescue. He plays football and basketball and runs track at the high school, and would like to attend college — he's undecided about where right now, but he'd like to continue playing football. In school, his favorite subjects are math and social studies.
He credits his brother's tips with helping in the situation. He is one of five children — ranging in age from 34 to 13 — of Randy and Chrissa McMahan.
"I probably would have done the same thing, (but) I wouldn't have been as calm," Kyle said.
He learned the man he helped was taken to a hospital for treatment and is apparently OK after the accident.
He said he was "stunned" by the news that the sheriff was giving him the award.
"(I'm) just glad he's OK," Kyle said.