ANNA — It's a quarter of an acre that grows about 50 plants, an area that some folks would call a garden of life.
The compact, fenced-in plot is a small part of the Dayemi community's 100-acre property in Union County, where some familiar-looking plants and some even more familiar-looking weeds grow, all for the purpose of producing products that fuel this part of the herbal-medicine market.
This is the Dayempur Herbal Garden, which produces products that are sold in 24 health-care markets and stores in Illinois, Missouri, Ohio and Kentucky, according to Terry Hickey, general manager of Dayempur Herbals.
"We've been cultivating medicinal herbs for nearly 20 years, actually" Hickey said. "We harvest these herbs, and we make medicinal herbal remedies, everything from tinctures, to topical oils, to elderberry syrups, to herbal salves, 'boo-boo' spray, etc.
"The importance of it, really (is that this) is the original medicine," Hickey said. "This is the original way that people would choose to heal themselves and stay healthy. For many people, if they would go back to their grandmothers or great-grandmothers, there is no doubt that they were using a lot of these plants to heal their kids and their families."
The community is invited to learn more about growing these herbs and how to use them to make herbal remedies in an herbal medicine workshop planned for 5 to 7:30 p.m. Wednesday, June 14, at the Dayempur Farm at 35 Nubbin Ridge Lane, off Spanish Bluff Road off U.S. 51 in Anna.
Medicinal herbs and other plants have been used for centuries to treat ailments and help people maintain good health. Hickey notes that plant-based medicines are known to work with the body's system to improve health.
Not without its controversy
The Dayempur Herbal Garden has been a part of this landscape for the past 10 years and is, in fact, growing, Hickey said. A few years ago, the herbal remedy market was projected to reach $6.92 billion, based on the 12th straight year of consecutive growth for U.S. sales of herbal dietary supplements, according to an American Botanicals Council's report.
But the industry is not without its detractors.
A 2016 article on the Journal of the American Medical Association Network notes that it is an industry that is not regulated and the consumer needs to beware.
"There are numerous concerns related to the use of herbal medicines because unlike conventional medications, they are not regulated by the U.S. Food and Drug Administration and manufacturers do not have to prove the safety and efficacy of herbal medications before they are made available to the public," write the authors, Dr. Graziano Onder and Dr. Rosa Liperoti.
The doctors encourage people considering or currently using herbal medications to inform their medical physicians, consider that any new symptoms that arise could be from their use of the herbal medicine and avoid using herbal medicines with children or in women who are pregnant, considering becoming pregnant or breastfeeding.  
The report also cautioned about the use of herbal medicine with pharmaceutical drugs.
"It is what it is, and we need antibiotics, we need different medicines, so we don't really take a stance around that (its use versus pharmaceutical medicines)," Hickey said. "We don't feel like it's a competition, we feel like this is way that people can engage and help heal themselves and there are other medicines. There is no benefit to having a strong stance, one way or the other."
Touring the 'garden of life'
The primary responsibility for care of the Dayempur Herbal Garden falls to Aliya Tollman, a Washington, D.C., native who is the garden manager. Tollman said she's had a long-stemming interest in herbs and their medicinal properties and traveled to Southern Illinois years ago to learn more about the Dayempur herbal farm; she decided to stay on in the area.
The garden is ringed by a fence, a hinged wooden frame door its entrance. Near the garden door is a huge thatch of orange daylilies — grown in honor of the woman who originally homesteaded the land that is now the Dayempur farm. Various plants line the periphery of the garden, with some plants growing in patches in the center.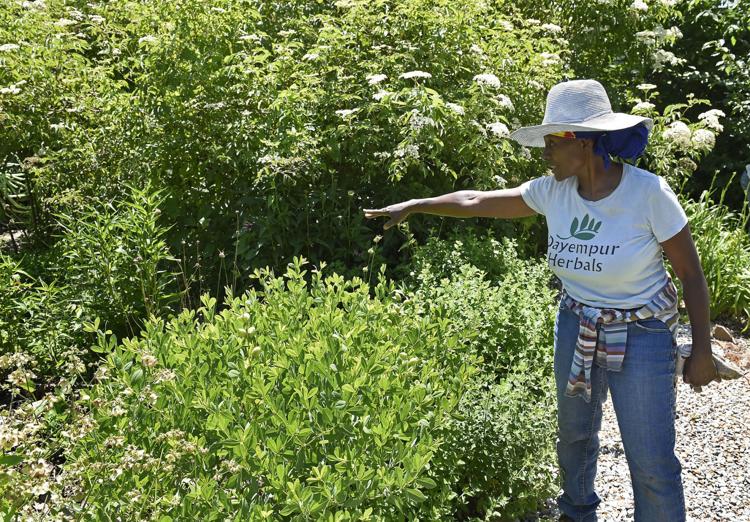 Wild garlic grows near the daylilies, with a small, smooth, green gourd-looking sac growing on a slender stem, an image that Tollman compares to a flamingo. Hanging over those plants are some the flowering parts and leaves of the elderberry plant, from which Dayempur farm staff make one of their main products: Elderberry Syrup. The company's brochure notes that elderberry has been traditionally taken for colds, flu, allergies, sinus and respiratory congestion.
Along the fence, Tollman points out yellow dock, and calendula, a plant with bright yellow or orange flowers.
Once inside the canopied area, Tollman points out the yarrow plants, with sprigs of small white flowers; large leafed elecampane plants in one corner; a patch of plantain, a plant that is a common weed in most yards, and is not related to the banana-like fruit of the same name; and mullein plants, among many others.
As she leads the tour, she pulls off an occasional leaf or flower, giving to a guest to sniff or smell. She takes some leaves from a lemongrass plant, rolling them in her hand, and offering up the mix, with the aroma of ... lemons.
Tollman pulls a few fuchsia flower petals from the rosehip plant that grows near the garden's center, offering a whiff of them: They also smell like the more commonly seen roses.
A few feet away are mint plants, and Tollman pulls off some of these leaves, too, sharing them.  She suggested putting a leaf or two in a glass of water, letting it soak a while and then drinking.
Just behind this plant is a waxy, shiny, crinkly-leafed green plant known as milk thistle.
"It looks almost fake, doesn't it?" Tollman said.
Behind it are some sunflower plants, 4 to 5 feet tall, but whose yellow and brown flowers are not yet in bloom.
A few feet away, near the front of the garden, is another batch of flowers, these with pink petals thrown out as russet brown-red core pokes up: It's the echinacea flower, which a few years ago gained mainstream popularity as a source for treating colds and fevers.
Echinacea, along with soy, aloe vera and horse chestnut, are some of the major herbs driving the demand for herbal medicine and are likely to boost the market growth over the projected period, according to a report by Hexa Research.
Those affiliated with the Dayempur Herbals farm believe its plants and products are important for the public.
"If people could get a little bit of knowledge, they could do a lot with that themselves," Hickey said.