CARBONDALE — During the regular meeting of the Carbondale City Council on Tuesday evening, the council heard a report of the first five months of having Veo Scooters in the city.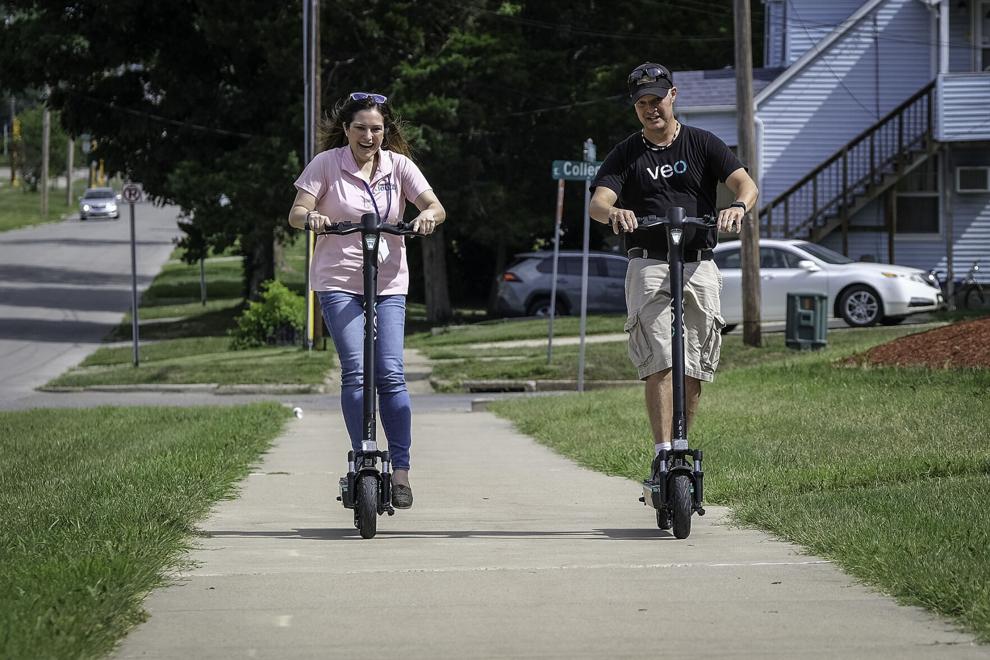 The scooters were discontinued for the winter and are starting to roll out again for spring through fall. The full number of scooters are scheduled to return on March 25.
Molly Maxwell, senior planner for the City of Carbondale, and Tina Bennett, SIU Vice Chancellor of Student Affairs, talked about how the scooters had worked in the city and at SIU.
Veo Scooters came to Carbondale in July 2022. Each device has a geo location device.
"We only see when and where scooters are being used. It helps in planning," Maxwell said.
In five months, there were 152,000 rides on Veo Scooters. Each scooter averaged three rides per day, and the average ride was 1.6 miles. Together, the scooters were ridden 250,000 miles.
The Cosmo scooters or sit-down scooters were ridden on 29% of rides for a total of 44,400 miles. The Astro or stand-up model was ridden 71% of the time or 180,000 miles.
Carbondale gets 10 cents per each trip on a scooter. They share that money with SIU.
Maxwell showed maps of where the scooters are being ridden.
"A majority of the ridership is on the SIU campus and in the downtown corridor," she said.
Maxwell said there is a program for low income riders that provides a discounted rate for using scooters. The program has 91 people registered.
Veo said riders had 819 violations. They were mostly for parking in the wrong place or blocking access when parked, according to Maxwell. Their main issues are scooter parking and underage riders.
They are currently seeking for places to house hubs for parking the Veo Scooters.
Veo is researching hold harmless contracts to place hubs on private property. They will also put age reminder stickers on the scooters.
Bennett said the scooters have been a great investment on campus.
She said they saw an uptick in injuries when the scooters first came to town. They have done education on safety and parking scooters.
"It's been a great investment and a great partnership," Bennett said.
She said Veo saw as many riders in Carbondale as they have seen in larger cities. As a result, they brought in more scooters.
They have seen 7,752 unique riders.
Bennett also said scooter parking was problematic in the beginning. They did some training and talked to students about where to park and about blocking access for students with physical disabilities. They also began issuing fines. The parking has greatly improved.