CARBONDALE — The Illinois Department of Natural Resources has granted the City of Carbondale's request for $2 million to acquire and demolish a hotel, and then convert it to green space.
With expected approval from the Carbondale City Council at Tuesday's meeting, the city will move forward on purchasing the Econo Lodge Inn and Suites, at 801 E. Main St., said Carbondale City Manager Gary Williams.
The purchase price — $1.5 million, which is the appraised value of the property— plus demolition costs will be reimbursed to the city in full by the IDNR's Flood Hazard Mitigation Program.
Due to its proximity to Pyles Fork Creek, the motel floods frequently, and there is no way to control or prevent future flooding, Williams said.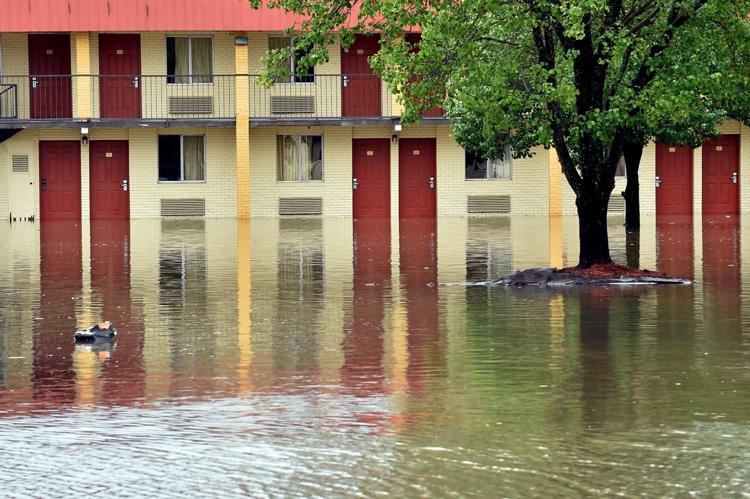 Programs like the IDNR's help governments buy out properties that flood consistently, since a large portion of flood insurance claims are paid out by the federal government with taxpayer funds.
"In the long run, the most economical approach for the taxpayer is to buy the property out and make sure it's not redeveloped," Williams explained.
You have free articles remaining.
Keep reading for FREE!
Enjoy more articles by signing up or logging in. No credit card required.
The city and IDNR were originally contacted by the owner of the hotel, Neal Patel, who expressed a strong interest in the program, Williams told the Southern in May 2018.
A resolution approving the buyout will be brought before the Council on Tuesday, and the city has set a closing date on the property for June 19.
Williams hopes demolition can be completed by Halloween, he said.
From there, the land will be restored to a natural state. The city is still in talks with the IDNR about whether it can be repurposed as a park, Williams said.
"We know we can never develop the property, but not sure what their definition of undeveloped is," Williams said. "The question right now is can we make it a green area used by the public."
With the demolition of the dilapidated Horizon Inn that once sat nearby and the construction of a new Panda Express restaurant a few blocks east, Williams sees the Econo Lodge acquisition as more progress on Carbondale's Illinois 13 corridor.
"The curb appeal of that entry into town is much improved over the last few years," he said.