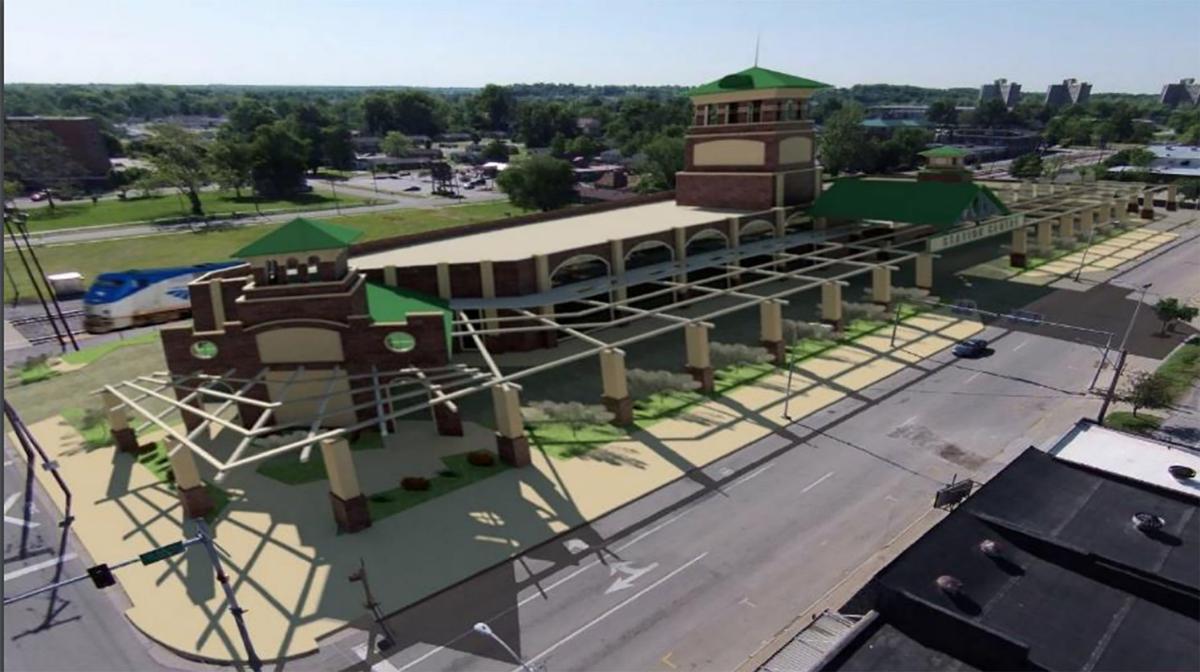 CARBONDALE — After years in the making, it was announced Wednesday that Carbondale will receive nearly $14 million in grant funding from the federal government to build its multimodal transit facility downtown.
Starting in 2016, the city has pursued funding for the project through grant funding from the U.S. Department of Transportation. The Southern Illinois Multimodal Station aims to streamline public transit, including Amtrak and bus travel, for the region. According to the city's website, the station will "provide an improved and efficient equitable distribution of transportation opportunities and access to resources at the proposed central location."
CARBONDALE — In an effort to fund its stalled multimodal project, the city of Carbondale is taking a second shot at securing a $14.64 million …
It also says that the station "will allow transit riders to connect to points as much as 120 miles away in a more direct manner, and be the fundamental conduit to improved connectivity."
A further description of the station was published in a 2017 article in The Southern, stating the station would include a 149-space, two-story parking garage; bicycle storage with lockers and racks; off-street capacity to accommodate buses; and space for retail services such as a café and market.
With this significant infusion of cash, City Manager Gary Williams said the city can get started with acquiring two parcels of land needed to build and said early next year the hiring of designers could start. With a little luck, Williams said the project would get underway in earnest in 2021.
However, Williams said because the award is about $2 million shy of the city's original ask, it may have to review the scope of the design. But, he said the city will also continue to look for other ways of making up that $2 million.
While the station will be a huge boon to the city, Williams said "it's a regional project," noting that 30 counties will be serviced by the station.
While everyone knows the location as the current Amtrak station, Williams said bus routes will have a big presence, too.
"This is first and foremost a transit center. RIDES, Shawnee and South Central as well as Jackson County and Saluki Express will center there," he said.
You have free articles remaining.
Williams said this will help these various entities coordinate schedules better.
"It'll make the system much more efficient," he said.
Carbondale Mayor Mike Henry said the word came about the grant earlier in the day, but he had to wait for the official announcement from Washington to say anything. It was a tough thing to sit on, he said. Henry said he has plans for the station to not only help people be more mobile throughout the region, but also to have services, like a daycare, which he hopes will help people get access to entry-level jobs.
Henry said he has nine grandchildren of his own and has seen the struggles his own children have had balancing childcare and work. They inspired him to develop the daycare center.
U.S. Rep. Mike Bost, R-Murphysboro, said in a news release from his office that "this grant will empower Carbondale to make critical updates to its transportation systems, improving access for more residents and providing new infrastructure to best connect Jackson County with the rest of the region." He also said Carbondale "can be proud" that it received the grant, which, he said, was very rigorous and competitive.
According to Bost's release, the $13.986 million grant will be used to fund both the design and construction of the station in downtown Carbondale as well as the demolition of the existing Amtrak station.
Illinois' two Democratic U.S. Sens. Tammy Duckworth and Dick Durbin, D-Illinois, announced the award and the senators' support.
CARBONDALE — Several Carbondale leaders took a trip to Washington D.C. this past week to discuss the city's efforts to secure federal grant fu…
"I've supported this project since I arrived in the Senate because this significant infusion of federal funding in Carbondale will help move our state's economy in the right direction, improve our transportation systems and create jobs for hardworking Southern Illinoisans," Duckworth said in the release.
Henry also commented on the news in the release.
"This award is a major investment in rural transportation that will improve the lives of many working families in our region, while also providing high-paying construction jobs," he said.
618-351-5823
On Twitter: @ismithreports