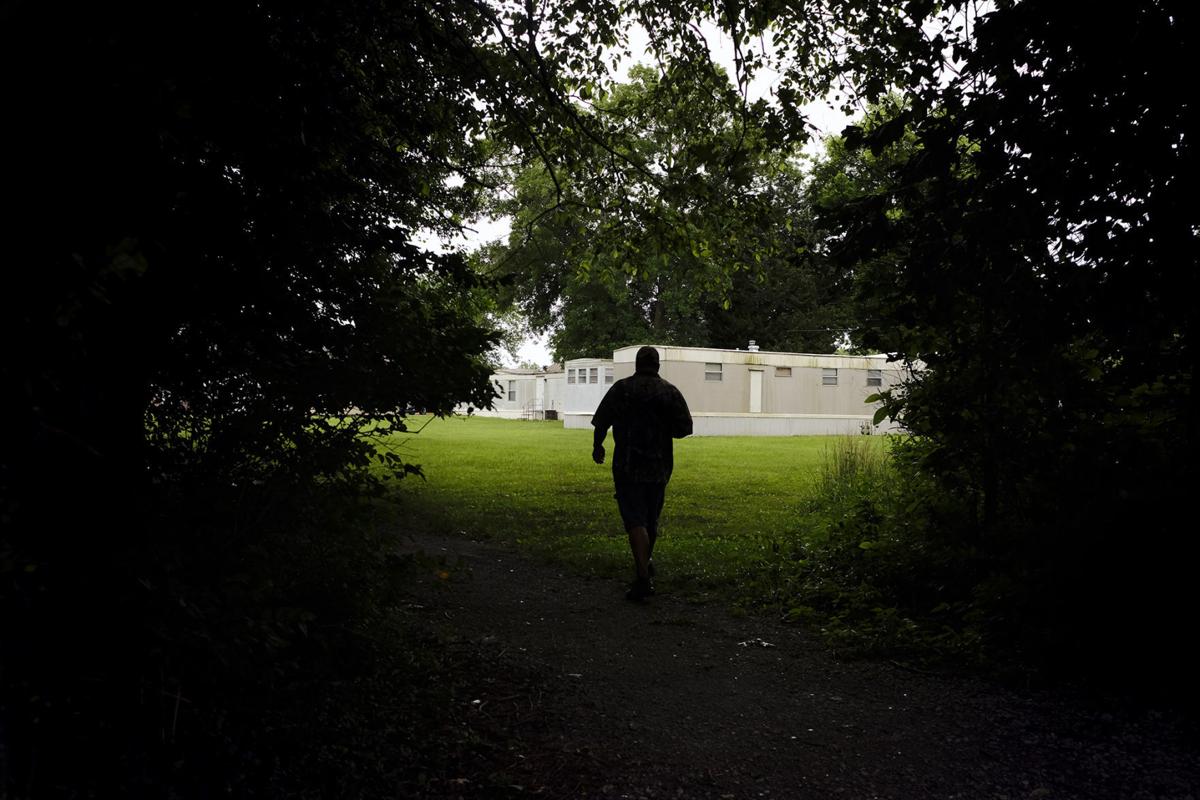 CARBONDALE — Robert Ralston had the volume way up on his stereo June 17 — it was late, but no one was complaining.
Then he heard what he thought was a bunch of knocking at his door. Ralston's teenage son was in his bedroom and came out to tell him something.
Ralston lives in the College Arbor mobile home park in Carbondale — his house is tucked up on a hill in the back of the lot. It's surrounded by trees, and next to it is one empty unit. His son, who asked not to be named for safety reasons, told his dad that a bullet hit just below his room. A quick look at the exterior proved it. A fresh, silver dimple pocked the brown skirt of the trailer home.
According to the Carbondale Police Department's report from that night, a walk around the trailer confirmed their findings. Ralston said there were more bullet holes seen on the empty trailer nearby, too, but it wasn't clear if they were from the same incident.
Ralston's trailer sits just a few hundred yards from Tatum Heights Park. A stand of mature trees covers a walkway that connects his neighborhood and the park. He said it acts as a highway for people doing things they don't want to be seen doing. If they get caught up in a fight at the park, they cut through the trailer park. The same goes for people trying to run through the trailer court to get to the park. It's a pass-through, and Ralston said his trailer sits in the middle of it.
The path is dark and neither the neighborhood where he rents his home nor the park are well-lit.
"It's set up for danger," he said, adding that while he used to go play basketball at Tatum Heights, he now sits at home because he doesn't want to be in the wrong place at the wrong time.
Ralston has lived in College Arbor since December, and said gunshots can be heard multiple times a week.
The facts
CARBONDALE — Months after voters told them to discuss absorbing Park District functions, the City Council took up the matter during its bi-yea…
The shooting in Ralston's backyard came just days before the Carbondale City Council met in a retreat during which they allotted time to discuss gun violence in the city. The agenda item was requested by Councilman Jeff Doherty.
Police Chief Jeff Grubbs presented crime data compiled from the last eight to 13 years that showed a trend downward for 2019 in crimes against property when compared to prior years. Between January and May there were 342 crimes against property compared to 875 total in 2015 and 920 in 2017.
However, the numbers between 2015 and May of 2019 for crimes against people appear to be staying about the same. There were 51 between January and May of 2019 compared to 73 in 2015 and 100 in 2017.
Also according to Grubbs' presentation, shootings were at 7 by May of 2019 compared to a total of 14 in 2018. 
While the numbers for crimes against people might not be dropping and crimes against property may be trending slightly down, Grubbs said that there were noticeable drops in targeted areas, such as the Arbor District. There, he said in the between 2014 and 2015 crime dropped by almost 40%.
Doherty also pointed out that there hadn't been a homicide in about 18 months, prompting the room to knock on the wooden tables.
Still, the question of Carbondale's violence is one that comes up regularly in the community. Some perceive violence here to be a runaway train, but policing a perception or feeling is a tough thing to do.
What to do
For his part, Ralston said he had a lot of ideas. For example, put cameras with live video feeds in problem areas to discourage crime. Another idea was to put undercover informants in these same areas. But another was inspired by recent events.
Ralston said he was moved by the groundswell of support he saw when 7-year-old Patrice Dotson went missing from her Carbondale home last month. People were out all night with flashlights looking for the missing child. There were volunteer air patrols, and volunteers passing out flyers. The community came out in force.
"I am so elated," said Barbara Dotson, as she walked out of Memorial Hospital in Carbondale Tuesday afternoon. "You have no idea."
"I'd like to see more of what we saw when that young girl was found," he said.
City Manager Gary Williams said it would be ideal to see every day the same kind of community involvement that he saw when Dotson was missing.
"From the city's perspective, from a community development perspective, that's the dream," he said.
But, he said part of that comes down to keeping momentum going. Williams also said it's important for those in the community to understand their role long term.
"All of the responsibility can't be on the city," he said. "Community members have to want to be part of the solution."
Williams said that there is a bit of a disconnect, though. He said over time, he has seen a shift away from civic service and community engagement.
"Society is a lot different than that right now and there's a lot of reasons for that," Williams said, adding that "residents have to want to get involved."
Get involved, stay involved
You have free articles remaining.
Civic volunteer and Carbondale resident Jim Dooley said he's also seen a marked decrease in participation in civic groups. He said while he may get 500 young people to help with a Habitat for Humanity house construction, attendance and membership for groups like The Lions Club is falling fast.
"I would say our average age is deceased," Dooley said of the Lions Club. He said he recently celebrated his 55th high school reunion and is by far in the younger half of club members.
He said while the Lion's Club is known for glasses and pancakes, he said they give an average of $12,000 each year to charitable organizations in the area including the Boys and Girls Club, The Women's Center and the Newman Center.
There is an upside, though. He sees some interest from college-aged kids, while the generation before them stayed away.
"I think we have a generation who didn't learn how and doesn't (participate)," Dooley said.
While not directly tied to community violence, Williams and Dooley said just getting out in the community can move the needle.
"I think it would absolutely help," Williams said.
On the city's northeast side, Lee Hughes has attempted to spur this kind of involvement. Hughes co-owns Carbondale establishment Arnete's Barbershop and worked last year to install speed control devices along Wall Street after a 5-year-old was hit and killed in August 2018.
CARBONDALE — For Apryl Philippe, grief is like an ocean.
He said he believes firmly that this kind of engagement from neighborhood residents is key to making a better, safer community.
"That's one of my foundational principles is that if we stick together as a community then we can get some problems and issues solved right here in our own community," he said.
Know thy neighbor
Ginger Rye has made similar efforts with the Women for Change. When asked about her belief in how community engagement can help stem violence and make life better for residents, she pointed to the group's mission statement.
The group works to enhance the quality of life for residents of the northeast side through "crime prevention, youth advocacy, community clean-up and beautification, as well as by networking with other locally based organizations to heighten and intensify civic engagement."
"In our opinion, all of the aforementioned are needed to keep the neighborhood safe, but it is going to take all … working together to make our neighborhoods safe," Rye wrote in an email.
Doug Wilson, a sergeant in the Carbondale Police Department's support services division, said curbing violence in the community is a complicated, big issue. But he said there were some simple things that residents could do to make a difference.
Wilson said all too often people isolate themselves and don't know who lives around them, but something as simple as having a casual conversation with a neighbor in the driveway on the way in from work can go a long way. Then, move out to the area just outside one's own neighborhood.
This kind of awareness can be useful. Wilson said just by knowing who lives nearby, a person can help identify when people from outside the neighborhood come in and maybe even spot suspicious activity.
"You don't have to be on high alert all the time," Wilson said. "It's just taking care of what's around you."
Rye also pointed to this in her email.
"It is going to take neighbors dialoguing, knowing each other, signing petitions and demanding change," she wrote.
Wilson and Williams agreed on the point that it can't be solely up to the city to help solve the problem.
"It's not a police problem. It's an everybody problem," Wilson said.
Hughes, who previously served as a police officer in Murphysboro, said "proactive patrolling is definitely part of the solution," however not the whole solution.
He returned to the idea of a community taking care of itself in as much as it can. Looking to the groundswell of support when Dotson went missing earlier this year, Hughes said this kind of intense concentration is hard to sustain — it can lead to fatigue. However, he believes concrete goals can make a big difference.
"I believe that if the people have a focus, then they will keep going," he said.
This is a long, hard road, though. Hughes said living among violence or the threat of violence takes its toll.
"Violence is like part of their DNA makeup," he said of some residents. Hughes explained that some may find it hard to actually live in a peaceful place because of this.
Still, the hope for a more unified front among the neighborhoods is real if not somewhat amorphous. Wilson said starting small is key. Hughes, too, said setting small goals and just keeping the dialogue alive will keep the pace of progress steady and deliberate.
For Ralston, he said something has to change, but he's not going anywhere. He likened the problem to a haunted house. You can either fight the demons or run.
618-351-5823
On Twitter: @ismithreports