CARBONDALE — The two ideas for Carbondale's future presented during Thursday's candidate forum can be summed up simply: One side advocated for staying the course, while the other pushed for some outside-the-box thinking.
Incumbent Mike Henry faces a challenge from Nathan Colombo, who, if elected, would become Carbondale's youngest mayor at 29.
Carbondale Mayor John "Mike" Henry is rivaled in his bid for a second term by local social media professional and lifelong Carbondale resident Nathan Colombo. The two have contrasted ideas both in the media and at various forums. Colombo recently told The Southern that the primary difference between the two was their vision for what Carbondale can be.
In the second installment of its "Vocal with Our Local" series, the Women For Change hosted the two candidates to answer questions both from a panel and from community members, giving them an opportunity to hear succinctly where candidates stood on various issues.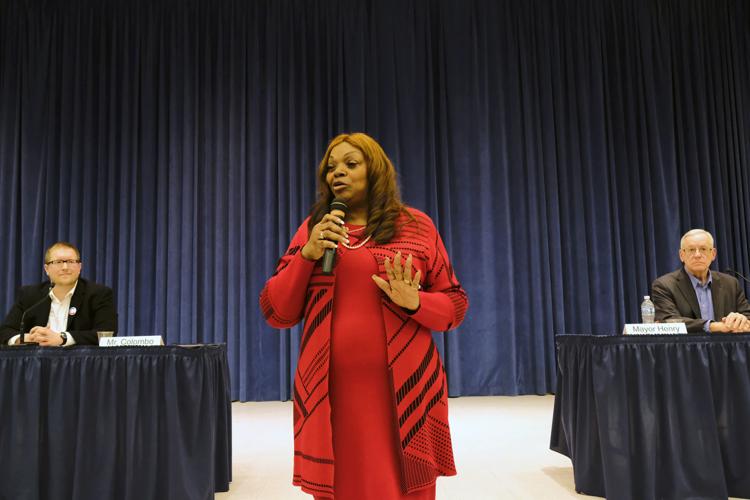 Stylistically, Colombo and Henry contrasted each other. While Henry at times answered in single syllables, Colombo took time with each question to provide a detailed answer.
"What I want to do is keep going," Henry said in his opening remarks. He wanted to continue down the road, he said, that he has started down in his first four years as mayor, exploring his connections with local businesses and education leaders.
Colombo touted his deep ties to the community and explained how he wants to work to make Carbondale the "small city of the future."
The first question from the panel was about local, stalwart businesses for sale along the strip. The candidates were asked how they would make owning a business easier for younger people.
Colombo said he saw this challenge first-hand when he and friends recently tried opening a gaming shop. Everything was in place but the seed money, and he saw how a city could perhaps help in situations like those.
He said he would like to see the city as a structure to offset a bank's risk on young developers.
"I think there are some unique opportunities here," he said.
Henry went on to say that "the city has already done a great deal for the businesses downtown."
"We have a very effective way of helping our businesses," he said.
Next, the candidates were asked to identify how they would make up a $1.5 million shortfall, particularly in light of the $1 million the city pays annually to Saluki Way.
CARBONDALE — Shades of gray are what voters were left to sort between after Thursday's Carbondale City Council candidate forum.
Henry said small cuts "across the board" would be the way to start. This, he said, would have the least significant impact on city services. He said some of the money could be made back by growing enrollment at SIU.
Colombo said he didn't disagree with Henry's assessment, but also said he would look at postponing capital projects and ask "where do we see proper returns on investments?"
However, like some candidates for City Council, Colombo said a closer look should be taken at the public safety portion of the budget. He said there appear to be too many police department employees, and that reducing this to a level more in line with other, similarly-sized communities could provide some savings.
However, he also discussed his plans for a city-managed marijuana company, similar liquor stores in other states run by municipalities. He said this could be a reality based on what Gov. J.B. Pritzker said after coming into office about the legalization of marijuana.
Later in the discussion, the candidates were asked how the city could encourage more SIU graduates to stay in Carbondale.
Colombo said courting the film and media industry and encouraging these students to stay and bring their work here is one way. He also said that Henry was a good example of how investment can create a long-term citizen.
Henry started his business, Henry Printing, in town decades ago.
"We need to build more of him into Carbondale," Colombo said.
Henry pointed to diversity, saying that it is one of the biggest assets the city has, adding that the city needed to highlight more of what Carbondale is and show off just how good it can be.
The candidates were asked if they would sign an agreement to transition the city to 100 percent renewable energy by 2030.
"Yes," Henry said, adding briefly that the city has already done a lot on this front, including changing out light bulbs in many city lights in favor of more energy efficient types.
Colombo said what the city has done is good, but "we need to find ways to go further in this." He said Carbondale needs to figure out how to set the energy standard for the future.
Sustainability came up again later when a question was asked about a ban on disposable plastic containers and bags.
Henry agreed that something had to be done.
"This is a very important issue," he said, adding that business impact needed to be considered.
Colombo said it would be good to have a greater connection to other Route 13 corridor mayors to try and form a pact on such an issue to make sure that Carbondale remained competitive with other communities.
CARBONDALE — Park District board races aren't usually hotly contested or closely watched, but this year's Carbondale Park District election mi…
The candidates were asked how they would support getting more minority youth involved in local employment, particularly with a program that would employ 50 minority youth for 20 hours a week at local businesses. Also, they were asked if they would support a union workshop that would focus on getting a larger minority workforce.
Henry said there previously had been such a youth program, but that the funding had dried up for it and that participation had been minimal in its last few years. But, he said it was worth revisiting.
Henry said the union workshop is something he supported, but added that there needed to be more support for people participating in these workshops — he said participants in that program often needed help with basic math and communication skills. He suggested bringing John A. Logan College in to help. He also said the city has recently made strides to increase the number of minority union workers.
Colombo pointed out that he is a product of such a youth program. He was a member of Youth Council, a program that encouraged civic service, and said it is part of what drove him to civil service. He said maybe such a program now would create "50 more Nathan Colombos."
As to the union workshop idea, Colombo said the community, either passively or actively, has participated in discrimination against workers based on skin color. He said one way to change the minority representation in union workers is to change one word in part of the city code saying that it should employ 17 percent minority union workers.
Change "should" to "will," he said.
Community members also brought their own questions. One asked if each candidate would encourage refugees and immigrants, legal or illegal, to settle in Carbondale.
"I would encourage legal immigrants to settle here," Henry said. "I would not encourage illegal immigrants."
"Why?" one person said from the audience.
"It's illegal," Henry replied.
"The census counts everybody and we should count everybody," Colombo said.
One person asked about the seemingly uneven level of police patrolling in neighborhoods. They asked why police were in more neighborhoods more often if community policing was the goal.
"I think that perception is wrong," Henry replied. "We patrol equally throughout the city," he said, adding that officers go where crime is.
Henry had previously supported the size of the city's police force, saying that the number is not based on population size, but on call volume and levels of community policing the city itself wanted. He said this information came from a municipal consulting firm.
Colombo asked a question in response: "What are we policing?"
He mentioned a recent political movement in Carbondale calling itself the Carbondale Spring, which, among many other changes, suggests downsizing police forces and creating a care worker division that would de-escalate social confrontations. He said the city should be solving its problems, not jailing them.
"We need to reframe how we look at policing," Colombo said.
In closing, Henry reiterated his call for staying the path.
"I think we are on a steady course. I think we need to stay the course," he said.
Colombo pointed out that he sees that Henry has experience building business, but pointed out his own strength.
"I have experience building community," he said.
This year's election will be held April 2.