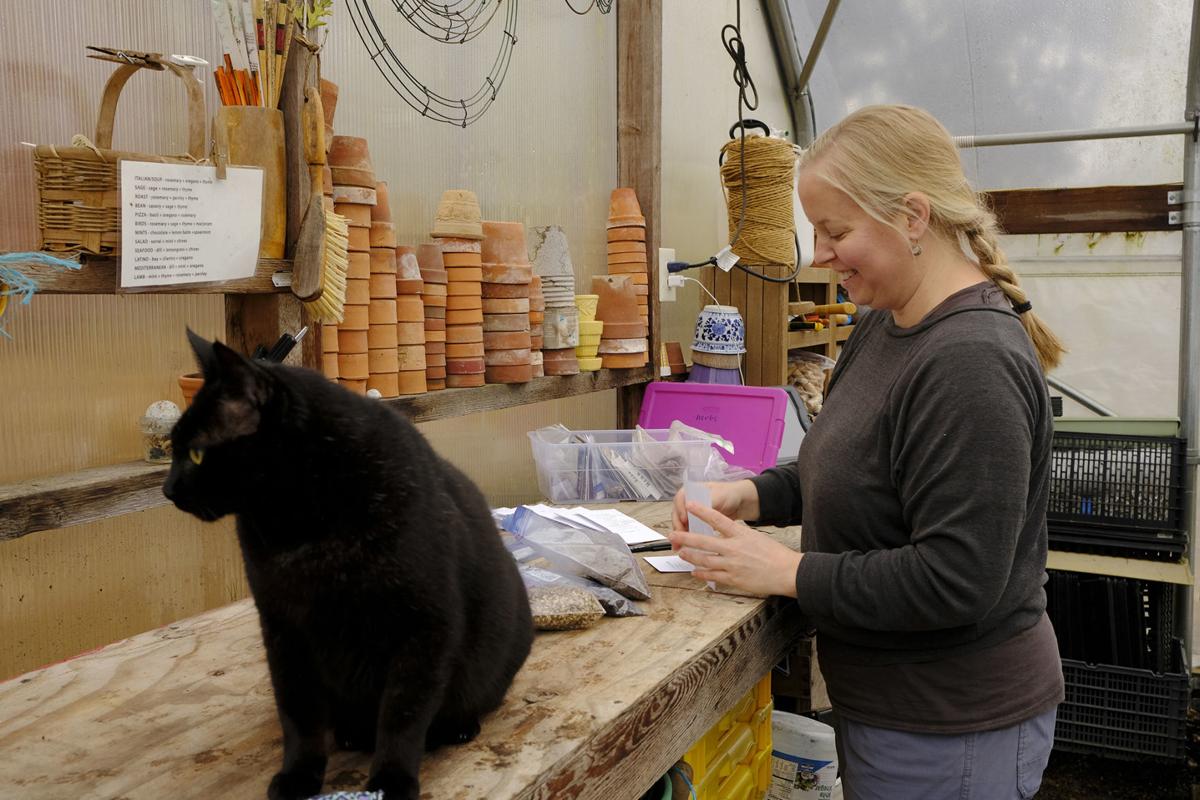 CARBONDALE — Many people have the same collective memory: A hot, sunny afternoon at their grandparents' house, the smell of warm grass and dirt mixes with the distinct nose of a tomato plant — the perfume of summer, the combination of which can't be duplicated.
After plucking the perfect fruit and slicing it, still warm from the sun, all it needs is a small dash of salt. Like a good peach, the juice races to the tip of the chin, maybe even staining a T-shirt.
It's best tomato anyone has ever had and it's hard to find again.
And local seed savers might be able to help.
Sarah Lewison, founder of Carbondale's annual seed swap and organizer of Carbondale's seed library, talked about the concept with The Southern through Facebook.
"A home gardener might grow an especially delicious tomato and save those seeds for next year. If it did well in your garden one year, you select for the traits suited to your microclimate," she said.
An outgrowth of this idea is Carbondale's yearly seed swap. Lewison said this is an opportunity for people to come together and learn.
"A seed swap however, as a public event becomes a visible acknowledgement of the desire for people to meet face to face and learn together about different varieties," she said.
This year's event will be Feb. 16 during the Saturday winter farmer's market at Carbondale Community High School. Part of the goal, Lewison said, is getting seeds into the hands of people who may otherwise not be able to afford buying them on their own.
"Seeds are expensive and when a home gardener buys a package, they don't always get used up-at the swap ... other gardeners and non commercial farmers … share their excess," she said.
This kind of sharing can help someone in need and cut down on waste.
However, Lewison said having seeds to share is not a prerequisite.
If someone does plan to bring seeds to share though, she asked that they be non-genetically modified and for the grower to come with as much information about the seeds as possible, specifically when the seed was cultivated and where.
Lewison said the concept of developing local cultivars — plants that perform specifically well in a local area — is age-old wisdom that is kept alive now but by fewer people. Though it may be practiced by fewer people now, Lewison said this doesn't diminish its importance.
"Selecting, saving and sharing seed is a fundamental part returning the control of food production to a local region. It leads people to learn to appreciate diversity, which increases resilience," Lewison wrote.
This is particularly important now, Lewison said.
"Currently, four big biotech agriculture companies own half of the world's seed supply and their monopolization of this stock tends to lead toward a reduction in the number of varieties," she wrote over Facebook. "This happens because they focus on growing and selling the most familiar varieties, but also because plants like corn become cross contaminated with genetically modified genes."
Lewison, and her founding partner at Carbondale's Seed Library, Jessica Allee, said not only does seed saving help protect a local food supply and regional diversity, it is another way of protecting local history.
Allee and Lewison pointed to Priscilla's Hollyhocks as a local example of this. The story, which was also made into a children's book, is one of a young enslaved girl who was later sold to a Cherokee tribe and traveled with them as part of the forced migration on the Trail of Tears. She ended up in Mulkeytown, living at the Silkwood Inn as a free woman.
While living there she planted hollyhocks, which still thrive there today and those seeds are available at the museum and through the Du Quoin Seed Library.
This is an inspiration for the efforts of Carbondale's own seed bank which Allee said was something that developed out of Lewison's work with the seed swap.
"We are not trying to be a repository for seeds from all around the world," Allee said. Getting back to the idea of local identity, she said the seeds they keep in their facility at Carbondale's public library, are open pollinated and have some connection to the area.
Allee said they are particularly interested in "naturalizing plants that already grow well here to grow better."
While seed saving can turn into a big hobby or even a passion project for Lewison and her ilk with lots of impassioned philosophy behind it, she said at the core, it is a simple concept.
"When one starts to think about how easy it is to grow many seeds oneself, exchanging seed on a local scale makes a lot of sense," she said.
618-351-5823
On Twitter: @ismithreports
Be the first to know
Get local news delivered to your inbox!