CARBONDALE — For those looking for an alternative to the usual family activities this holiday season, Jeff Garner says he has just the thing.
The Panic Room, an "escape room experience" on the east side of Carbondale, is now offering a Christmas-themed room that asks participants to work together to solve puzzles, follow clues and save Christmas before the clock runs out.
"I'm promoting this as an alternate (thing) to do for families and friends. Christmas Day especially, there's nothing to do — everything's closed," said Garner, who opened the business in August.
The Panic Room will be open throughout the holidays, and Garner said he has several games booked for Christmas Eve and Christmas Day. The games are available by appointment only.
Inspired by the point-and-click online games, physical escape rooms first became popular in Asia and spread to large cities in the U.S. a few years ago. Carbondale Escape Rooms, located on The Island in downtown Carbondale, opened in 2015.
The premise behind the trend is simple: You're locked inside a room and you must solve a series of puzzles to get out.
Garner, who works full-time at the Center for Teaching Excellence at Southern Illinois University, was inspired to start his own escape room business after he visited one in Indianapolis.
"They were still pretty new at that point, and I didn't really know anything about it. Afterward, it was one of those things where, even though I had a great experience, I was kind of picking it apart, and I was like, 'Man, if they would have done this, it would have been so much better,'" Garner said.
Garner sketched some of his own ideas out and found he that loved coming up with the puzzles and challenges. He finished writing his first game, picked up some cheap props and asked his family to give his prototype a try.
"They all had a blast doing it, and I started working on a couple more rooms, and then it got to the point where I thought, 'I think I really have something here,'" Garner said.
"The Christmas Room" launched earlier this month and will be open into the month of January until interest dies down, Garner said. Up to six people can play at a time.
"A Dark Elf has discovered a way to stop Christmas," reads the description of the game on the Panic Room's website. "Sensing danger, Santa has sent your team to the only place that may contain the tools necessary to thwart the Dark Elf's plans. Now it is up to you to restore the magic before time runs out and Christmas is gone … forever!"
"Success rate solely depends on communication," Garner said. "So many times, you're monitoring the rooms as they're playing, and you can see that someone's found something but the rest of the group doesn't know it. … The better groups are the ones that communicate well and they work together well."
You have free articles remaining.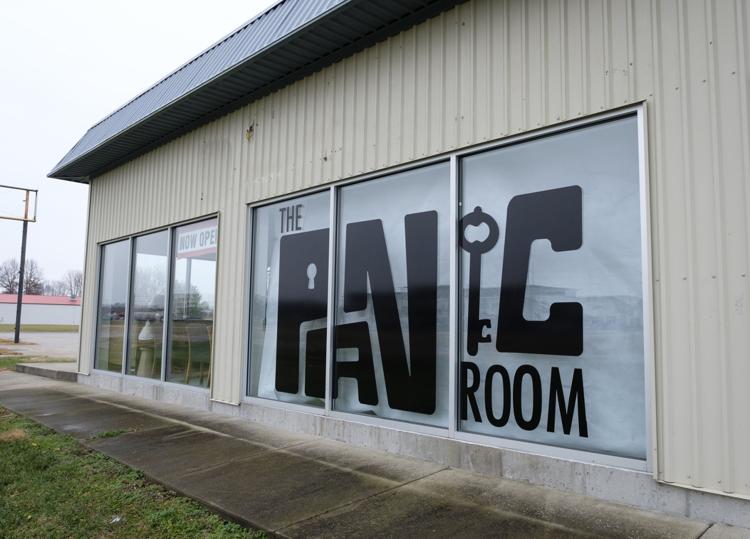 "The Haunting," themed around paranormal research, is Garner's largest room, accommodating 10 people. It's also the most difficult.
"That's been a big hit, and I've had a lot of businesses come in with their staff and do team-building, and different student groups or youth groups, and it's a really fun game," Garner said.
"Secrets of Little Egypt," a smaller escape room capped at six people, is an expedition leading down into an underground ancient Egyptian civilization.
He has two more rooms slated to open up next year: "Hollywood Horror" and "Codebreakers."
"That is a problem with a lot of escape rooms: Once a group comes in and does a room, they're not going to come in and do the same room again," Garner said.
In early 2018, he plans to develop two small spaces that can be transformed into escape rooms quickly at a customer's request.
"They're going to be interchangeable, so it'll be fewer effects, less time, but less money, too," Garner said. " … I'll be able to continually add new rooms, and hopefully keep people coming back over and over and over again."
Garner strives to make each new room completely different and to ensure that all the puzzles fit seamlessly into the storylines.
As for whether the escape room trend is here to stay, Garner said he hopes so.
"That's the thing with trends and fads — you never really know," Garner said. "I hope this is something that continues forever, but if it's something that it does look like it's going to start fading away, I'll evolve with whatever is going to take its place. I think the concept of escape rooms will stay, but maybe the face of it might look a little different."