CARBONDALE — Frederick Qualls wants to put hats on people's heads, and fill their hearts with love.
"I have a love for the community, and a love for the people," said Qualls, owner of Qualls Hats & Co, a new store that opened on Monday at 201 W. Walnut St. in Carbondale. His reason for wanting to sell hats is relatively simple: "I'm a hat guy," he said of his chosen wares. "You can tell a lot about a person by the hats they wear." But his broader goal — "kingdom building," as he calls it — runs much deeper.
Lately, Qualls said he felt called to open a new business. Every Sunday, he preaches the gospel inside Illinois' prisons — places he's intimately familiar with from the years that he spent there as an inmate in young adulthood, decades ago. He shares with them the redemptive power of God, and uses his own life as a testimony to what's possible. Qualls grew up in Chicago and moved to Carbondale 27 years ago after a final stay at Vienna Correctional Center.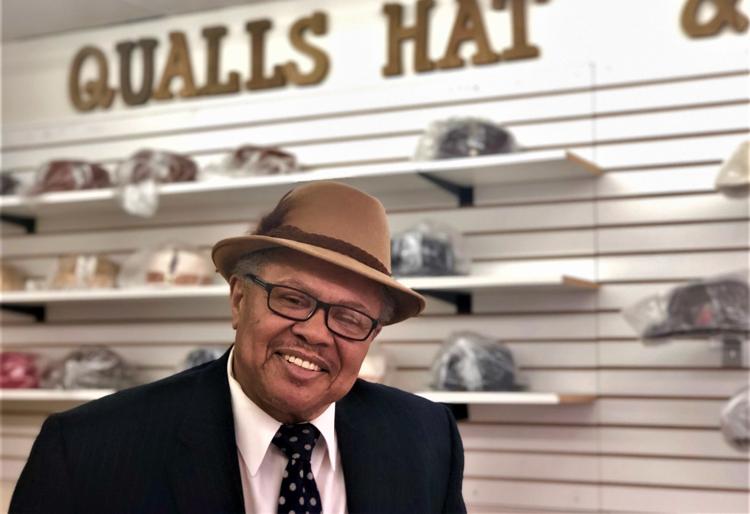 In Southern Illinois, Qualls said he found a place willing to give him a fresh start. He's committed much of his life to giving back so that others may find the same.
Over the years, he's owned several businesses, including Mr. Frederick's Hair Salon and a shoe repair shop.
Even though he's old enough now to kick back and retire, at age 68, he decided his work wasn't done. He envisioned creating a place that would employ people in need of second chances because of mistakes they'd made or hard knocks life had dealt them.
But he didn't have much money for startup costs such as renting a space, advertising and making a first bulk order of hats. God, he said, put the right people in his path to make it happen.
"I opened this shop up with my Social Security money," he said.
It took many months for all the pieces to come together.
Initially, Qualls planned to open his hat shop in the shopping center that includes Quatro's Deep Pan Pizza. The property owner was allowing him to use the space rent free while he organized his business plan and saved enough money to make a bulk hat purchase. But then the property sold, and Qualls said he was asked to leave.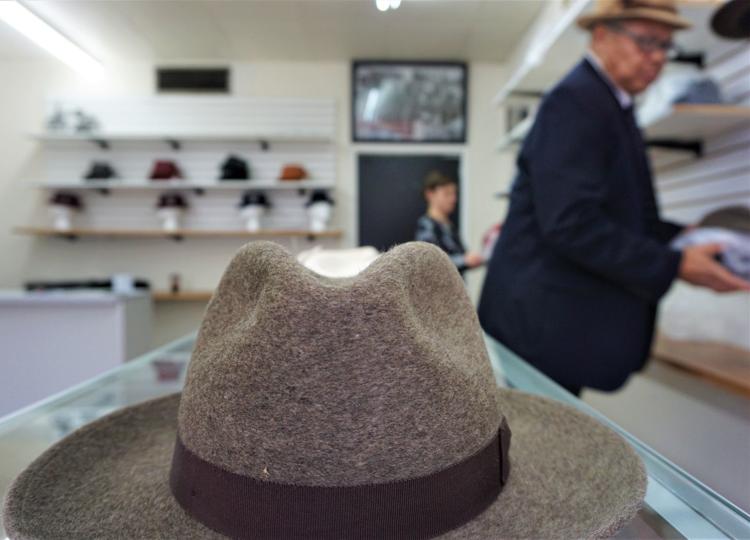 You have free articles remaining.
He went shopping for a new space. In the process, Qualls said he popped into Phoenix Cycles Inc. to ask owner Doug McDonald if he would be willing to rent him his empty storefront around the corner from the bike shop. Qualls told him he wouldn't be able to pay rent until he could get the store open and sell some hats. He'd sunk some of his savings into the other space, and needed to recover from the setback.
McDonald also agreed to hold off on rent charges for a few months, and Qualls moved into the space late last year.
It needed a lot of work before it was up to the task of setting the stage for his classic hat store. Qualls pumped his own money into materials for new flooring, walls and shelving for the hats. But then he didn't have enough money to hire people to install it. God, he said, kept providing. Employees and volunteers from the Center for Empowerment and Justice, a grassroots community organization in Carbondale that assists people with a variety of needs, gave hours of their time to help him pull off the remodel project.
"He's done a lot of work in there," McDonald said of his new business tenant. McDonald said he was flexible with Qualls because it's good for every downtown business when others succeed. He's also been impressed with his attitude and spirit of entrepreneurship. "He went in and he was on a mission," McDonald said. "He had a purpose."
A few months after moving in, Qualls was able to purchase his first order of hats.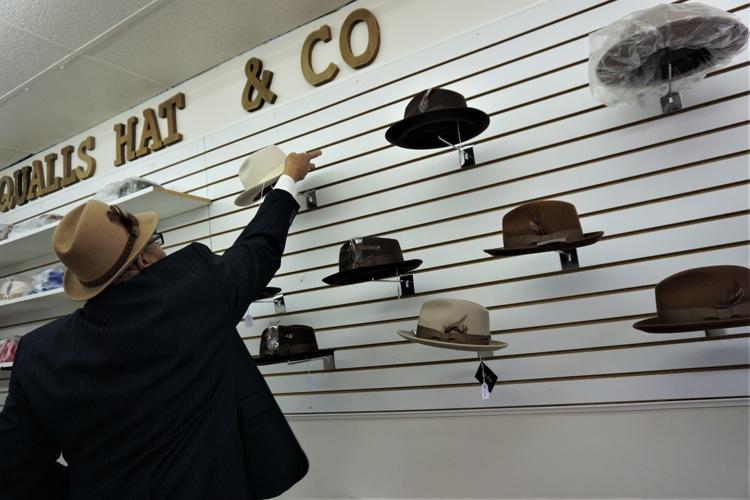 The store opened Monday, stocked with popular hat brands such as Bailey, Bruno Capelo, 9th Street and Dobbs. Ladies and men's hats of various colors, both vibrant and neutral, are available to try on and take home, ranging in price from about $25 to $120. He keeps them covered in plastic to ensure they remain in good condition.
Across the region, self-proclaimed "hat guys" rejoiced, as a niche store like this is more likely to be found in larger markets. "There hasn't been a true hat shop in Carbondale for years, especially a place that carries quality hats like Dobbs" said one of them, Shadi Frick, Carbondale Middle School's band director. Frick said that fulfilling his hat needs requires a two-hour drive to St. Louis. "So I'm thrilled this shop has opened, and wish Mr. Qualls nothing but success in his new endeavor."
In time, Qualls said he hopes to be able to grow his staff, in order to provide a place of meaningful work for those who have struggled to find it.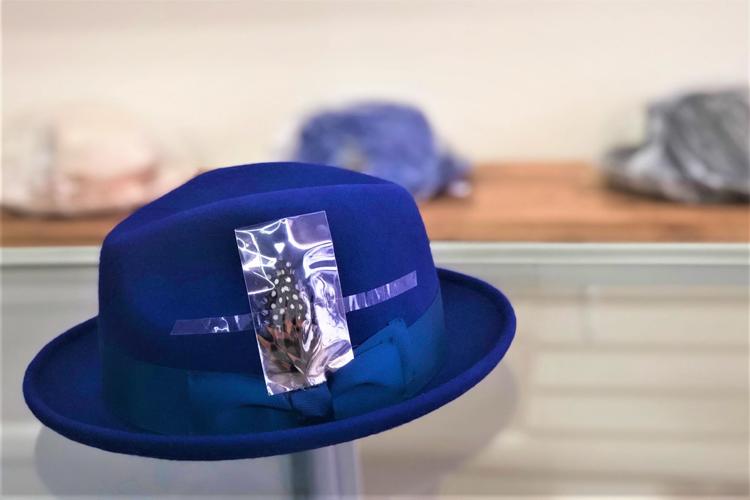 He's already doing that for one young woman. Elissia Kimball, of Carbondale, said she met Qualls at the Center for Empowerment and Justice, and the two made a fast connection. "She's brilliant," Qualls said of his worker. Kimball said she's been out of work for a year, since she was let go of her previous job as a store clerk because an illness forced her to miss too much time. "I'm really happy to have the job," she said.
Ultimately, Qualls said he hopes to expand the back of the business to include a space for manufacturing and designing hats. He plans to specifically recruit people with disabilities, and teach them the craft.
"I know it's hard," Qualls said of people who struggle to find their place in society. "The only way to make it is with God on your side, and being a citizen in the kingdom of God. That's why we are going to employ people with disadvantages. I want to give people self worth."
The store is open Monday through Saturday, 10 a.m. to 6 p.m. 
618-351-5079
On Twitter: @MollyParkerSI ​