CARBONDALE — Over the 16-year history of Bobbi Knapp and Rachel Jarvis's relationship, location and legal status have been intimately intertwined.
When the Carbondale women first started dating in Michigan, on paper they could be little more than roommates. A move to Iowa City, Iowa, in 2001, allowed the duo to enter a domestic partnership. Relocating to Illinois in 2006 meant they had to relinquish that status and the rights it afforded – at least until 2011, when Illinois established civil unions.
On Feb. 2, 2012, Knapp and Jarvis joined together in a civil union. Two years later, under Illinois's newly signed law legalizing gay marriage, that 2012 date became their wedding anniversary.
On Friday morning, Knapp received a phone call from her wife.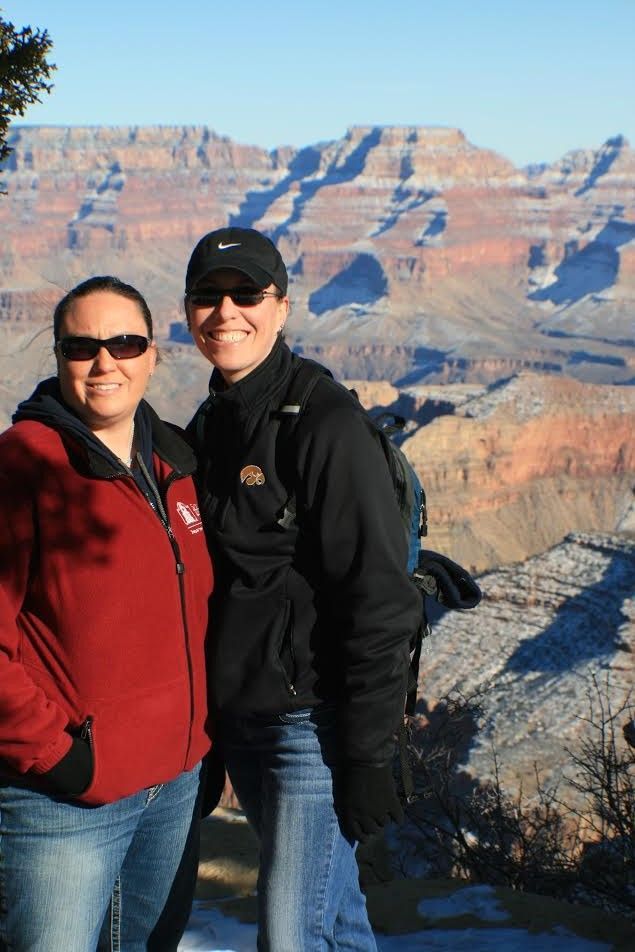 "She just called to be like, 'Hey, did you know?' I want to make sure you're aware," said Knapp, a 39-year-old kinesiology professor at Southern Illinois University. "It wasn't a long conversation, but it was one to kind of recognize, 'This just happened, and isn't this great?'"
For Knapp, Jarvis and the estimated 10,000 same-sex couples in Illinois, the U.S. Supreme Court's affirmation on Friday of a Constitutional right for same-sex couples to marry is less a sea change in policy, and more a symbolic moment that ensures a future of equal protections, no matter where life's journey takes them.
In a 5-4 decision, the court mandated in Obergefell v. Hodges that previously recorded same-sex marriages be honored nationwide and expanded gay marriage to residents of 13 states that had not already legalized it.
Before Friday, for Knapp and Jarvis, a decision to move back to Michigan to be near family would have meant giving up the protections their marriage afforded them – hospital visitation rights, social security assurances, tax benefits.
"To say you're happy doesn't even begin to express it," she said. "There's not a word that I can come up with that would encompass what that meant to me."
From Chicago to Cairo, legislators and advocates responded to the ruling with a broad mix of elation and disdain.
U.S. Sen. Dick Durbin, an Illinois Democrat, said the ruling represented another step in the march toward equal rights.
"This is a great day for marriage equality and a historic day for civil rights in our country," Durbin said in a statement.
Opponents like U.S. Rep. Mike Bost, R-Murphysboro, said the definition of marriage isn't for the courts to determine.
CARBONDALE – Married people separated from their wedding ring – whether it has been removed …
"While I believe all human beings deserve to be treated with dignity and respect, I am disappointed that today's ruling casts aside the will of millions of Americans who have voted to reaffirm marriage as a union between one man and one woman," he said. "As a man of faith, I believe this definition of marriage was established long before there were courts appointed to interpret it."
'A Whole Lot More Work To Do'
Four of the states impacted by the decision – Missouri, Kentucky, Michigan and Tennessee – sit within an hour's drive of Illinois.
For the past two years, residents of those states have trekked to Illinois to tie the knot.
In the year since the Rev. Sarah Richards took up her post at the Carbondale Unitarian Fellowship, she said she's received calls from some of those out-of-state couples. The church has been performing same-sex unions since the law allowed it.
"It's absolutely wonderful, and it's inspiring for us," she said. "There's a whole lot more work to do, but this is the kind of thing that gives us hope for the future of our country."
Like Richards, Southern Illinois LGBTQ advocates and legal experts said the road to equality doesn't end with Obergefell v. Hodges.
"There are many states where a restaurant or hotel could refuse to serve someone or cater to someone because they're gay or lesbian," said Steven Macias, an SIU law professor who studies sexuality and gender in legal theory.
MURPHYSBORO -- Joe Powers and Duane Cole have waited 33 years to  be recognized as a married…
Macias said Friday's ruling will either serve as motivation for states either to pass anti-discrimination laws or laws that expressly protect rights of religious people to discriminate.
The obligation, or lack thereof, of religious officials to perform same-sex marriages also is likely to re-enter public discourse.
"Given that the court has now said that there is a Constitutional right to same-sex marriage, what does that mean, for example, for churches who don't want to perform those marriages? Or for church-based or related organizations and institutions who disagree with the concept?" said Edward Dawson, an professor of law at SIU who clerked for Justice Anthony M. Kennedy in 2004-05. "I think there's a lot more cases to come."
Gregg Elkins is the chairman of the board of directors at Rainbow Café, a Carbondale-based peer-led social group for Southern Illinois gay, lesbian, bisexual, transgender and queer teens. The group meets every Friday evening to socialize in a safe, supportive environment. For the past 15 years, teens have attended from as far away as Kentucky.
The group itself has been the target of a few prank phone calls at worst, but Elkins said at home its members face bullying and discrimination from classmates, community members, religious organizations and, occasionally, family members.
"I grew up in Southern Illinois, and I know what it's like to be teased and taunted and bullied and think nothing of it," he said. "Our individual youth are subjected to it all the time. … It's still out there and going on big time."
Just after the Supreme Court decision, Rainbow Café organizers shared a post from the magazine "The Advocate," with the rainbow-colored graphic headline, "Victory: Marriage Equality Comes to America." Elkins said the ruling would be a central discussion during that evening's meeting.
"It's a huge symbol that stands out there when there are people in their communities, maybe their families that are saying negative things about LGBT people, they get an official sign: 'You have worth as a human being,'" he said. "'Your relationships, who you love, are valid. They're worthy."