CARBONDALE — The weather has warmed up, and that is as good of an excuse as any to pull that bicycle out of the garage during National Bike Month.
Tuesday, May 1, kicked off the month dedicated to two wheels, a chain, and no engine. Throughout Carbondale, there are several events all month to highlight the best parts riding a bicycle for fitness or bringing out the inner 7-year-old who just wants to get outside and ride.
Carbondale bike coordinator Sarah Lawrence said biking in general is a good thing, but during National Bike Month it is a good opportunity for those who don't bike regularly to take advantage of educational opportunities.
Such opportunities could include information about bike routes in Carbondale and motorists' education about watching for cyclists and knowing what their rights are.
Cyclists are required to ride on the street if they are over the age of 12 and ride on wheels bigger than 24 inches. Lawrence said most sidewalks are too narrow for pedestrians and bicycles together. However, the multipurpose paths throughout the city are designed for walkers and cyclists at the same time.
Additionally, the city created a bicycle network map, which it will be distributing at several events. Copies of the map will also be available at City Hall and at explorecarbondale.com.
The SIU Student Center hosted a bike repair and sale Tuesday. Saluki Spokes was out repairing bikes by oiling chains, repairing flats, and fixing other nagging bicycle issues so students could attempt to sell their bikes before school ends. There was also a fleet of used bikes for sale.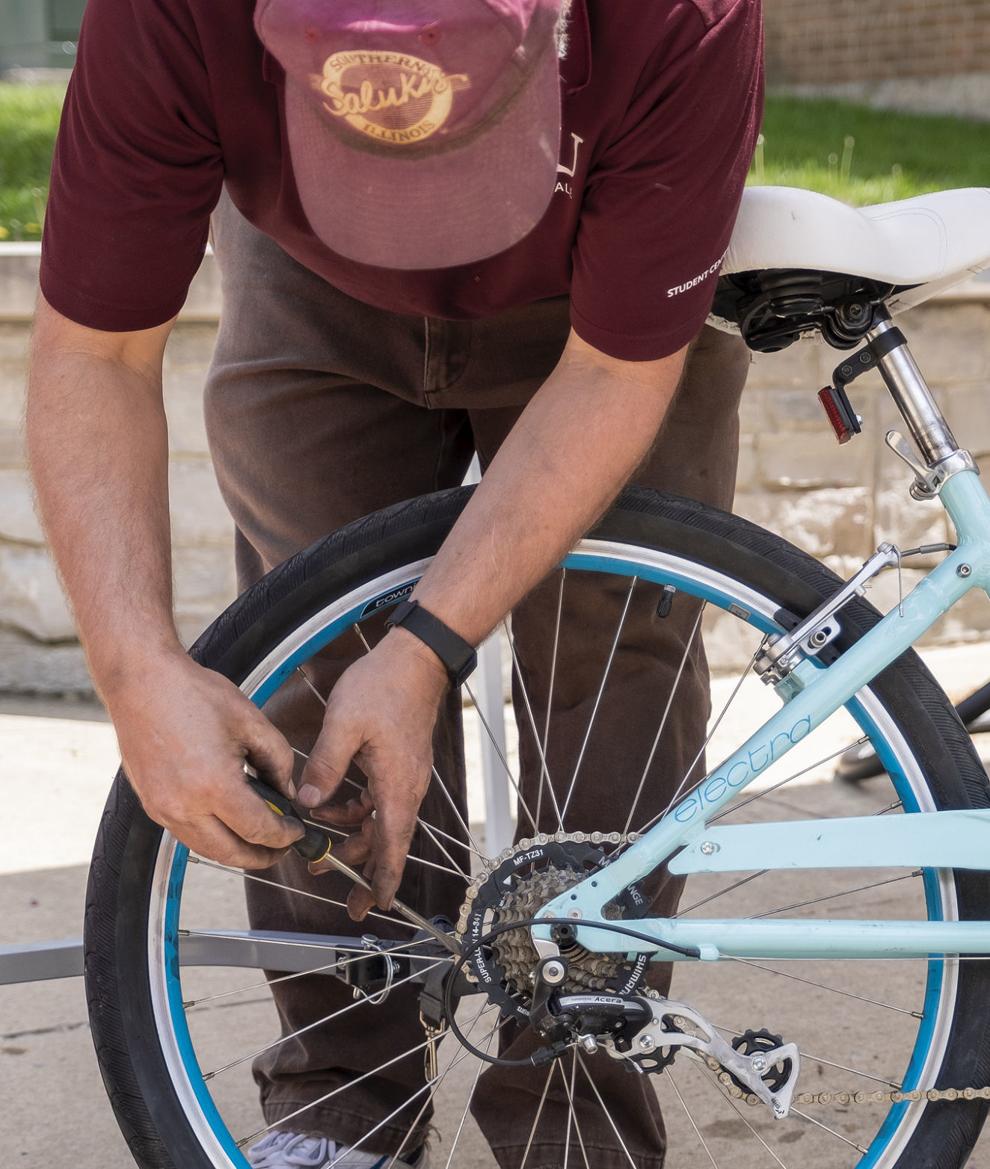 At night, there was a Carbondale group ride scheduled at 5:30 p.m. Riders were meant to ride along the new downtown bikeway in Carbondale, around SIU, and the back to downtown by Newell House.
On Friday, SIU Sustainability and Saluki Spokes will be having a group ride to the Murdale Shopping Center. Interested riders can meet at the south end of the Student Center. The ride is intended to support students staying in Carbondale for the summer who would like to learn how to safely bike to off-campus locations.
On Saturday, May 5, opportunities for maintenance will be available in two places. First, the Bike Surgeon will be at the Carbondale Farmer's Market from 8 a.m. to noon. Additionally, from 10 a.m. to 2 p.m., Phoenix Cycles will be at the Spring Carnival at the Murdale Shopping Center inspecting bicycles.
Also on that Saturday, a special Fresh Fitness workout with SIU Fitness instructor Nathan Shaw will host a bike month workout with exercises and stretches to improve speed and power and prevent injury.
The Bike Surgeon on Friday, May 11, will host a ladies-only bike repair workshop at 5 p.m.
May 14 through May 18 is bike-to-work week, and on May 19, the Bike Surgeon will be at the farmer's market once again to make sure bikes are suitable during the month.
At 2 p.m. Saturday, May 19, The Varsity Center will host a showing of "Breaking Away." Riding a bike to the performance will score riders a half-price ticket. Lawrence said the movie is an '80s bike-themed film.
The Fourth Friday Fair, from 6 to 9 p.m. May 25, will be bike-themed. There will be several bike-friendly activities, decorating opportunities, a bike rodeo, and competitions for prizes.
From 9 a.m. to 1 p.m. May 26, Touch of Nature Environmental Center will host an event where individuals have the opportunity to build a trail and ride on that same trail. To register, visit ton.siu.edu or call 618-453-1121 for more information.
The very last day of National Bike Month will see a bicycle luncheon from noon to 1 p.m. at Turley Park Pavilion. The luncheon will be sponsored by the Neighborhood Co-op Grocery.
Additionally, a bicycle scavenger hunt will happen all month long. Lawrence said landmarks like the SIU clock tower are the types of items to be found. The idea is the take a selfie with the item in the photo and post to the city of Carbondale's Facebook page.
Each found item in the scavenger hunt is worth points, and Lawrence said some photos are worth more than others. There is also a children's version of the scavenger hunt.
Also throughout the month, from noon to 1 p.m. on Wednesdays, there will be live music at the Town Square Pavilion hosted by Carbondale Main Street.
618-351-5074
on twitter: @zd2000