CARBONDALE — On Monday evening, the far corner of the bar at PK's was empty save a small makeshift shrine: A glass of white wine, a crossword puzzle, a notebook and a television remote, all lit by a small lamp. A sign warned anyone not in the know: "Don't sit here."
This was the spot that PK's founder and owner, Gwen Hunt, occupied most days for the past several years, until she faced health problems this past April that prevented her from holding court there.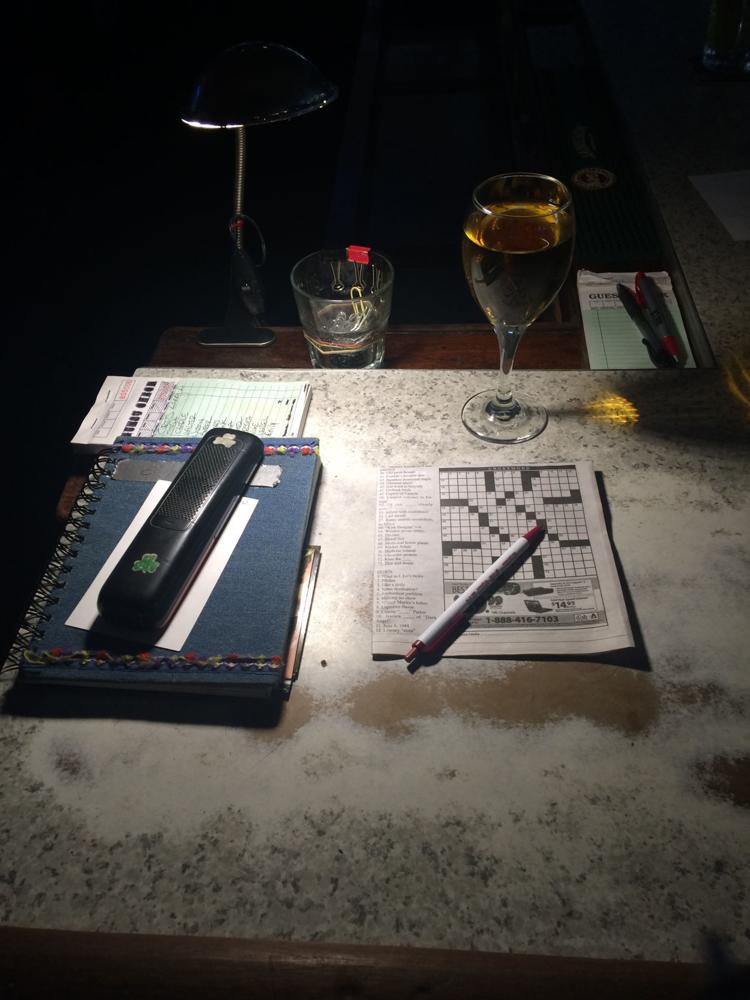 Hunt died Saturday at age 84. She had run PK's — what one patron on Monday night described as "a country tavern in the middle of town" — for nearly 63 years.
Anyone who frequents it knows PK's is more than a bar. And Gwen was more than a bartender.
She was a mother or grandmother to some, a mentor or role model to others. She was a pizza pioneer — when she and her then-husband opened the Pizza King (as it was known) in 1955, they were the first to serve pie in Carbondale. She was a trailblazer — the first woman in Carbondale to hold a liquor license. As the legend goes, she bucked preachers, cops and city officials who said in the '70s when she took over sole ownership that the bar business was no place for a woman. When biker clubs gave her bar a rough-and-tumble image — which persists to this day, in some unknowing minds — she gave them the boot. When the city wanted to tear down the bar in the '80s to make way for a conference center, she wrote a letter to President Ronald Reagan asking him to send Housing and Urban Development officials to Carbondale for a public hearing on the project.
She stopped serving pizza in the '70s, when pizza shops popped up on seemingly every corner in this college town, and shortened Pizza King to PK's. Since then, it's been a place to party, a place to meet friends and strangers, a place to hear live music — some of the most prolific Southern Illinois acts have found homes on its stage. It has been a place to celebrate — in the '80s, Gwen held an annual Christmas in July party, for which she'd dress as Santa.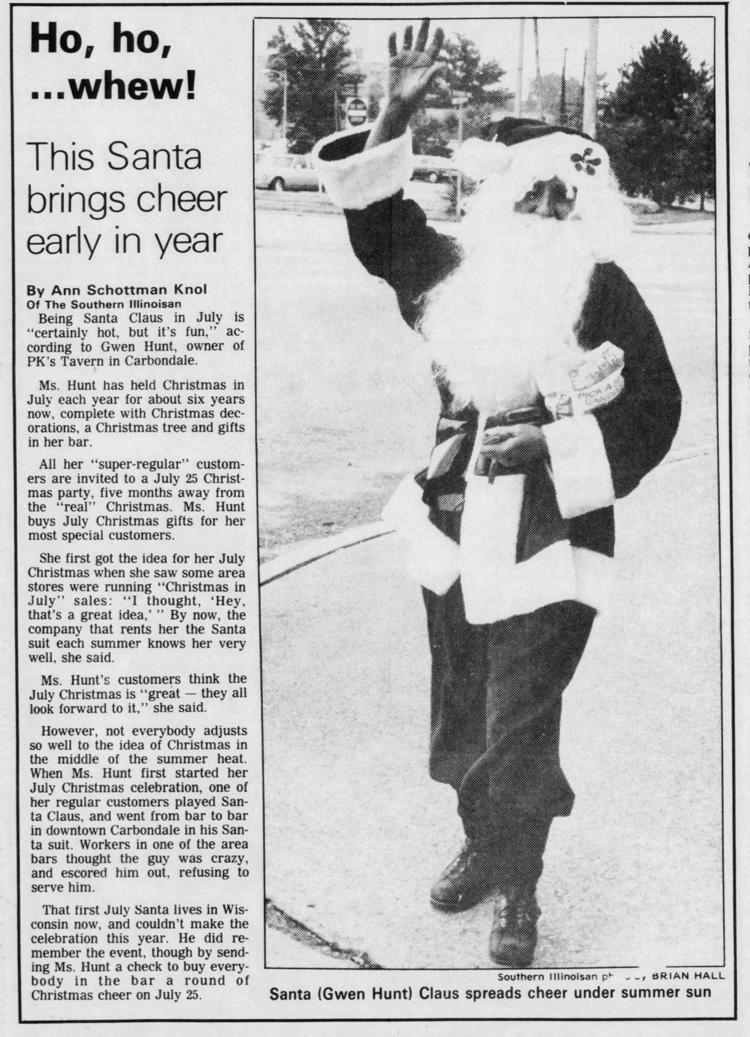 Although Gwen did away with pizza many decades ago, she served lunch and a famous Saturday breakfast and remained the chef there into her 80s.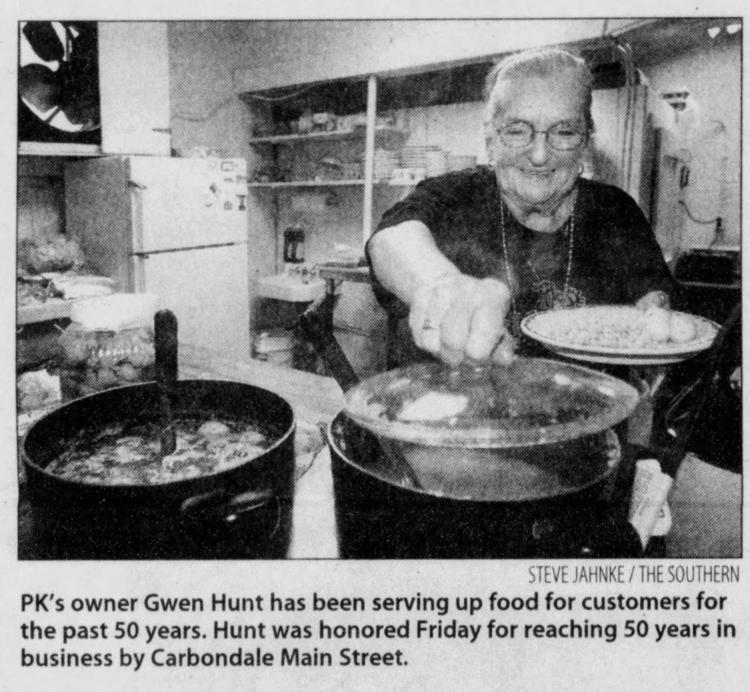 She grew up on a farm in Massac County, and held a degree in Criminal Justice from John A. Logan College. She had five children.
Gwen was feared, revered and respected. She tolerated no nonsense in her bar, but was generous, giving free meals and loans and a place to sleep to many over the years.
In a 1984 feature, she told The Southern: "People who don't do me good, they don't mean it. Someone borrows money and can't pay it back, well, they can't help that."
She opened the bar at 8 a.m. daily for workers getting off third shifts, and stayed open on holidays like Thanksgiving and Christmas for people who didn't have anywhere else to go.
Curtis Conley, who has been managing day-to-day operations at the bar for the past several years, said Gwen once told him: "If you ever close on Thanksgiving or Christmas, you're fired."
Conley said the tradition of opening at 8 a.m. will also continue. Gwen originally started opening early in the morning for nurses at the hospital and Southern Illinoisan "newspapers guys" looking for a beer after an overnight shift.
"Those people deserve to have a beer as much as anybody else," Conley said of Gwen's reasoning.
"She was a diamond in the rough," Danny Abbott, a PK's regular and former bartender, said. "There was no finer woman. Except my mom. Until my mom passed, then (Gwen) became my mom."
When the Immaculate Conception Parish on Kaskaskia Island fell victim to historic Mississippi floodwaters in 1993, Gwen emptied her cuss bucket, which still sits behind the bar — "If you say f---, you owe," it's labeled — and wrote a check to the parish for $900. She'd never even been to Kaskasia Island, and she wasn't a Catholic.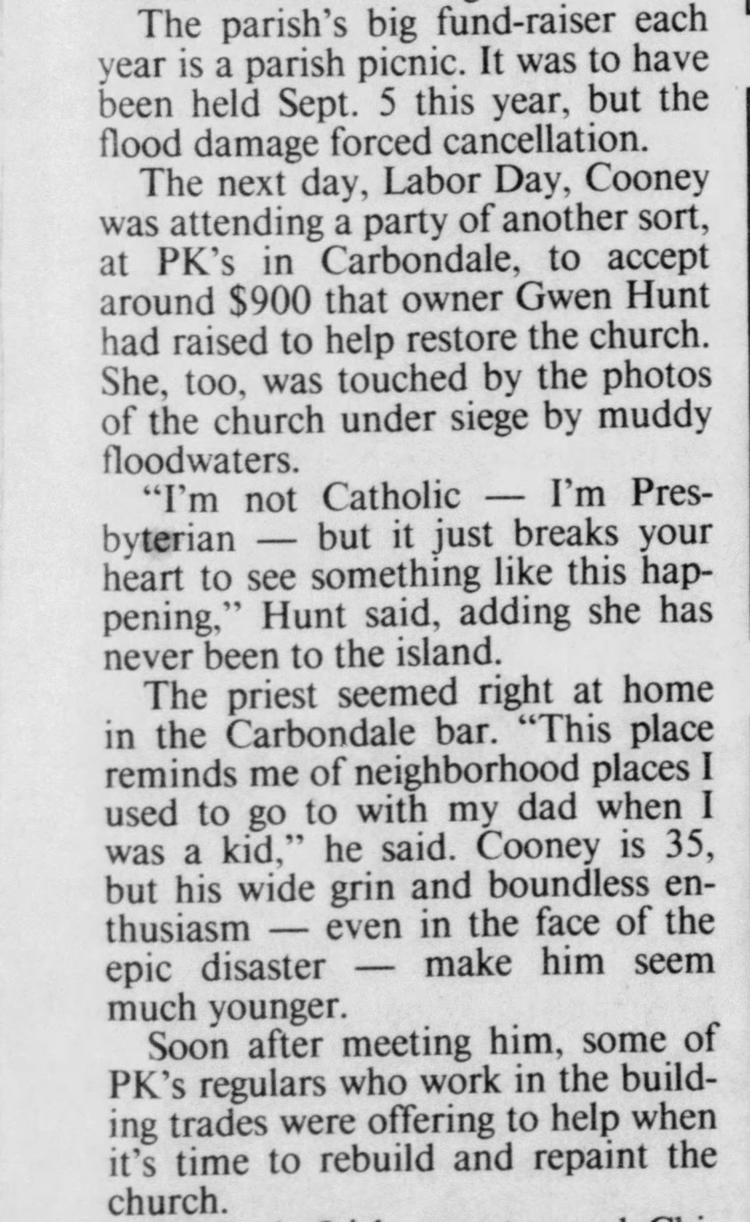 Hutch, a bar regular who asked to be identified by his "mug name" — one PK's tradition is the personalized wooden mug, many emblazoned with nicknames — said Gwen demanded a quarter in the cuss bucket per F-bomb. You could pay a dollar to cuss all day, as long as you didn't do it within her earshot.
Hutch remembered Gwen "pushing so many meals at me" when he was a roadie for Big Twist and Mellow Fellows, the bar's house band in the '70s.
He described Gwen as sharp but compassionate, and credited her spirit with the welcoming atmosphere that has kept regulars coming back for decades.
In the '70s, Hutch said, patrons in wheelchairs found a welcome home at PK's. For one, it was accessible. And, if anyone gave a person in a wheelchair any trouble, they could be expected to be "accidentally" and roughly bumped by the bikers who frequented the place.
"That was Gwen's spirit," he said. "Everybody is accepted as long as you don't push people around. From college professors to bricklayers, everyone was welcome."
Jim Eagleston, who has been coming to PK's for about 10 years, said Gwen once paid for his daughter to have a pedicure when she had to miss out on a gals' pedicure day before a family member's wedding.
"She had the mentality of everyone helps everyone," Eagleston said. And, that's how she ran the bar.
Wendell Jernberg, who has worked at PK's since 2012, said when she was in the kitchen, Gwen always remembered he doesn't like tomatoes, saying she was like a grandmother to him.
"Just things like that made her special," he said.
PK's patron Barry Cupp said Gwen was the only person he was ever afraid of.
"There was nobody tougher," he said.
With a laugh, he remembered he once walked into the bar and greeted Gwen with a friendly "hello."
"Don't tell me your tales of woe," she shot back wryly.
The four regular patrons sitting with Cupp on Monday laughed heartily at the memory.
And a few of the bartenders congregated in the kitchen on Monday night laughed remembering Gwen's constant ribbing of one employee after he took too long in her kitchen sauteing vegetables before adding them to his omelette.
She told that story many times, and never let him live it down.
Now that Gwen is gone, Conley said, little will change. The bar will stay in Gwen's family's ownership, and Conley will continue to run it.
"The only thing I'm not doing is the pickled eggs," Conley said, referencing the 50-cent specialty so perfect for a midnight snack. Gwen pickled them herself with her own recipe.
"I heard a possibility that she snuck in here in the last couple months and made a batch," he said. That may or may not be true, he cautioned, but if it is, he said he may "bust them out" at the bar's anniversary party, planned for Aug. 11.
That anniversary — the bar's 63rd — will also now be the day of a celebration of life for Gwen. She didn't want public services or visitation, Conley said.
He said patrons can expect in the future to see a wall inside the bar dedicated to Gwen's legacy.
"She'll be here," he said.
A wood carving of Gwen's likeness already hangs above the bar with its arms outstretched, and the words below it: "All my children."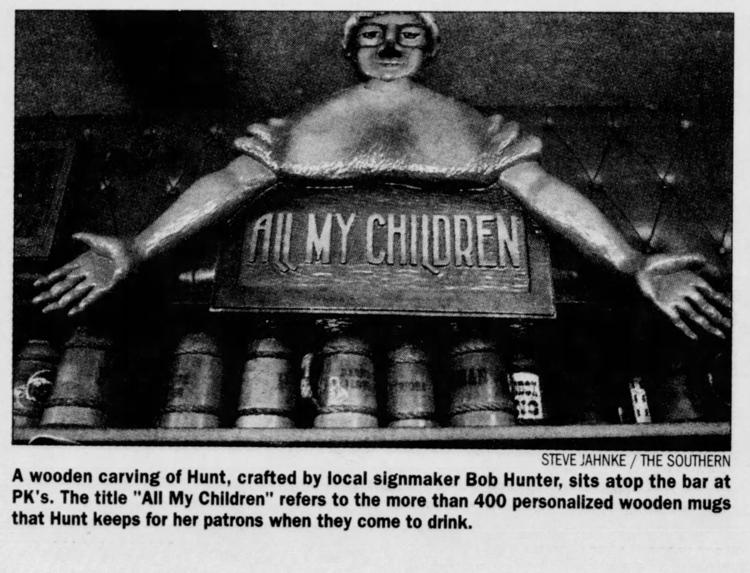 From the archives: Remembering Gwen Hunt, who ran Carbondale's PK's for more than 60 years
Gwen Hunt tends bar
"I consider it a down-to-earth type place where it doesn't take too long to get to know people."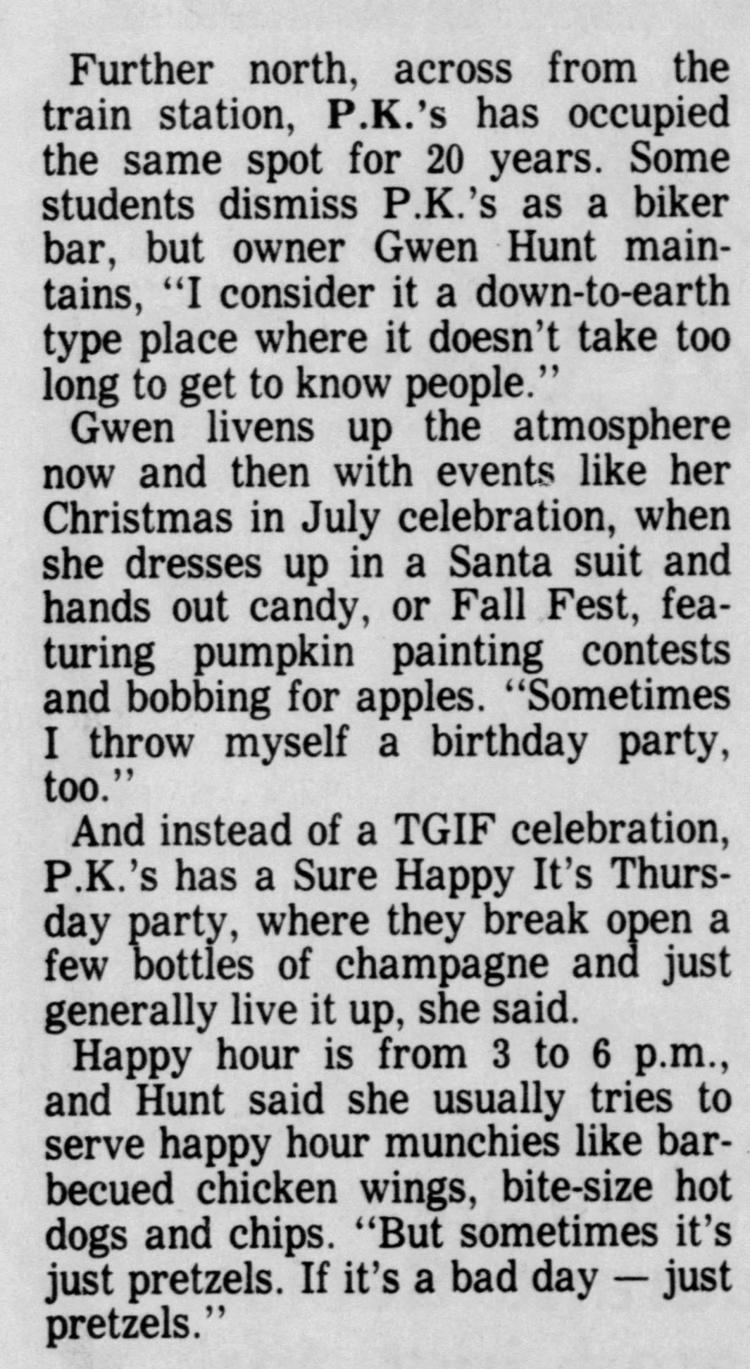 Pinball, pool, music, beer

PKs celebrates 60 years in business in Carbondale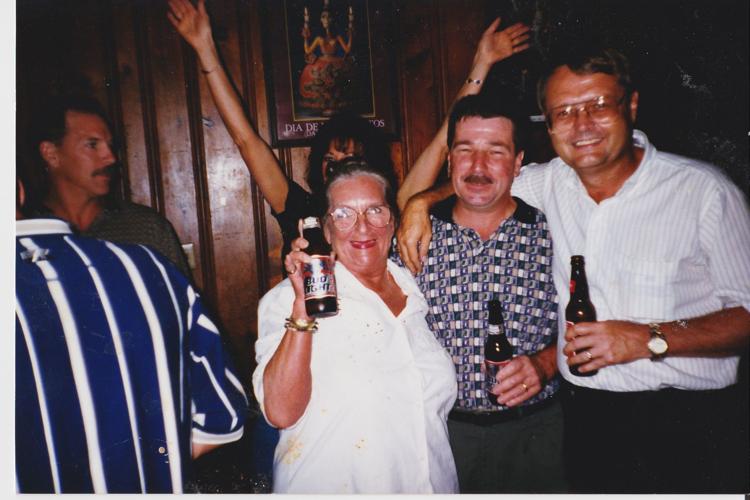 A look back at PK's over the years
Full of heart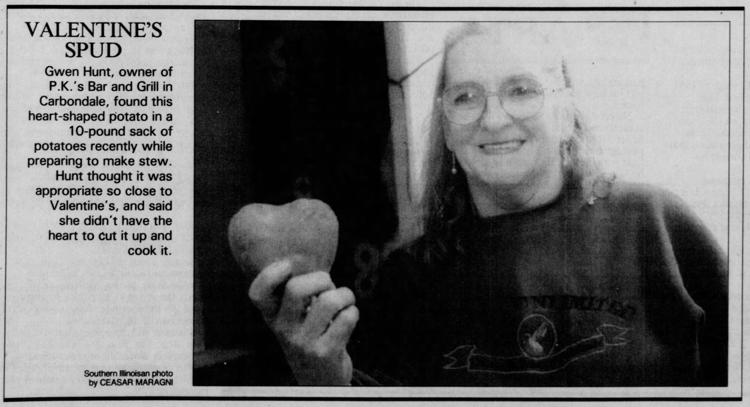 "But no rough stuff"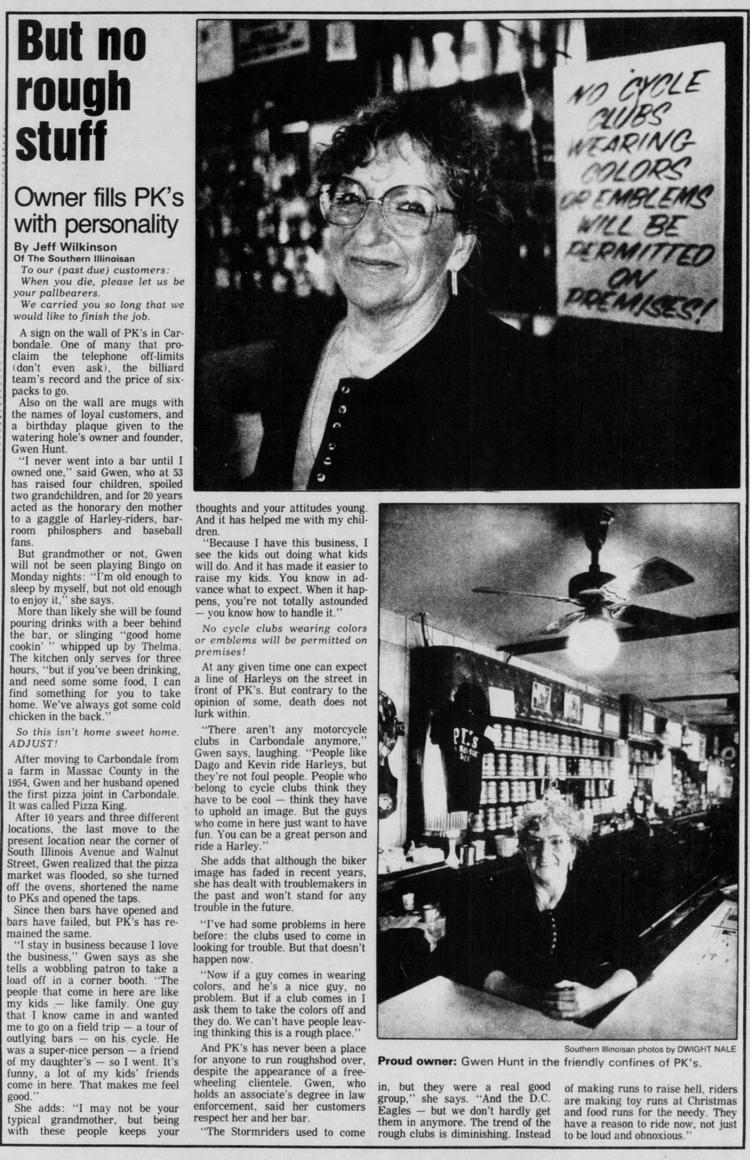 Gwen Hunt donates $900 to flooded Kaskaskia Island church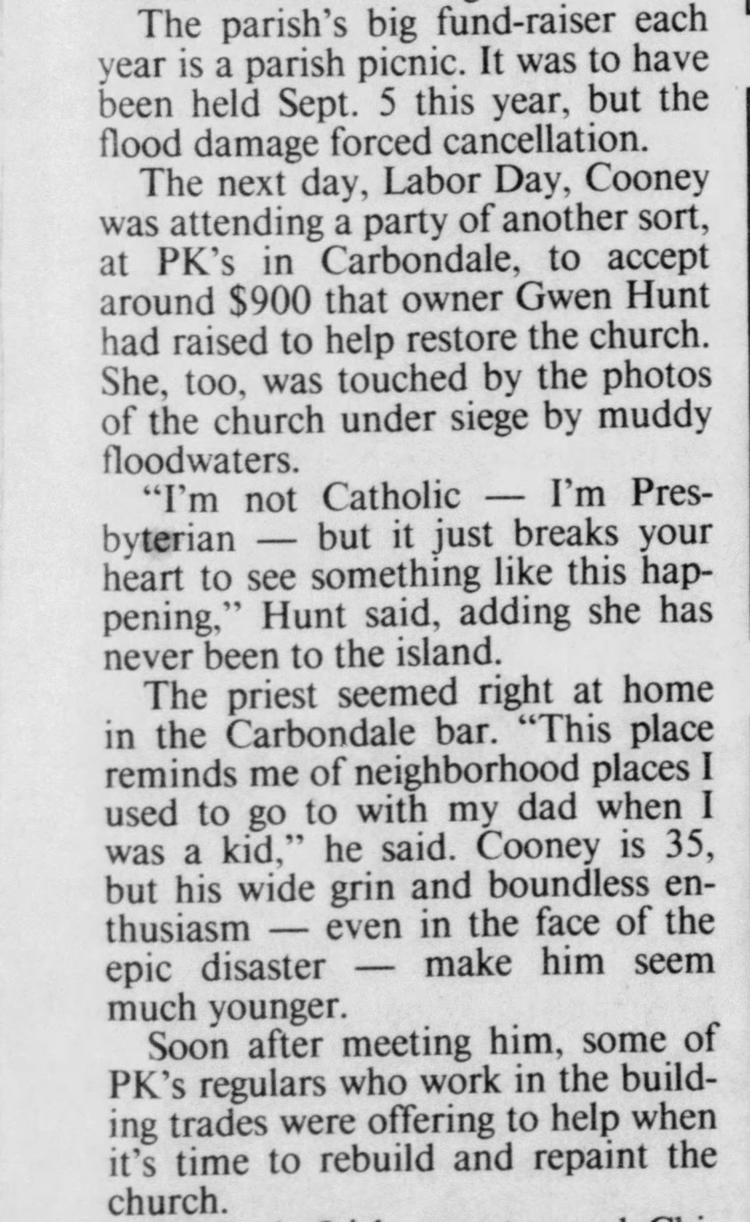 Pizza King prepares to open in February 1955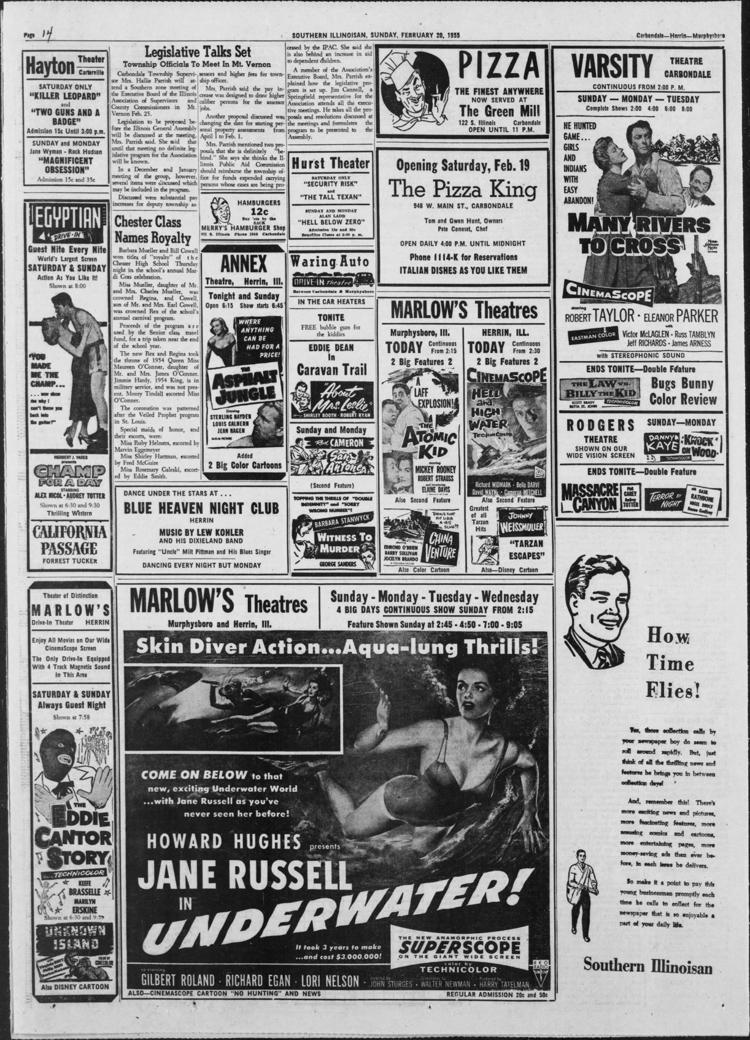 Queen of the kitchen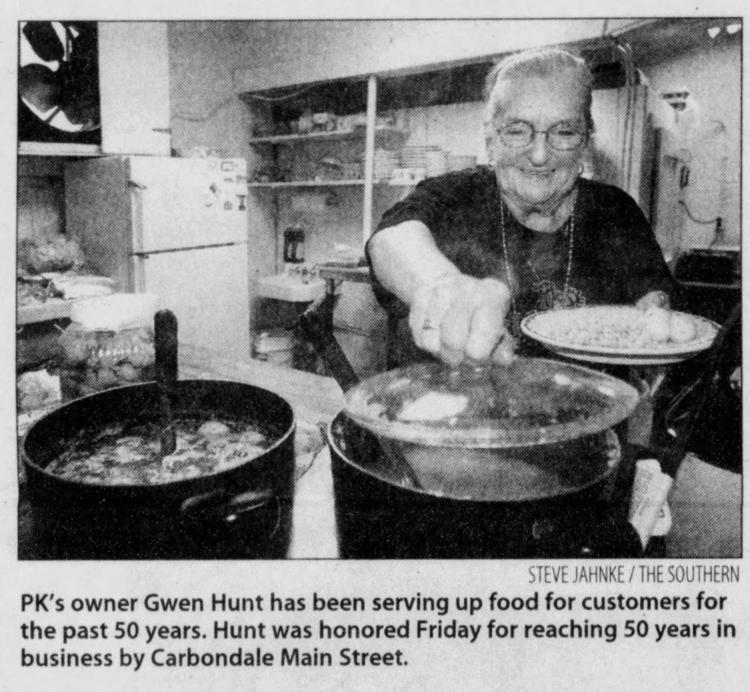 "I believe in anybody," Gwen said in this 1984 feature in The Southern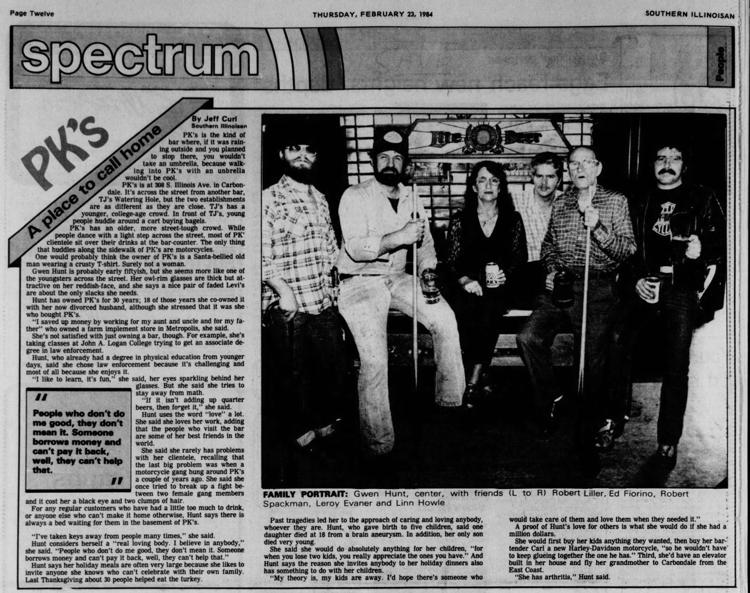 Top draw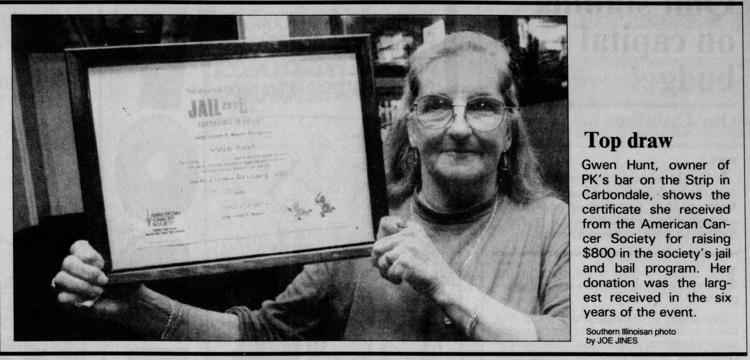 Christmas in July