CARBONDALE — Members of Tau Kappa Epsilon Fraternity, Beta-Chi chapter, at SIU were recognized for their work to spread the word about cancer. Certificates were presented to Sam Faciano, TKE president, and Jason Riley, TKE philanthropy chair, by Rudy Bess, founding director of the Hope Light Foundation.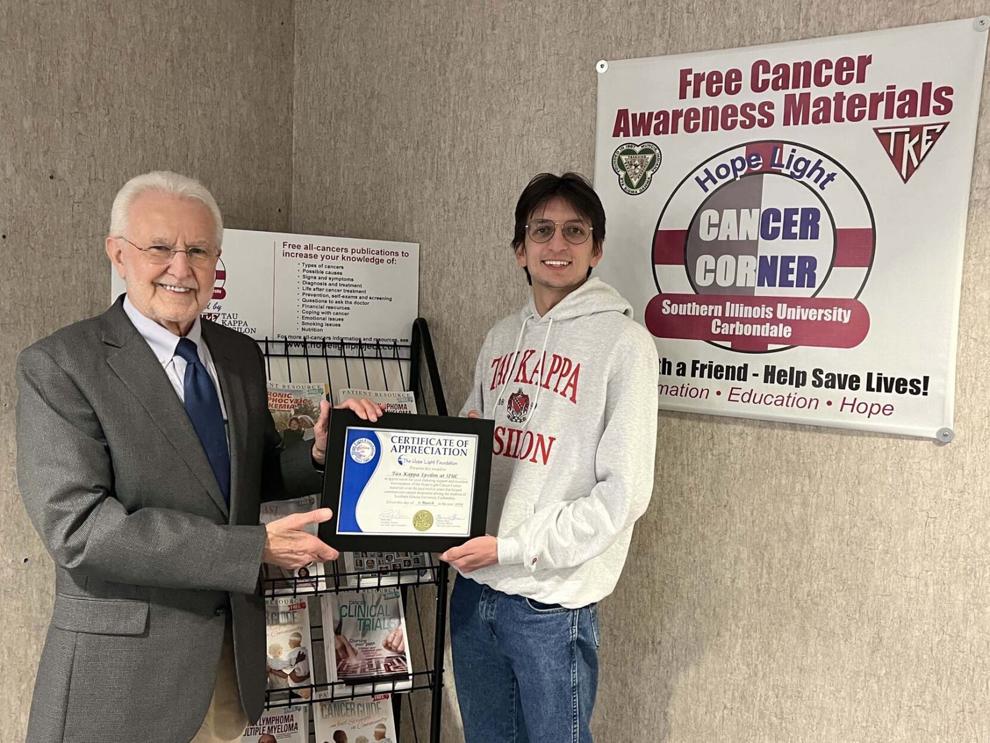 Rudy Bess, Founding Director of The Hope Light Foundation, presented Tau Kappa Epsilon (TKE) with a $500 donation and a certificate of appreciation for their "enduring support and excellent maintenance of the Hope Light Cancer Corner materials over the past 12 years that helped communicate cancer awareness among the students of Southern Illinois University Carbondale."
The Cancer Corner is a display rack with cancer awareness materials that are free for visitors to take with them and learn about cancer prevention, signs, symptoms, treatment options, and clinical trials.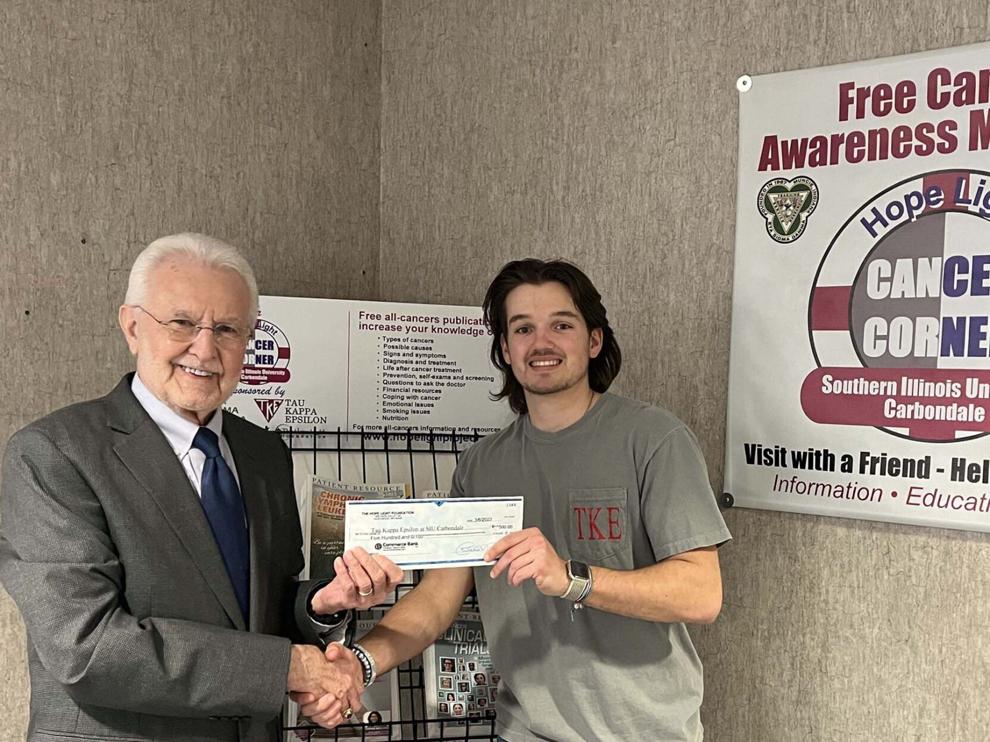 Thanks to TKE, the Cancer Corner will continue to be stocked with cancer brochures, pamphlets, booklets and other material to enable individuals to recognize signs and symptoms of cancer and detect cancer early when it is easier to treat and survive.
Riley said the fraternity has maintained the Cancer Corner since 2011 and that individual members of the fraternity continued to keep the Cancer Corner materials stocked after the TKE chapter at SIU closed three years ago.
"I am really proud of everyone and the work me and my brothers have done," Riley said.
The Cancer Corner is located in the Student Center on the first floor adjacent to the University Bookstore.
"Our chapter closed in 2020. We have reformed the chapter, me and about 20 other guys," Riley said.
Bill Bruns, deputy director at SIU, is the chapter advisor. 
Since reinstating the chapter, Riley sees a lot of good things coming from the chapter. He said they are planning more philanthropy events.
A "naked" run is planned for April 15 at Campus Lake. Riley said participants run in short shorts and sports bras and donate clothing to a homeless shelter.
Tau Kappa Epsilon International Fraternity was founded Jan. 10, 1899, at Illinois Wesleyan University in Bloomington. Their mission is to aid men in their mental, moral and social development for life.
The Hope Light Foundation is a 501(c)(3) nonprofit organization with a mission to communicate cancer awareness information for all cancers. They focus on primary prevention, early detection and survivorship using their website and evidence-based outreach activities in Illinois, Kentucky and Missouri.
The major contributor of the Foundation is the George A. Bates Memorial Foundation.