CARBONDALE — Paul Echols, a retired Carbondale Police Department lieutenant, was honored Monday at the 37th annual Dr. Martin Luther King Jr. Breakfast at SIU Student Center for his work to help get posthumous clemency for a wrongly convicted black man, Grover Thompson.
In 1981, Thompson was arrested and later convicted of stabbing a 72-year-old Mount Vernon woman. He was sent to prison, where he died in 1996.
In 2007, serial killer Timothy Krajcir confessed to the stabbing, as well as three other murders, during interviews with Echols and Jim Smith, retired Cape Girardeau Police lieutenant.
In 2011, Echols' book about the Krajcir murders, "In Cold Pursuit," was released. He was approached by SIU law students who were part of the Illinois Innocence Project. The officers, students and Illinois Innocence Project petitioned for clemency for Thompson. The petition was tabled until 2015, when it was denied by Gov. Bruce Rauner. Earlier this month, Rauner granted the request for clemency.
"Today we honor Lt. Paul Echols for his courage in cold pursuit," Roy Mazuchowski, NAACP first vice president, said.
"I'm very humbled by this recognition," Echols said. "Three years ago, I stood at this podium to ask for your help."
Echols told the audience that efforts to write letters and make phone calls helped get justice for Grover Thompson. He also said Thompson should never have been arrested.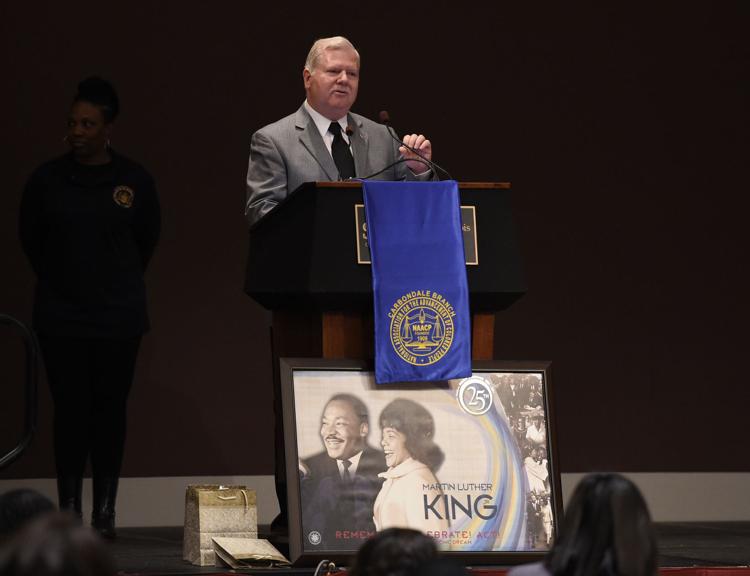 "He should have lived out the rest of his life in Mississippi playing the blues on his guitar," Echols said. "We must be better than what we did to Grover Thompson."
He thanked the Illinois Innocence Project, Chris Behan and SIU law students, Lt. Jimmy Smith, Tom Miller of WJPF, Carly O'Keefe from KFVS-12 and Pepper Holder.
Then, Echols quoted King, saying, "The time is always right to do what is right."
The theme of this year's breakfast was "Same Kind of Different as Me." The theme is based on a quote by Dr. Martin Luther King Jr.: "We may have all come on different ships, but we're in the same boat now."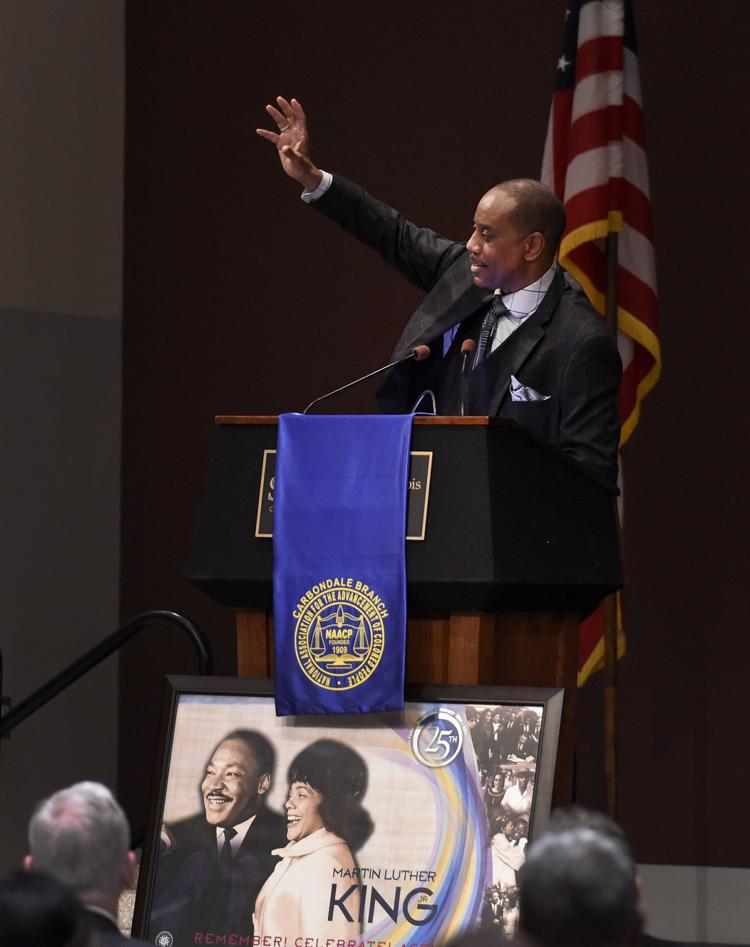 The keynote speaker was Apostle Larry T. Barnett, pastor of St. John's Praise and Worship Center in Pulaski and former principal of Lincoln Junior High School in Carbondale.
Barnett told those gathered that his parents never accepted excuses, but taught their children to rise above it.
"With all the problems and divisiveness in our country, I'm still glad to be living right here in the United States of America," Barnett said.
He called on the audience to never forget the struggles of the past. When we forget, we doom ourselves to repeat our mistakes.
"If ever there was a time people need to stand up and speak up, it is now. If you achieve, you help someone else achieve. If you get ahead, you reach back and help others. We need to hold the heels of our leaders to the fire," Barnett said.
The winners of the Dr. Martin Luther King Jr. Essay Contest were also announced.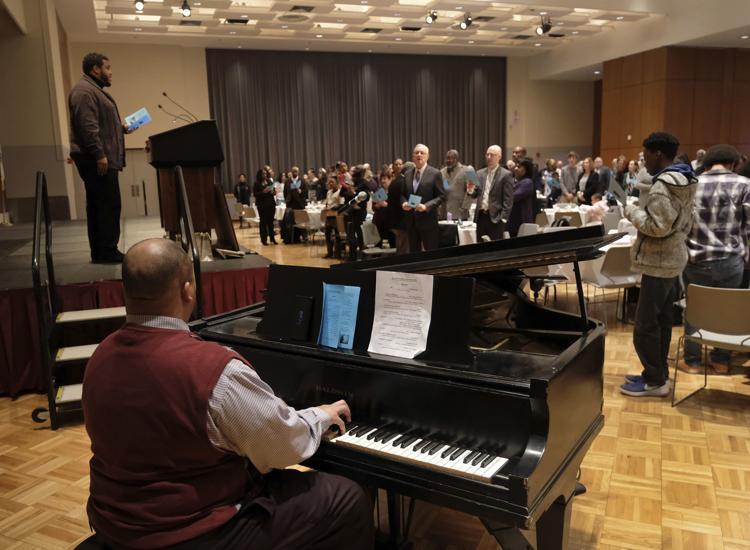 The Carbondale Branch NAACP sponsors the annual event at SIU student center. They extended special thanks to Tena Bennett, director of SIU Student Center; Todd Bryson, interim associate chancellor for diversity; Chancellor John Dunn; and Terry Clark, dean of SIU college of Business. Other partners for the breakfast include SIUC University Housing, Student Center dining Staff, Carbondale Elementary District 95, Carbondale Community High School District 165, Prairie Farms Dairy and First Bank of Murphysboro.