Trash poses perennial problem at Carbondale's Pyles Fork Creek
CARBONDALE — Twice a year, a few dozen volunteers don gloves and rubber boots and wade bravely into the perpetually trash-clogged Pyles Fork Creek.
The biannual cleanup effort is the creek's primary defense against a chronic, staggering pollution problem. In 2017, volunteers hauled 900 pounds of trash out of the stream; previous years saw as much as a ton.
Keep Carbondale Beautiful and Green Earth, Inc., hosted the most recent cleanup in September, and already, islands of detritus have accumulated in the waterway.
Carbondale's stormwater is not treated, but drains directly into creeks. About a third of the city's drainage system dumps into Little Crab Orchard Creek, and the other two-thirds bleeds into Pyles Fork.
Taking in the sheer amount of trash can be "overwhelming," said Sarah Heyer, executive director of Keep Carbondale Beautiful. Still, she said, the stream's beauty is often overlooked.
"A couple of years ago, before I had this job, I saw a great blue heron flying in that creek, and I thought, whoa, this is a nice creek. There are fish in there sometimes, enough for a great blue heron. So it made me feel like something should be done," Heyer said.
Pyles Fork Creek — also spelled "Piles," but Green Earth prefers the "y" — spills out of the Carbondale Reservoir at Pleasant Hill Road, edges past the southeast corner of the Southern Illinois University Carbondale campus, cuts under Wall Street and Grand Avenue, and meanders through the east side of town, snaking behind Attucks Park to converge finally with Crab Orchard Creek in the woods behind the Walmart Supercenter.
Green Earth acquired the land in 2010. Back then, the swath of hardwood bottomlands was in such bad shape that the group had to hold cleanups as frequently as once a month, said Stephanie Eichholz, executive director of Green Earth.
"When we took this land over, it had decades of homeless living out here. So we were pulling out mattresses and tents and sleeping bags — everything long since abandoned, but it was a mess. At that point we weren't really differentiating between the creek and the habitat. We were just pulling out everything we could," Eichholz said.
Among the strangest items volunteers have found in the creek: a 1950s-era washer, a baseball pitching machine, televisions and a stroller. They've found paint cans, couch cushions, car batteries and bicycles.
"It's pretty rare we get something that looks like it was intentionally dumped, but you get the random shopping cart, like somebody was trying to ditch it. But most of it is just stuff that comes off of the street, things that either didn't make it into a trash can to begin with or maybe on a windy day flew right back out," Eichholz said.
The vast majority of the debris is either Styrofoam or plastic. Green Earth even monitors the water level of the creek, which regularly overspills its banks, by looking for trash in trees and other vegetation. Chunks of Styrofoam are mixed in with the leaves on the ground. 
"The Styrofoam, it just becomes this ubiquitous substance out here when it crumbles and deteriorates. It's just everywhere," Eichholz said.
Trash tends to accumulate in certain areas of the creek with a lot of woody debris. Plastic bags are a real headache for cleanup volunteers — they get intertwined with brambles or buried in silt.
"The very first year we did it, some of the (SIU) students … started a competition between BIC lighters and chapstick. I don't remember who won, but they were in the hundreds," Eichholz said.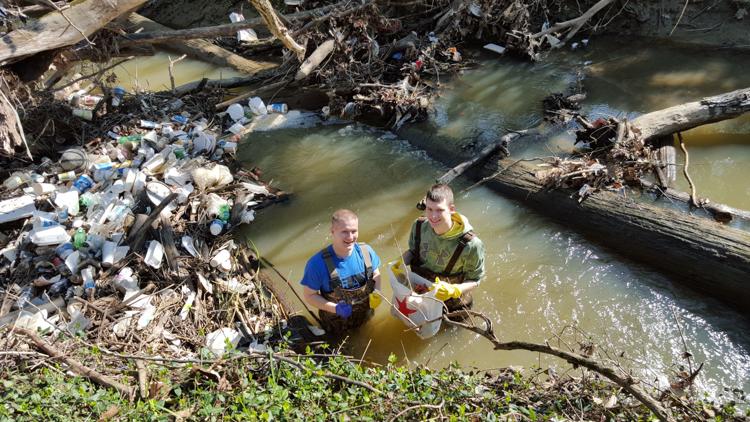 A few years ago, Green Earth and Keep Carbondale Beautiful received a $5,000 grant to purchase a 'Watergoat' — a floating net with a system of buoys designed to capture stormwater debris. It would have allowed workers to pull trash from a single site.
"I think in some other systems, maybe where the water doesn't fluctuate nearly as dramatically, it probably works quite well, but it ended up not working here," Eichholz said.
The catchment system, installed next to Dorthella Street, was supposed to rise and fall with the water level, but it became tangled up in vegetation and natural riprap and wouldn't settle back down, Eichholz said.
"It was a nice try," she said. "… I think we tried it for two years, and it just wasn't effective."
Screening the water intakes of the city's storm drains would keep trash out of the creeks, but would pose a serious danger in big rain events — regular occurrences in Southern Illinois.
"If you screen those and the leaves and the debris back up on it, then you immediately start flooding. So I think the city's hands are kind of tied. They can't strain it, otherwise it could be causing property damage, but if you don't strain it, this is what happens," Eichholz said.
At this point, better litter control is essentially the only viable solution, according to Eichholz. She said she's also a proponent of banning Styrofoam. (Councilwoman Jessica Bradshaw has previously advocated for banning or placing a tax on citywide purchases of Styrofoam, bottled water and plastic bags.)
"I do want to make the point that litter, mostly, is not from people throwing it, it's from blowing out of dumpsters and trash cans that have not been properly closed, it's from backs of pickup trucks when people have stuff in there and it gets picked up by the wind, it's from putting out trash in bags and then animals get at it and the wind takes off with it," Heyer said.
Beautification tends to discourage true litterbugs, however.
"If there's litter already there, then they'll think, 'Oh, it's OK to litter here,'" Heyer said.
To help with that problem, Keep Carbondale Beautiful has planted a garden near the creek on Grand Avenue. Heyer believes the effort has reduced litter in that area.
Heyer said the city's new trash cans, delivered to customers earlier this month, should reduce litter on the city's streets. Previously, residents were permitted to use any type of trash container or simply place trash bags out for pickup.
"Those cans are big enough that you won't have loose stuff next to the trash cans that could blow. So hopefully in a couple years, we'll start to see the effects of that," Heyer said.
618-351-5082
On Twitter: @janis_eschSI