CARBONDALE — Saturday's well-attended Women's March marked a victory for local activists, community leaders say.
Decked out in pink knitted "pussyhats," people from all over the region converged on the Carbondale Civic Center in solidarity with the Women's March on Washington.
Crowd estimates for the event range between 1,000 and 3,000, but march organizer Kathryn Neely said her "best educated guess" is 2,000 people — well beyond her reach goal of 1,000.
"It was a totally grassroots organization. And it just kept happening," Neely said.
Former City Councilwoman Jane Adams, a longtime community activist, said she believed the march was one of the best-attended demonstrations in Carbondale's history. She said she would have put the count closer to 3,000.
"I expect it was the largest organized, peaceful demonstration (in Carbondale)," Adams said.
Georgeann Hartzog, a member of the Peace Coalition of Southern Illinois who attended Southern Illinois University in the late 1960s, said she believed the demonstration was the largest since anti-Vietnam War demonstrations at SIU.
Hartzog said she could think of a handful of protests that attracted hundreds of people since the Peace Coalition was formed in 1983 — namely, demonstrations against the early bombings of Iraq and against violence in Darfur.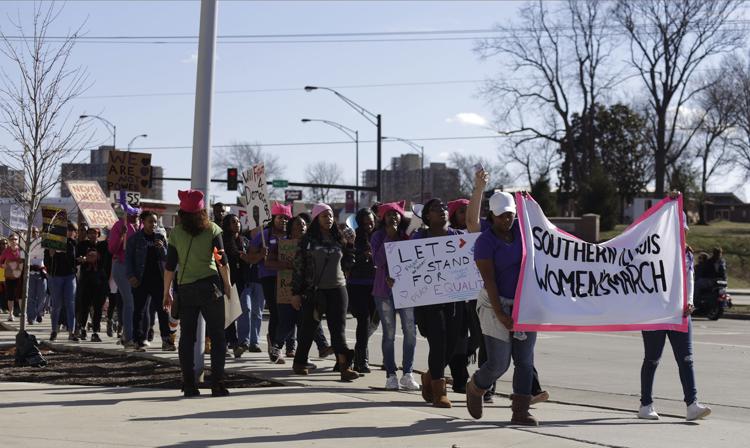 "I can't think of anything that would have compared to this," she said.
Steve Gough, a geoscientist with Little River Research and Design, drove around the march three times in his car, which he'd decorated with pink cat ears and a female symbol. Using video he filmed, he estimated bodies per 10 feet of sidewalk, multiplying that number by the total length of the crowd. His estimate totaled 2,500. The sampling technique is one he uses frequently in his scientific work, he said.
The march was restricted to sidewalks, and about 40 volunteers watched over intersections and directed foot traffic.
"We saw a peaceful march," said Carbondale Chief of Police Jeff Grubbs.
"Carbondale is a very diverse community, and I think you saw that on Saturday. People from all over the community and outside Carbondale came together for common cause, and regardless of whether you agree with that cause, you have to applaud the manner in which they did it," Grubbs said.
At the Carbondale City Council meeting Tuesday night, city leaders expressed approval of the event.
"I was absolutely astounded. That had to be the largest crowd on this block in the history of Carbondale," said Council member Lee Fronabarger.
"Our group was courteous and respectful, and they had a good demonstration," Mayor John "Mike" Henry added.
Councilman Adam Loos said the march was "very well organized" and lauded volunteers' system of helping people across intersections.
"I commend everybody involved. Police, organizers, everybody," Loos said.
"I'm really proud of our little town after that weekend," said Councilwoman Jessica Bradshaw.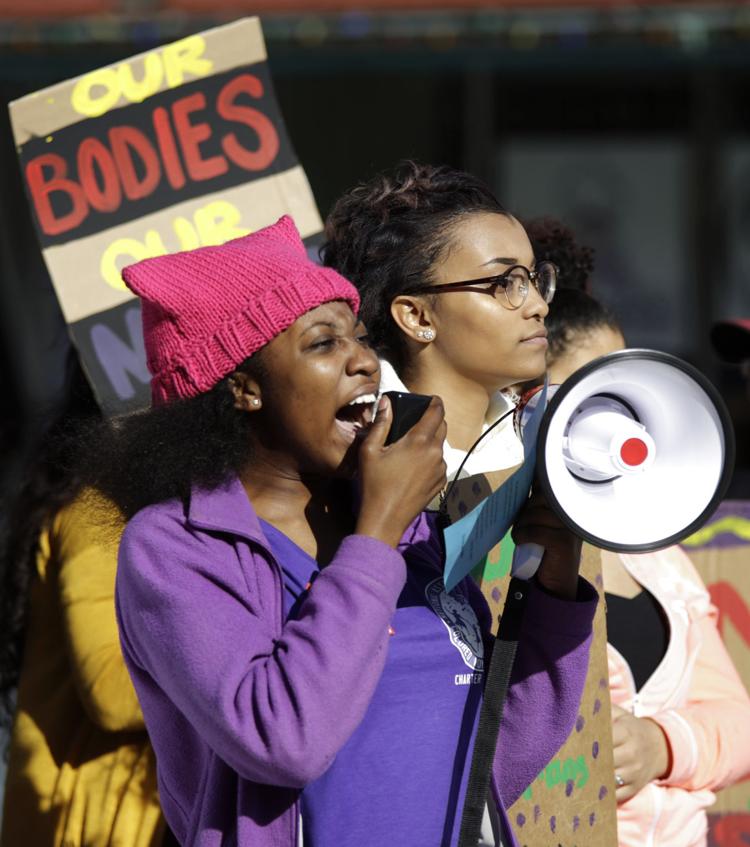 Some march participants plan to keep the momentum going by participating in the "10 Actions, 100 Days" campaign, an initiative put forth by the organizers of the Women's March on Washington. Local activists will host an event at Pagliai's Pizza on Tuesday, where they'll gather to write postcards to legislators.
Organizer Liz Hunter said interest has been higher than anticipated, and that the group is currently looking for an overflow location. She said people are encouraged to host their own events at their homes, and that a template for the postcards is available on the Women's March website.
When all's said and done, Neely said she considers the march a success.
"I heard so many people say they felt empowered and uplifted and (that they were) looking forward to tomorrow and full of energy for taking up the democracy and expressing their views to their representatives, to their governments, to neighbors and to keeping in touch with each other," Neely said.