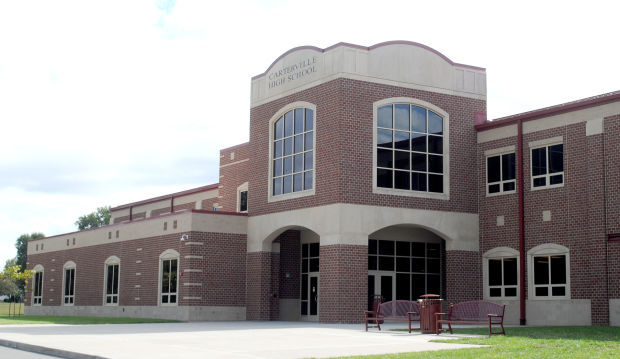 CARTERVILLE — During a special meeting at 6 p.m. Wednesday, Carterville Community Unit School District 5 board voted to retain counsel to sue the Village of Cambria if it passes ordinances related to creating a TIF district as proposed.
Don Yewell, vice president of Carterville school board, called the meeting to order. School Board President David Schwartz was present by phone and all other board members were in attendance, as well as Superintendent Keith Liddell and the board's TIF counsel, Kurt Schroeder.
Although a crowd of around 30 gathered for the meeting, no one chose to speak during the visitor participation portion of the meeting. The next item on the agenda was a closed session to discuss litigation.
The board entered a closed session that Yewell said would last about 15 minutes. They returned to open meeting before 6:15 p.m.
After adjourning the closed session and approving that there was no business resulting in no minutes, the board voted to discuss the proposed intergovernmental agreement from the Village of Cambria regarding the TIF proposal.
Schroeder reminded the board that they discussed the agreement during a special meeting Nov. 1.
"The agreement falls far short of the agreements we have with Carterville and Crainville," Schroeder said.
The school district agreements with Crainville and Carterville give the school district 27.6 percent of any TIF funds collected, with a guarantee that no residential property is included in their TIF districts.
Cambria offered the school district 15 percent of TIF funds, and one developer offered to give 10 percent of TIF funds he was paid to the school district. Also, the Cambria TIF District includes both residential and commercial property equaling about 95 percent of the town.
The board unanimously voted to not approve the intergovernmental agreement.
Schroeder said the joint board of review voted to disapprove the TIF district, with representatives from the school board, Williamson County Board, John A. Logan College and Anne West Lindsay Public Library all voting in favor of the motion. Cambria representatives abstained from the vote.
The board then entertained a motion to retain Greensfelder, Hemker and Gale P.C. to file and prosecute on behalf of Carterville Community Unit School District 5 a lawsuit against the Village of Cambria upon passing any ordinance that approves creation of a redevelopment plan or TIF agreement, any ordinance defining the project area of the proposed TIF plan, or any ordinance regarding allocation of Cambria's TIF proposal.
The motion passed unanimously, and the crowd clapped.
The school board meeting was adjourned.
Cambria village board is scheduled to vote on its TIF proposal at 4 p.m. Thursday in the community center gymnasium.
Be the first to know
Get local news delivered to your inbox!