DU QUOIN — One of the season's brightest holiday tickets is a ticket to the Holiday Lights Fair at Du Quoin State Fairgrounds, which features a 3-mile route of lighted displays.
The Holiday Lights Fair, presented by Du Quoin Tourism Commission, is open from 5:30 to 9:30 p.m. nightly through Dec. 30. Admission is $10 per family vehicle or $1 per person on commercial carriers or tour buses.
Chelsea Davis, president of Du Quoin Tourism Commission, said this is the 19th year of the display. Since 2000, the display has grown in size and the number of days. 
"It provides a tradition and something festive for families from Du Quoin and the surrounding area," Davis said.
Among the lighted displays, guests will see elves, skaters, a train, Santa in a firetruck, a friendly sea monster and much more. 
During the first few weekends of the Holiday Lights Fair, the Expo Hall at the fairgrounds is open for guests. The Expo Hall will be open from 6 to 9 p.m. Dec. 7 through 9 and 14 through 16. There is no charge to enter the Expo Hall; it is included in the overall admission fee.
Inside the hall, guests will find food and craft vendors, live music, free train rides, a kids corner with crafts and activities for children, visits with Santa, Christmas tree display and decorations, a model train display and more.
Entertainment is scheduled as follows: 6:30 to 8:30 p.m. Friday, Southern Illinois Concert Band; 7 to 8:30 p.m. Saturday, John A. Logan Community Band and Orchestra; 6:30-7:30 Sunday, Kateena LeForge, followed by Damon Waller from 7:30 to 8:30 p.m.; 6:30 to 8:30 p.m. Dec. 14, Kateena LeForge; 6:30 to 8:30 p.m. Dec. 15, Kali Lynn; 6:30 to 8:30 p.m. Dec. 16, The Great Romance.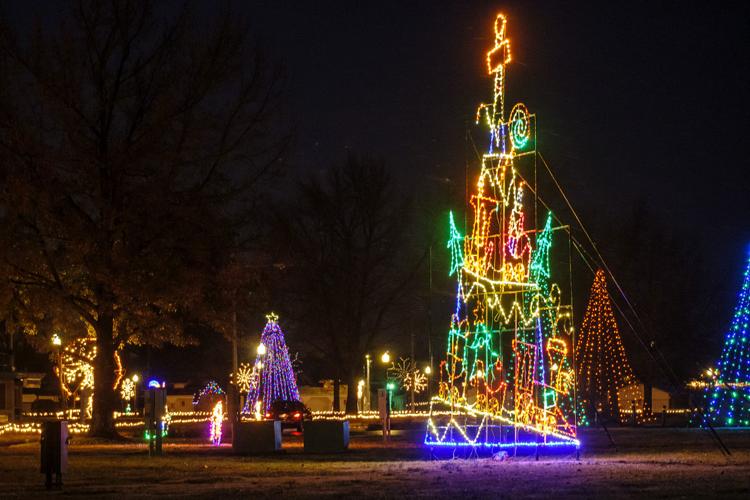 This year, according to Davis, the tourism commission put up boards for visitors to sign telling where they are from. The board shows visitors have come from as far away as Arizona, Kentucky, northern Illinois and all over Southern Illinois.
"It is really amazing that people from so far away are able to come to little Du Quoin," Davis said.
She added that having so many extra people coming to town provides a boost for local business. Alongi's Italian Restaurant suggested people stop in for dinner while visiting the Holiday Lights Fair on their Facebook page.
Davis likes to sit back and watch families have fun around a holiday that has become so hectic.
"I think it's pretty amazing. You don't get too many of those moments these days," Davis said.