DU QUOIN — Sometimes a horse does not have to step on the racetrack to be a winner, and Fancy Creek Jolene, a three-year-old filly, is one of those horses.
Owner Frank Marcolini of Chicago Heights said his relationship with Fancy Creek Jolene really began with her mother, Joliet Jean. He loved the horse so much that he told her owner that if Joliet Jean ever had a filly, he would be interested in purchasing her.
"I used to race her mother, and she was a dream," Marcolini said.
Ten or 12 years passed and Marcolini was no longer in the harness racing business. He stopped by the farm, and saw Fancy Creek Jolene. Of course, he bought the young filly.
Marcolini and trainer Kim Hamilton said she showed promise, but early in her career, she broke pace and could not finish a race. She stumbled into the rail and could not lift her head. Marcolini thought she had been injured and was lame, but that was not the case. The young filly had contracted Equine Protozoal Myeloencephalitis, or EPM.
EPM is a neurological disease caused by the apicomplexan parasite Sarcocystis neurona that affects the central nervous system of horses. Horses are infected by ingesting S. neurona sporocysts in contaminated feed or water. The sporocysts are commonly carried by opossums.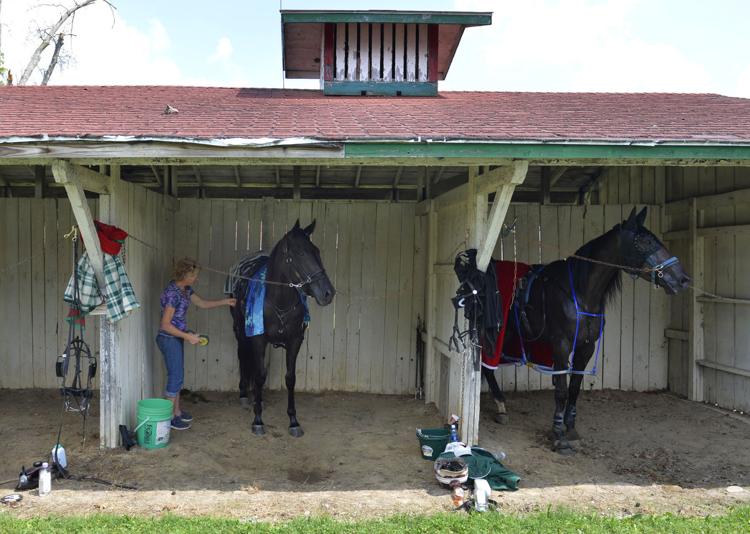 Marcolini said the veterinarian figured out what was wrong and they began treating her. He added that the disease can cause permanent neurological damage to horses. However, the medicine, which costs around $200 per month, seems to be working.
On Tuesday evening, Marcolini and Hamilton were cautiously confident.
"She's a very, very nice horse — definitely the best horse in the race," Marcolini said.
"She does everything I ask her to do," Hamilton said.
Fancy Creek Jolene ignored the praise and stared out the window toward the bright lights of the carnival, as if she might be trying to decide which ride to take next.
Then came race day. Fancy Creek Jolene ran in the eighth race, the Time Dancer, for 3-year-old fillies, and was driven by Tim Curtin. She faced stiff competition from Boogie on Down, owned by Lynn and Barbara Wilfong and Brett and Candice Wilfong of Indiana. Boogie On Down is trained by Brett Wilfong and driven by Kyle Wilfong.
What worried Marcolini and Hamilton is that Fancy Creek Jolene has a habit of breaking pace as she tries to take the lead in the final stretch. Curtin held her back in third or fourth for the first half of race. He gently eased her out and around first place Boogie on Down to take the lead in the final stretch. By the time she crossed the finish line, Fancy Creek Jolene had a good lead.
"She's a very nice horse, and the driver did an excellent job," Hamilton said.
"It was almost like a dream. He gently pulled her and she gently took the lead," Marcolini said. "I raced her mother, and I never gave up on her."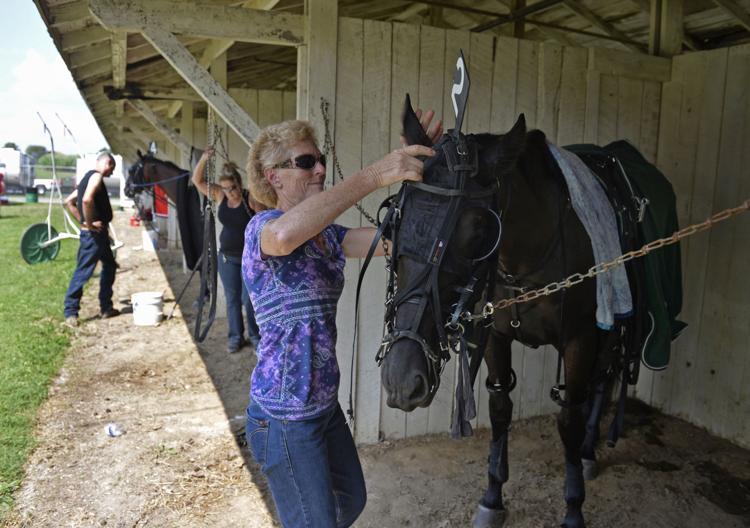 Marcolini said friends and racing associates tried to get him to skip the races in Du Quoin, saying the weather is hot, it's a long trip and the state is behind in paying.
He saw the Du Quoin races a little differently. He wanted to race on the track that hosted the Hambletonian for many years.
"It's just a dream come true. I was afraid she would break stride," Marcolini said.
The trip has been wonderful according to Marcolini, but not only because his horse won. He stayed at Francie's Inn, a bed and breakfast in Du Quoin. He praised the accommodations, food and service.
"It's been a perfect weekend here in Du Quoin," Marcolini said.