DU QUOIN — It's hard to find a person in Du Quoin who does not have a story about John R. Alongi. The longtime Southern Illinois restaurateur died at 7:09 p.m. Saturday in SIH Memorial Hospital of Carbondale. He was 92.
Fred Huff, of Du Quoin, said he first heard the name "Alongi" when he still counted his age in single digits 80 years ago. John Alongi was a year ahead of Huff at Sacred Heart School, a Catholic elementary school in Du Quoin.
"The Alongis are an institution in Du Quoin," Huff said.
The restaurant website gives a brief history of Alongi's Italian Restaurant, Since 1933:
John's father, Guy Alongi, immigrated from Cinisi, Sicily, in 1902. He and his brother, Frank, opened a dry goods store, then later a beer and soft drink distributorship. At the end of prohibition, Guy Alongi opened a saloon called "Guy's Place." It consisted of a 60-foot bar and liquor store in the east building of the current Alongi's location. As the business grew, it was the first to introduce pizza to Southern Illinois.
In 1953, John Alongi and his brother, Jerome "Mimi" Alongi, inherited the business.
"The restaurant opened with eight bar stools and three or four tables, and it has grown into a fine restaurant in Southern Illinois," Huff said. "It has been such a clean operation, no disturbances or trouble. I think that's a credit to the founder, Guy, and sons John and Mimi. Young John and young Guy have done a good job establishing it as a fine dining restaurant."
Over the years, the restaurant was not just a regional favorite. It became a favorite of celebrities performing at the Du Quoin State Fair and of professional baseball players. Famous visitors included Red Skelton, Danny Thomas, Sonny and Cher, Connie Stevens, Stan Musial, Jo Garagiola and others. There is little doubt that John Alongi's passion for sharing stories and visiting with customers played a part it the restaurant's success.
Guy Alongi III took the helm at Alongi's Restaurant in 1985 at the age of 22, remodeling and reopening the restaurant, according to an article in The Southern Illinoisan on July 31, 1985. Guy Alongi said he wasn't really taking on the family business by himself — he had two very successful people to help him, his dad and his uncle. Later, John Alongi II joined his brother at the restaurant.
Their dad, John, never really retired. He was often at the restaurant chatting with guests and sharing stories.
"John had some stories — big stories. Some of them were even partially true," Huff said.
When Huff and John Alongi were in grade school, Sacred Heart was going to start a basketball team. The school had a coach, but did not have a lot of money for uniforms. Huff's mother dyed undershirts green for their basketball jerseys.
"I think John put 00 on his," Huff said.
Huff said he saw John Alongi on Saturday and knew he wasn't in good health, but his death was still a surprise.
"It hurt. John's a good guy. We worked on many things together," Huff said. "He was a classy guy and a fun guy. If you needed a story or needed a laugh, you could go to John."
A post Saturday evening on the restaurant Facebook page announced Alongi's death to the public. The post was shared nearly 400 times and received more than 1,000 comments.
Many of them shared sentiments like the Janellos shared in a note to John Alongi on his 90th birthday, which was Jan. 1, 2017.
"I have heard that a man should be judged by what he gives away and what he leaves behind. You have gone above and beyond in both, that is why you are truly admired and loved by so many," The Janello's.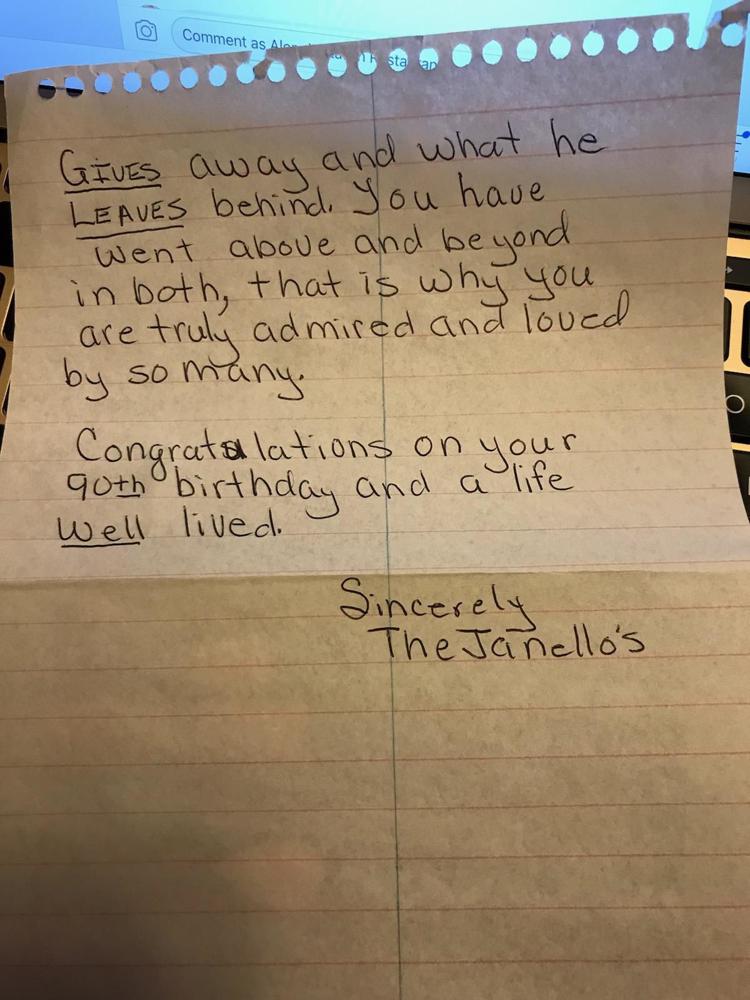 Although John Alongi preferred to keep his charitable endeavors secret, they did not go unnoticed. He founded Clothes for Kids and worked with administrators and teachers in Du Quoin School District to make sure the needs of children were met. He told The Southern in 2015 that it seemed like a small thing, but felt really big to him.
As his old black flip phone buzzes, John Alongi always tries to answer, whether it's about his family restaurant in Du Quoin, or his granddaug…
"We all want to take care of own," Alongi told The Southern Illinoisan. "This is happening all over the world, and if we don't take care of those kids in our backyard, how can we feel okay about that?"
In addition to his work at Alongi's restaurant, John Alongi served as a congressional aide for eight years, first for Ken Gray, and then for Glenn Poshard. He worked to draw business to the region, including movies and a high-tech jet firm. 
Visitation for John Alongi will be from 9 to 10 a.m. Tuesday in Sacred Heart Catholic Church in Du Quoin, with services at 10 a.m. at the church.
He is survived by his wife, Betty; three children, Guy Alongi and his wife, Beth, Rosalie Alongi and John Alongi and his wife, Cara; and three grandchildren, John, Gabrielle and Grace Alongi.