HARRISBURG — The sign at East Side Intermediate School said it all: "Jim Hayes, you will be missed." Hayes, owner of Jim Hayes Inc. car dealership, died Nov. 23. He is remembered as a man with a big smile and even bigger heart.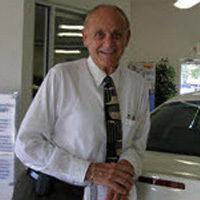 Mayor John McPeek said Hayes will be missed in the city of Harrisburg.
"I've known Jim Hayes my entire life and have known him to be a great man. He always had a smile on his face," McPeek said. "And, he took care of his employees."
Hayes was born Aug. 16, 1939, in Okemah, Oklahoma. He was involved in a variety of sports in high school, including wrestling, football, basketball and baseball, which earned him a football scholarship to Southern Illinois University in Carbondale. He played two years as a linebacker for the Salukis, graduating with a degree in education in 1962 and a love for his alma mater.
Hayes went on to have a successful career as an English teacher and coach in two northern Illinois towns. He began supplementing his salary by selling cars part-time in the summers. He was good at it, and became top salesman at the dealership.
In 1976, Hayes had the opportunity to open a car dealership in Harrisburg. Jim Hayes Inc. started with three employees. It has grown to a business with more than 40 employees today. The success of the dealership allowed Hayes to become a local philanthropist who was willing to give to anyone in need.
On the Jim Hayes Inc. Facebook page, a post asked readers to leave a memory or story of Hayes. The post drew comments from customers who remembered Hayes taking time to talk with them, friends who said Hayes always had a hug for them, and tales of his generosity. Hayes was noted for supporting employees and through all kinds of tragedy, including the death of loved ones, the Leap Day Tornado, fires and more, and for loaning or giving cars to those in need.
He was involved with many organizations, including: Harrisburg Chamber of Commerce, Rotary, American Legion, SIU Alumni Association, Ducks Unlimited, Second Team and Jolly Boys. He also supported Four Cs homeless shelter, Golden Circle, Harrisburg Medical Center, Harrisburg schools, Harrisburg police and fire departments, SIC, SIU, John A. Logan College, CASA, Hospice and the American Cancer Society.
One of his passions, according to his obituary, was Christian Community Compassion Center or Four Cs. Mona Crim, director of the shelter, said the organization is very grateful for the things Hayes did for them.
"He has given donations before and he was very receptive to the work we do," Crim said. "On a constant basis, if we went to him, he would reply with a check."
Hayes is survived by his daughter, Stacy Wasson, son, Jamie Hayes and wife, Donetta, five grandchildren and other loved ones. Memorials may be made to Four Cs or Harrisburg Medical Center Foundation.