HARRISBURG — Harrisburg's police chief is defending a Facebook post he made that some have complained is overtly racist, saying it does not violate the city's social media policy.
Early last week, Chief David Morris matched memes — an image with a text overlay easily shared online —  with fellow officer Nathan Moore. The original post showed two officers, faces screwed, eyebrows high, with the text "The face cops make when their arrestee threatens to whip their asses." Morris, who is white, fired back with an image of a Chicago Police cruiser with the text, "BREAKING NEWS: The Chicago Police Dept has replaced all sirens with the National Anthem, to force suspects to stop running and take a knee."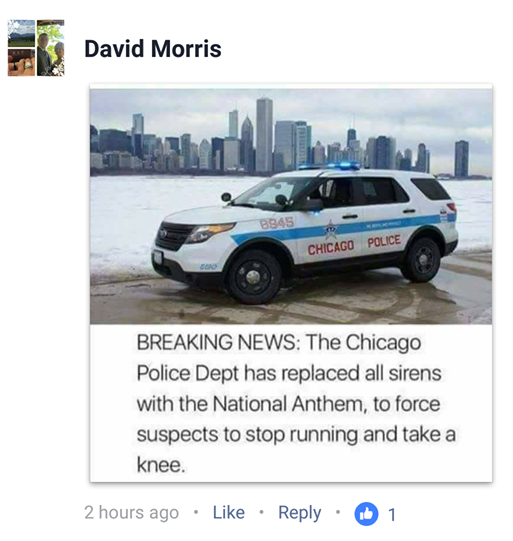 Morris said flatly that the post — which he has since removed from Facebook — was not racist.
"It had nothing to do with race," Morris said, adding that "There's not a racial bone in my body."
According to census data from 2010, blacks make up 24.8 percent of the population in Cook County, the county Chicago is a part of. At the same time, according to a 2012 article published in Loyola University's Faculty Publications eCommons by David E. Olson, 66.9 percent of inmates in Cook County Jail are black, more than double the proportion of the county's total black population.
The post also references the recent controversy of NFL players taking a knee during the national anthem to protest the use of deadly force by police against African-Americans, which also led readers to derive a racist message.
One such reader is Harrisburg resident and chartering member of the Saline County Black Caucus, Marc Hodge. Hodge works in law enforcement, but is not affiliated with the Harrisburg Police Department.
"I think it was disguising and subtle," he said of the meme's perceived racist undertones. He added that this is how more socially acceptable forms of racism occur.
"Obviously the Klan don't run around in white robes and burn crosses," he said.
Morris defended at length his stance that his posting the image was not intentionally racist. He said in his opinion, the word "suspects" was racially neutral and he said he takes offense to the kneeling protest out of a sense of patriotism. He said he sees it as an affront to the country's national anthem.
"It's like burning the flag," he said, adding that if protest is needed "you got other ways that you can protest."
As to the police angle, he said police were not the primary cause of death among black people, saying that "they kill more of their own."
He asked why others were not considered racist for calling him a racist, saying that he was being persecuted as a white man who others perceive is making comments about black people.
Morris said he did not violate the city's social media policy by making the post. He said because he did not post while on duty, from a government device, and did not mention the city of Harrisburg directly, he was in the clear.
"It's not a violation of their social media policy," he said.
Both Mayor John McPeek and Beth Montfort, the city's public health and safety commissioner, said there was no plan of disciplinary action to be taken against Morris for the post that prompted public outcry during last week's City Council meeting.
When asked what his immediate reaction to the post was, McPeek said he knew it needed to come down and asked that it be taken offline. He said he did not initially read it as racist.
"When I first saw it, no I did not (see it as racist), because it never mentioned anything in particular … but I could see where people could probably think it was something," McPeek said about perceived racial commentary made by the post. He said that he knew it could be inflammatory, though, and said that was the reason he wanted it removed.
"As a public official, I feel even as a chief of police, we are held to a higher standard where we should not put anything controversial on social media," McPeek said.
Based on the language of the city's social media ordinance, that would seem to be the city's official stance.
"For police officers: by virtue of the position of peace officer, they are held to a higher standard than general members of the public and their online activities should reflect such professional expectations and standards," the ordinance says.
"Any online activity that has the effect of diminishing the public's trust and/or confidence in the City will hinder the efforts of the City to fulfill its mission. Any online actions taken that detract from the mission of the City, or reflects negatively on the position of the City will be viewed as a direct violation of this policy," reads the policy section of the ordinance.
The ordinance gets more specific in the rules and regulations section. It says employees who wish to maintain a social networking profile should do so in a professional way that does not reflect poorly on the city and the following rule should apply: "Any text, photograph, audio, video, or any other multimedia file included on a social media or social networking, site that infers, implies, states, opines or otherwise expresses the employee's views on the legal, judicial or criminal systems shall not, in any way, undermine the public's trust and confidence of the City departments."
McPeek said he did feel like Morris violated some rule by posting what he did.
"To me, he did break something by putting that on Facebook. I wish he hadn't of put that on there," he said. McPeek said he and the city attorney are looking at ways of amending the ordinance that would allow for punishment of future actions similar to Morris'.
When asked if she felt the post was unacceptable when she saw it, Montfort said, "I wish it wouldn't have been posted — let's put it that way."
How to move forward
Hodge came to last week's City Council meeting. As a black resident of Harrisburg, he said he was not able to see the post as anything but racist.
"It showed no kind of respect for minorities," he said.
He said it could affect the police department's future defense of the use of force.
Hodge said if there is a need for use of physical force, "there's an appearance that they have already given their opinion on how they were going to react," he said, indicating that based on both social media posts in question, there may be the perception that the cops both discriminate against minorities and are up for a fight.
Of the Saline County Black Caucus, Hodge said while they may have had a strong need to start such an organization before, this incident underscored it.
"I think it reinforces the need for the group to be created," he said.
The new group was a starting point of community outreach for McPeek and Montfort.
"I'm going to go to some of their meetings and talk with them and see what they have to say," McPeek said.
Montfort said she talked with Morris about the police department being out in the community in a more positive way — she said most of what kids see of the police are arrests — but she also called for there to be more diversity across city departments. However, she said she believes because of the small population, "we don't have a lot of minorities who apply for jobs."
Hodge said he appreciates the dialogue, but said action means more.
"Attending a meeting does not get you a get of jail or 'I know black people' card," he said. "We can meet forever, but until actions start to occur, unfortunately, a lot of that falls on deaf ears."
He said he would like to see Harrisburg create a diverse citizen advisory board. He said he also would like to see city officials meet with minority business leaders and meet in high-crime areas of the city to address ways to come together and move forward.
A takeaway from the incident for him was simple — be who you are.
"If you are racist, just tell me, I can deal with it, I can navigate," he said.
Morris said he is sorry that what he posted may have offended people. McPeek also apologized on behalf of the city of Harrisburg.
Morris said people who know him know he is not a racist. He said if one were to interview "good" black people in the community, they would say they have no problems with him — he said some even called in to support him. He said those who complained are family of people who are frequently arrested.
Morris claimed that the previous chief, whom he would not name directly, did not post internally the social media ordinance. However, Morris said he posted it when he took the job. While he reiterated he did not break the rules last week, he said when he posted the ordinance for his employees he told the city's attorney and his commissioner that the policy was too broad and needed reviewing.
Morris contends that the uproar over his post is a political witch hunt. He would not name names, but said the political actor at play was running for office with the local Republican Party, was currently an off-duty sergeant and was the former chief of police.
Earlier this year, McPeek named Morris chief of police, replacing former Chief Whipper Johnson.
"He's just stirring s--- because he got knocked out of chief of police by me," Morris said.
"I know where it's coming from and I'm going to deal with it," Morris said without providing further detail.
Editor's note: The final four paragraphs of this story were accidentally removed from the web version of this story on Friday evening while the story was being edited for space in print. The Southern regrets the error; the removed paragraphs have been added back to the web version of the story.