HARRISBURG — Emotions are still high in Harrisburg nearly two weeks after Police Chief David Morris posted what many considered to be a racist meme — a photograph with words used on social media — to another city police officer's Facebook page. These emotions could show themselves Thursday during the regularly scheduled City Council meeting.
Last month, Morris, who is white, posted an image of a Chicago Police cruiser with the text, "BREAKING NEWS: The Chicago Police Dept has replaced all sirens with the National Anthem, to force suspects to stop running and take a knee." This was in response to fellow officer Nathan Moore's post showing two officers, faces screwed, eyebrows high, with the text "The face cops make when their arrestee threatens to whip their asses."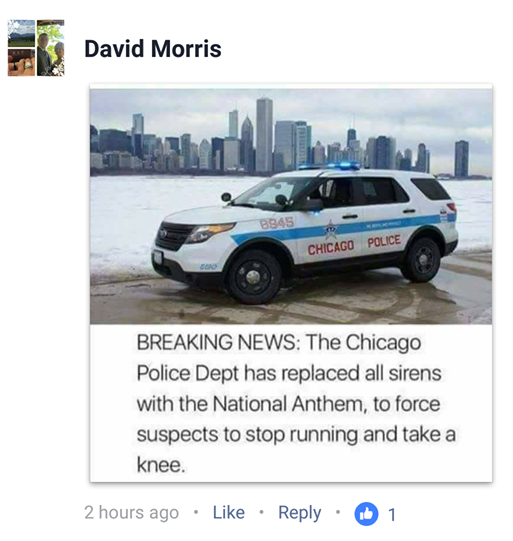 Public outcry followed the post, with members of the community raising concern at the city's last regularly scheduled meeting.
Harrisburg Mayor John McPeek said in an interview last week that he wanted to apologize on behalf of the city of Harrisburg. He also said he requested the post be removed, citing that he knew it could be controversial and said he did think Morris broke some sort of rule by posting the meme. However, he said he was not sure if the post broke the 2015 city ordinance governing city employee use of social media.
Morris flatly said it did not break the ordinance, saying that he thought the rule was too broad to be enforced. He also denied that the post was racist in an interview with The Southern.
"It had nothing to do with race," Morris said, adding that "there's not a racial bone in my body." He went on to defend his stance on the issue of the NFL protest referenced in the post, saying that to him it was about defending the flag and the national anthem. He likened taking a knee to burning the flag.
Mike Hodge, a black citizen of Harrisburg as well as a member of law enforcement, though not affiliated with the Harrisburg Police Department, spoke out at that initial City Council meeting and plans to do so again Thursday on behalf of the Saline County Black Caucus, of which he is chartering member.
Hodge said when he read the article published in The Southern last week, he felt like it was more inflammatory than the action that prompted the report.
"His statements again appear to be more divisive to the news than his post was," Hodge said.
Hodge said he has worked in law enforcement with Morris and said in that capacity, he never detected bias.
"I backed David Morris on calls, he backed me up on calls," Hodge said. "I had never witnessed or knew David Morris to be racist or (a) bigot. My views of David come from the law enforcement perspective." However, he said he saw a different side come out in the comments Morris made to The Southern, and he said he was not the only one.
He said those he has spoken to want action from the city.
"Several members of this group and the community (are) wanting to see him disciplined or demoted," Hodge said.
Watching the events unfold, Hodge said many just wanted Morris to own his actions without also trying to justify them.
"When you mess up, fess up and move on and really that's all we wanted at the beginning of this," Hodge said.
As to what he expects from city officials Thursday, Hodge said he has checked expectations.
"I think they want this Morris issue to go away," he said, explaining that he does not expect action at this point. "I'd be hard-pressed to believe that they are going to do a 360 now and do something about it."
Beth Montfort, the Harrisburg city commissioner responsible for the police and fire departments, said she had not heard of any disciplinary action being taken, however she said there was an unexplained personnel issue under McPeek's portion of Thursday's agenda.
Multiple attempts to reach McPeek for comment were unsuccessful.
Montfort said she, along with her officers, will be taking a diversity class — soon-to-be-required by the state — as what she hopes will be a first step in opening up a more honest channel of communication and respect between her departments and the community.
"I think this will be a good start," she said.
Hodge said the entire episode has left him feeling like there is still a lot of work to do in building stronger race relations in the Harrisburg community. He said his 13-year-old son wants to follow in his footsteps and become a member of law enforcement. However, he said he is having to teach some hard lessons about what he sees as the realities of of the job — how to deal with the views of those he may serve with.
"I also got to try to teach him how to navigate these types of people," Hodge said.
The Harrisburg City Council will convene its regularly scheduled meeting at 6 p.m. Thursday at City Hall.