GALATIA – This Saline County community's coal-mining industry is a boom-bust business on the brink of bust.
Officials at American Coal Company's parent outfit, Ohio-based Murray Energy Corp., announced Friday they expect to cease operations at the New Era mine in mid-2016. Before a series of layoffs earlier this year, the company employed about 700 workers at its two Galatia mines.
GALATIA — One of two mines at American Coal Co. is expected to cease operations by mid-year …
For residents of this small Saline County village of 933 residents, the closure promises to sting.
"It impacts everybody," said David Harrawood, the village's mayor. "It doesn't just impact coal miners. It impacts trucking businesses, the stores, all their vendors. It's not just one segment. Down here, we're all tied together."
Murray Energy announced three rounds of 247 layoffs in the months leading up to Friday's announcement. New Era's sister mine, New Future, is expected to remain in operation.
GALATIA — Mayor David Harrawood and his town of nearly 1,000 people had hoped layoffs at the…
Company officials blamed the closure -- and the preceding layoffs -- on President Barack Obama and the "ongoing destruction of the United States coal industry." Advocates have said the Obama administration's new climate change rules ensure broad environmental, economic and health benefits.
But for the communities impacted by New Era's closure, microeconomics often trumps macro issues.
"It's gonna be awful when it goes down," said Rick Lane, who owns trash hauling company Bulldog Systems and disposal outfit West End Landfill. American Coal Co. is Lane's biggest monthly customer.
"Every little community has a core economy, and that is our core economy," he said. "And when you jerk the rug out from underneath somebody, generally they'll fall."
Originally a tobacco-farming hub, Galatia's economy has ebbed and flowed with the boom-bust cycle of the coal mines for the past century. After World War II, mine closures caused a generation of students to leave for better opportunities in Chicago and even Detroit. Another decline in the late-1970s and early-1980s had a similar effect.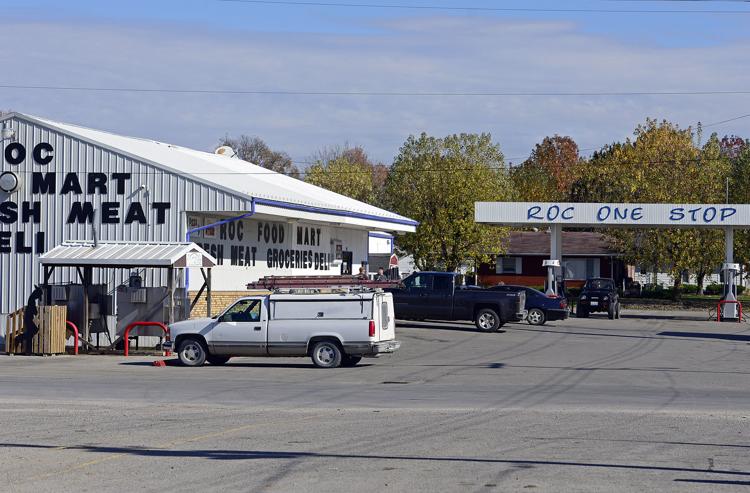 Monday, as coal-hauling trucks lumbered by on nearby West Main Street, Lane stopped in to ROC One-Stop to visit with his friend Leon Russell.
Russell started Russell Oil Company about 45 years ago. Since then, the Galatia-based outfit has grown to include 13 gas stations in southern and central Illinois. "ROC," as it's called, is a town hub.
In the aftermath of the layoffs, Russell said business at his Galatia headquarters has slipped by about 10 percent. He expects it to decline more when New Era shutters.
"They won't be coming in to buy fuel to go to work," he said. "They won't be coming in to get their snacks and cigarettes and (things), you know? But there'll still be enough for business."
Russell doesn't think the mine's closure will have quite the impact Lane worries it will.
"This town here, it doesn't make much difference," he said. "Most people here are retired. … It'd be a small percentage of people living here that's really employed. They're on Social Security, retirement or something."
According to the 2010 census, Galatia's median age is 41. That's about four years higher than the national average.
Still, Harrawood worries fewer available jobs will push more students away from the area.
If all goes as planned, at the end of the summer, Kaelyn Watson will be gone.
Enrollment at Galatia Jr/Sr High School has remained steady despite the layoffs. Principal John Cummins said he's seen an influx of students from neighboring Eldorado and Harrisburg. He theorized lower housing prices in Galatia may have lured them in.
Still, the loss of an entire mine leaves people feeling "worried," he said. And if enrollment does decline, it's bound to have a negative impact on the school.
"If our enrollment goes down, then our money goes down, and then we have to look at other places to cut, tighten our belt," he said. "We're already working on a skeleton crew."
Still, Cummins, Russell and Harrawood said they see the closure as a broader problem. Manufacturing, trucking and construction companies throughout Southern Illinois service the mines.
"It's going to be sad for everybody," Lane said. "I mean, nobody wins when you lose a mine."
618-351-5076
@SHalaszGraham​