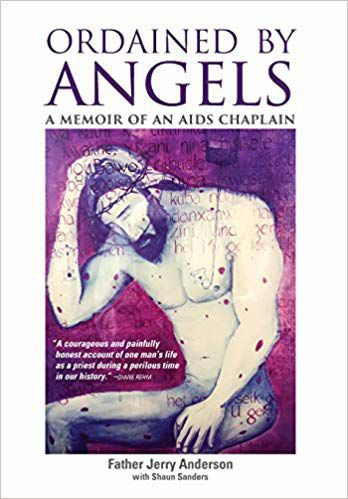 HERRIN — Jerry Anderson grew up in Herrin, graduating from Herrin High School in 1960 and Southern Illinois University in 1965. He became an Episcopal priest. He will sign copies of his recent book, "Ordained by Angels: A Memoir of an AIDS Chaplain," from 3 to 5 p.m. Sunday in The Hartley Art Gallery and Event Center at 100 S. Park Ave. 
The book is an overview of Anderson's life and ministry, including his service of more than 20 years as an AIDS chaplain in Washington, D.C. It was published in November.
"I started writing this 30 years ago, off and on. When I retired three years ago, I realized had time to write. It is a great gift to look back on your life and see how threads have woven themselves into your life," Anderson said.
He said he grew up during "the dark ages" in Herrin. He lived in the closet for years before coming out as a gay man in the early 1980s. In 1986, he created the AIDS ministry in Washington, D.C. He talks about struggles and difficult moments in his life.
He has had book signing events in Washington, D.C., Arizona and Los Angeles. It has been rewarding, he said. People have shared their own experiences.
"People have been very, very positive about it," Anderson said.
Now, he will sign books in his hometown.
"I wondered, do I want to put this much of myself out there?" Anderson said "It feels better and also is something that feels a little more vulnerable."
Anderson has been coming home "all these years" and has a large family in Southern Illinois. Both of his sisters have read the book, as well as cousins and other family members. He said everyone has been favorable.
"There's something about being the prodigal son and coming home and being well-received," Anderson said.
He said working with AIDS patients has made him a more humble person and more grateful for what he has. It deepened his faith in God, he said.
"Sometimes I wonder what would have happened to the gay community if AIDS hadn't come along. It challenged us to be sacrificial in caring for each other, and others saw that love being poured out," Anderson said.
He was doing memorial services for the people who died, and sitting on the front row would be the partner of the deceased. During the service, they would acknowledge the friendship.
"It was like we were almost blessing the union and the irony was we were doing it at a funeral," Anderson said. "There was so much love it should be honored in marriage."
He added that it feels good to be in Herrin.
"I feel grateful to have lived as long as I have and to have the opportunity to reflect on life and realize how much love is in my life, how many people have been kind and helpful to me along the way," Anderson said.
The book signing is the second event sponsored by Herrin Area Historical Society over the weekend. The first was a program by Gary Jackson, another Herrin native, on his book "Surviving Mass Victim Attacks: What to do When the Unthinkable Happens."