SPARTA — Ian Lawrence's budding shooting career took a couple steps backward this week — a positive in the trap shooting world.
Shooting from the 18-yard line, Lawrence, who will be an eighth-grader at Herrin Middle School this fall, broke all 100 targets Friday in the Gipson-Ricketts Handicap at the Grand American, pushing him back to the 20-yard line.
Non-plussed by the advancement, the 13-year-old broke 99 targets in Sunday's Blaser Handicap. Lawrence won the event in a shoot-off with two other competitors.
He will be shooting from 22 yards in his next competition at Sparta's World Shooting and Recreational Complex.
Lawrence said the longer distances won't bother him.
"You're at the 16-yard line (singles distance), that's what you have to think about," he said. "It's just like any other target you're going to break. You take them one at a time. I had a man tell me that. That's pretty good advice."
Lawrence has shown remarkable poise for someone who had never run 100 straight in competition before.
"Well, the first thing I did was hit my shell as far as I could (when it popped out of the chamber) because I was really happy," he said. "I just started laughing. I'd done it in practice, but never in competition. I figured this was a pretty good place to do it.
"It's all in your head. You have to put your mind to shooting good. It's not just going out there and shooting. There are a lot of excuses for shooting bad or shooting good, but it's all you. You can't blame anyone else. It's all in your head."
That's great in theory, but when faced with breaking his first 100, Lawrence felt some jitters.
"Well, it's pretty exciting and pretty nerve-racking, especially on the last 25," he said. "The last five birds were really nerve-racking. I was really shaky."
Those nerves were calmed a bit when Lawrence learned he was the only shooter with a perfect score. That allowed him to avoid a shoot-off.
"That was really big, really big," he said.
Despite the temporary bout with nerves, Lawrence is nothing if not methodical when competing.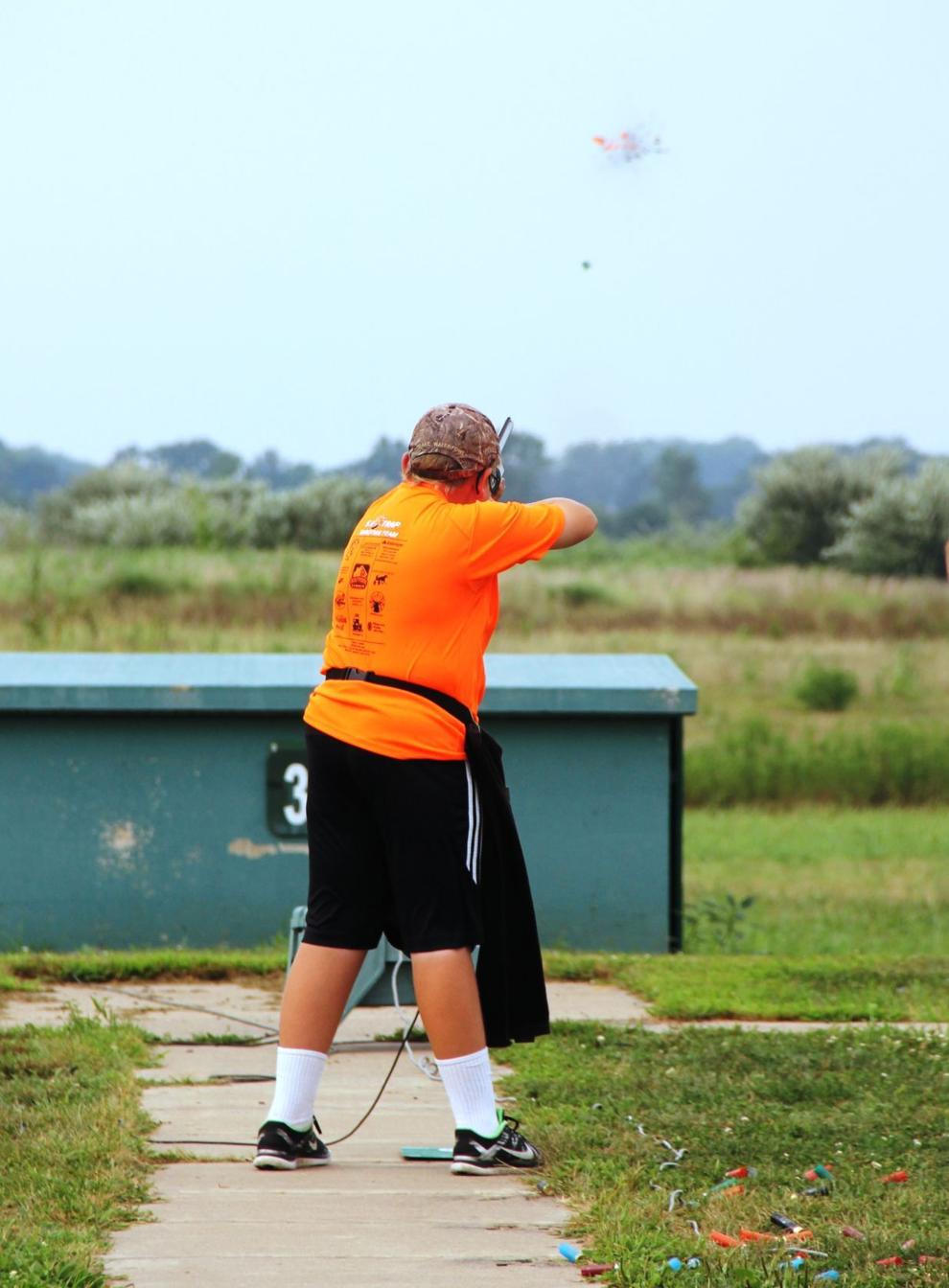 When it's his turn to shoot, Lawrence tugs at this cap and adjusts his shooting glasses. After stretching his neck, he lifts his shotgun and taps the forearm with his fingers.
Just before he says "Pull," he turns his head slightly to the right and spits.
It is the same routine, in the same rhythm, on every shot.
"It just happens that when I do that, I shoot better," Lawrence said. "I do the same thing every time. When I do that, I shoot better, so that's my routine."
The routine has carried him to a pair of individual titles, defeating shooters with years of experience, including professionals who are pictured in advertisements in the Grand American program.
Not bad for someone who started shooting four years ago. Lawrence said, he has a natural talent for the sport.
"I don't want to brag on myself, but I was pretty good," he said.
The results speak for themselves.