HERRIN — On Oct. 9, Our Lady of Mount Carmel will break ground on a new regional Catholic school. The new building will be located just west of Our Lady of Mount Carmel Catholic Church building, 316 W. Monroe St.
"It's a great day for Herrin. It will be a regional school for those of that faith to continue their education under the umbrella of that faith, and of course, it's a tremendous asset to the community," Herrin Mayor Steve Frattini said.
OLMC students currently are housed in three separate buildings: The elementary school building at 300 W. Monroe St. is home to kindergarten through fourth grade students. Preschoolers meet in a classroom in the basement cafeteria of the gymnasium building on West Cherry Street, and music students meet in classroom built from the stage that was at one end of the gym. Cabrini Hall on 17th Street is being used as the junior high.
OLMC Principal Faye Myatt says each year the school has to turn away potential students because they are out of room, but that is a minor problem.
"Students are crossing campus all day in all kinds of weather, and they are losing instruction time," Myatt said.
On a rainy morning like Wednesday, students are kept inside for recess, but have to go out in the rain for music or to eat lunch in the cafeteria.
The biggest problem is the condition of the elementary school.
The current elementary school building on Monroe Street was built in 1940 to house students in first through eighth grades. The gymnasium and an addition to the school were finished in 1947. The parish purchased a beer distributorship on Feb. 1, 2001, and renamed the building in honor of St. Francis Xavier Cabrini.
In the elementary school, walls and ceilings are crumbling, windows leak and rattle, pipes in the bathrooms break and must be fixed, and several areas have leaks.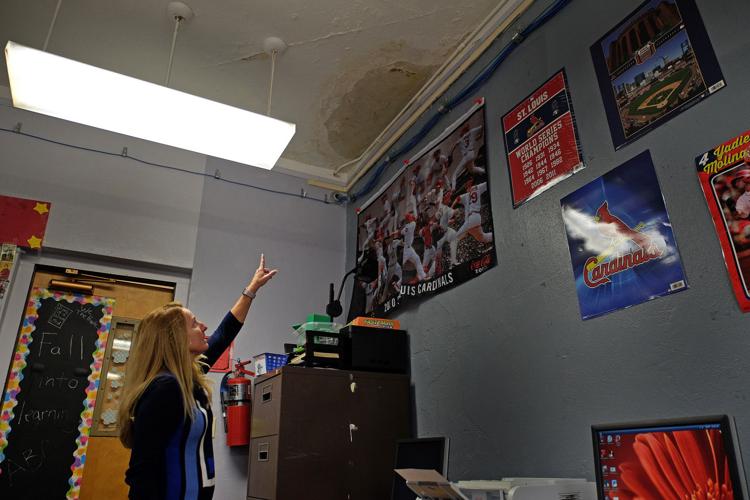 "It's just an old and tired. It has three flights of stairs and window air conditioning units, some that need replaced," Myatt said.
In a second grade classroom, the brick wall is coming down. When the school was built, brick walls were designed in a way that water drained through the inside of the wall. That design was abandoned long ago. Tuck-pointing was done a few years ago, which Myatt said clogged that drainage system and is causing damage.
Plaster is falling off walls and ceilings in many of the buildings classrooms. In Michelle Simmons' classroom, the plaster issue was so bad Simmons and Myatt pealed the plaster down to concrete on the walls and painted over it.
"I come in every day and find pieces of the wall on tables," Simmons said.
The library is one of the better rooms in the building.
"Our librarian is so fabulous. She and her husband redid the whole room," Myatt said.
In the gymnasium building, plaster is beginning to separate from the ceiling in the gym and several rooms have an odor. The cafeteria has been divided to create a room for preschool and a room for organization meetings and Christian education. Unfortunately, the heat for the basement is along the outer walls of the building, so preschool doors must be propped open during the winter. A music room is located on the former stage. Bathrooms are on different sides of the building's main floor.
Supply and storage rooms are cramped and shared among athletics, church groups and other equipment. A bigger problem is the flooding of storage spaces when pipes in the rooms burst. Myatt said that happens at least once a year.
"Our architect assures me it is safe," Myatt said.
Cabrini Hall was remodeled in 2001 and houses fifth through eighth grades.
"It is OK, except we are out of room," Myatt said. "This potentially could be a satellite high school. However, we need to take care of our preschool through eighth grade first."
The first phase of the building project will contain kindergarten through eighth grade classrooms. Classrooms are designed in pods that will house two grades and include a collaborative space for each area. A central learning resource center, school offices and resource rooms are included in the space.
The cost for phase 1 is projected to be around $8 million. Mark Dillon of Eggemeyer and Associates is the architect, and Fager McGee is the contractor.
Our Lady of Mt. Carmel Catholic School/St. Mary's will host a wine and cheese reception for alumni, friends and guests during Herrin Community Homecoming Weekend from 3 to 4:30 p.m. today, Oct. 1, at OLMC Parish. It will serve as a preliminary introduction to the dedication of the new school on Sunday, Oct. 9, after the 11 a.m. Children's Liturgy Mass at OLMC.
The OLMC pastor is Monsignor Ken Schaefer.
"Monsignor Schaefer has been a terrific leader, not only as pastor but in the community," Frattini said.
Frattini said he really has to say "hats off" to leadership of the parish and school for undertaking such a project.
"It's been a lot of work for a lot of people, and it's going to happen," Frattini said.