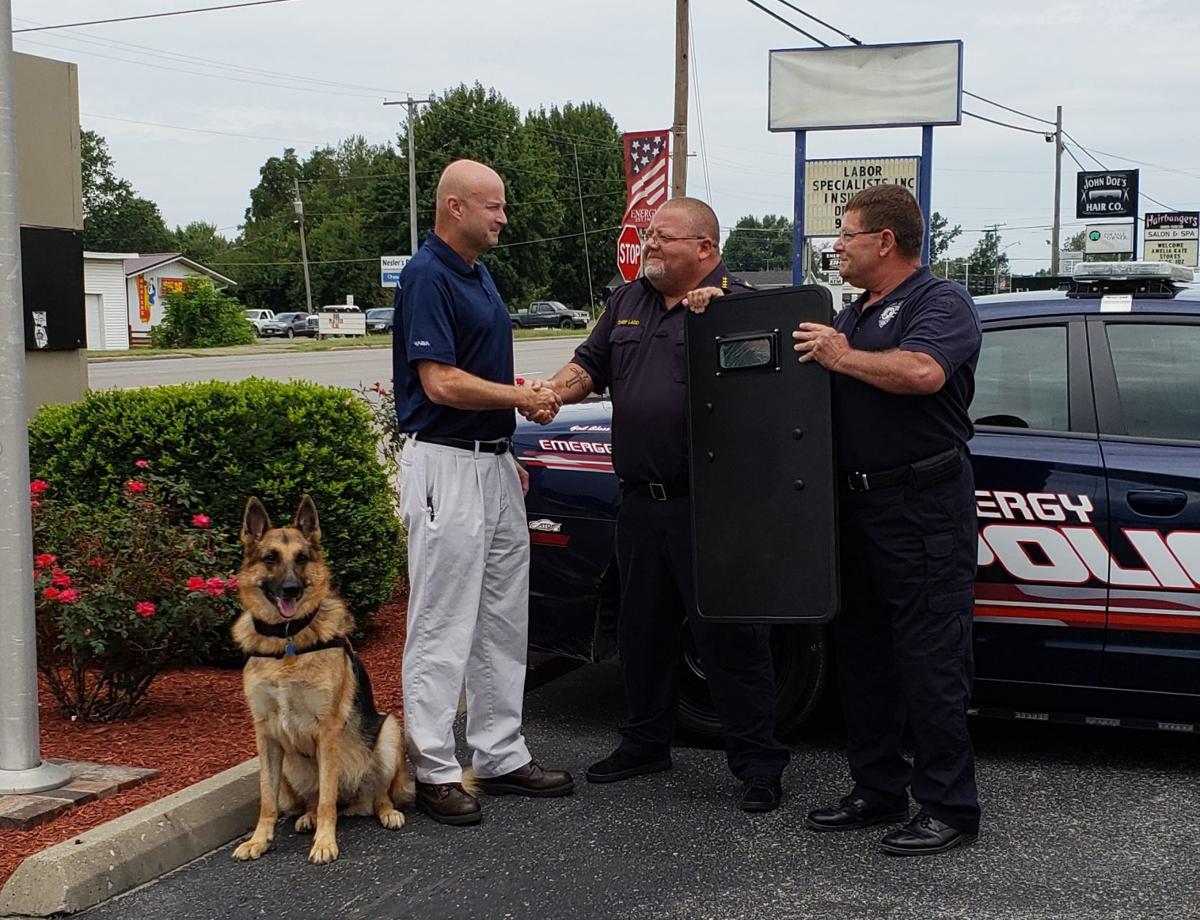 ENERGY — For many of us, April 20, 1999, was a horrific turning point in the way we thought about school safety. That was the day two teens went on a shooting spree inside Columbine High School that killed 15 and injured 24. Schools implemented new policies and procedures, yet school shootings continue.
When Marshall County High School in Benton, Kentucky, was hit in January, at least one Southern Illinois school was put on lockdown for a short time because of its proximity to Marshall County. Once again, we asked, "What can we do?"
Three local men have an answer to that question. Jack Queen, canine officer at Royalton Police Department, Energy Police Chief Shawn Ladd and Steve Webb, superintendent of Goreville School District and an active shooter trainer with Safe School Systems, want to put Level III Ballistic Shields in schools.
"Nearly all shooters commit suicide or lay down their weapons as soon as police show up," Queen said.
The shield would help law enforcement go toward the shooter while being protected. The shields protect against some pretty hefty firepower. Queen said it will stop anything that has been used in recent school shootings and much more.
"No method is foolproof. We could put six officers in a school and something will still happen," Ladd said.
Webb, who has provided training for many local school districts, said schools are focusing so hard on the shooter that sometimes they forget simple steps like locking doors. Those steps are still important, in addition to having equipment like ballistic shields.
The men say it is not unusual for a teacher, school administrator or police officer to use themselves to shield students for gunfire in an active shooter situation.
Ladd added that since Energy Police Department is providing an officer in each of the schools in Herrin School District, the shields are a perfect complement to the tools they already have, like a two-way radio to the school office and police radios.
"This is not the end-all or be-all, but it is a step in the right direction," Ladd said.
Queen said the way law enforcement responds to school shootings has changed. For many years, the first officers on the scene were trained to secure the perimeter and wait for backup help before pursuing the shooter. This procedure has drawn criticism in school shootings.
"The biggest mistake of Columbine was stationing people outside the school," Webb said.
Now, the training is first arrived, first in, meaning the first officer who arrives at the scene goes in to find and engage the shooter. Queen believes the shields provide a safer way to do that.
Queen will provide training for any school that requests shields. He is finding that many community leaders and organizations are willing to share the cost. 
The shields cost $1,500 each, and the goal of the group is to get them into as many schools as possible. The first shield was donated to Energy Police Department on Thursday for one of the Herrin schools. The department will pay half of the cost and donations will provide the rest of the funding. Donations will be needed to provide the shields for the other three schools in the district.
Queen is talking to other districts about the project and has had some individuals ask how they can donate. To make donations easy, he has set up a GoFundMe page.
"What parent wouldn't get a second job at McDonald's, sell their third car or Harley to keep kids safe?" Queen asked Thursday.
"If it saves lives, it is worth it," Webb said.