MURPHYSBORO — In the elaborate, perfect penmanship depicting a bygone era, the page-long deed outlines the life, thus far, of 15-year-old James Wilkinson Dumbaly.
It details how he was the son of one Munday Dumbaly, who was once indentured to a James Gill of Jackson County and how he was "born the property of the said John Logan, who owned the mother of said boy, the wife of said Munday."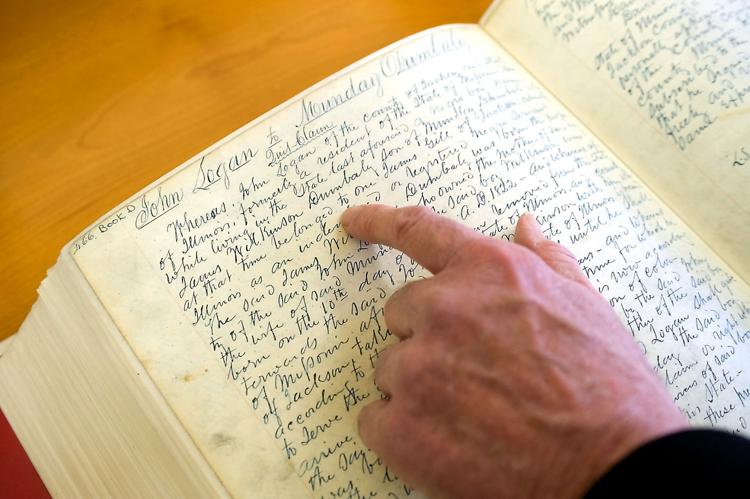 The document is a quit-claim deed for the "sale" of the remainder of James Dumbaly's service as an indentured servant to Logan, the father of Gen. John A. Logan. Dr. Logan sold James to the boy's father for $175 — an amount that would be worth about $3,571.43 in 2015 dollars, according to the DaveManual.com inflation calculator.
It speaks to a common practice or law in Illinois back in the 1800s, when slavery was allowed but slaveowners got around under the guise of employing "indentured servitude."  The vast majority of the indentured servants in Illinois during that time were African.
"It was state law to do so," to classify those blacks as indentured servants, Mike Jones, director of the General John A. Logan Museum in Murphysboro, said. Illinois law then allowed for people moving into the area with enslaved blacks to declare them as "indentured servants," Jones said.
The young boy was the 'indentured servant' of Dr. Logan, who had just moved his family from Missouri into Illinois, settling in the Jackson County area. According to historical accounts, Dr. Logan owned other enslaved people in Missouri, but only brought James and his mother with the family when they resettled here.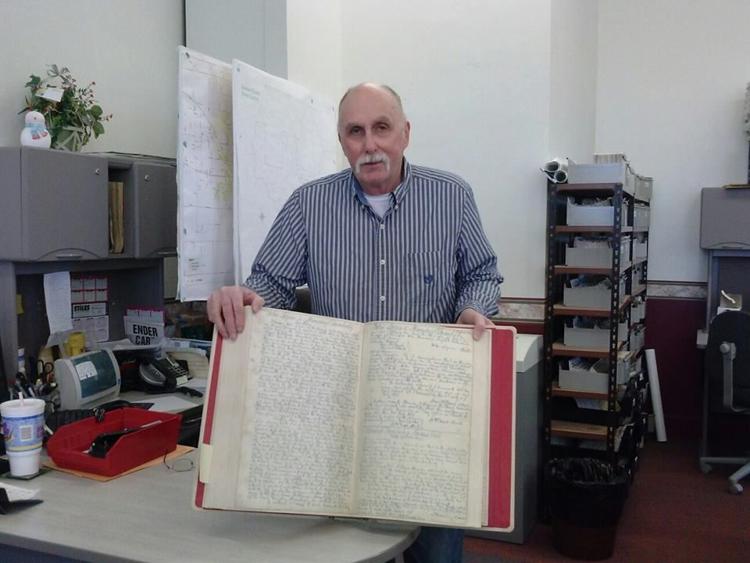 Interestingly, two historical markers outside the Jackson County Courthouse in Murphysboro note the contributions of "indentured servants" — Peter Boone, noted for his work on the area's first coal mine, and his wife, Juliette, who was sued by her owner in a case that Jones said was among a few that led to the end of blacks as indentured servants in this area.
The topic was detailed in Darrel Dexter's 2010 book "Bondage in Egypt: Slavery in Southern Illinois," which details the phenomenon about how people manipulated indentured servitude to keep slavery alive in the state.
Dexter sheds light on dark corners of the 19th century, and the illumination will help Americans today understand why race relations remain problematic today, even after the election of an African American president," writes James W. Loewen, author of "Lies My Teacher Told Me and Sundown Towns." Loewen's book, incidentally, talks about several Southern Illinois towns, known as "sundown towns," where African Americans were not allowed to be after dark.
Milton L. McDaniel Sr., co-founder of the African American Museum in Carbondale, said he knew about the institution of indentured servitude used to mask slavery, but thought the enslaved people served what other groups served: a stint of 8 to 10 years or so. For the enslaved people, they had to serve up to 21 years or longer, if they were ever freed.
He said that reminds him of the words in an old Negro spiritual song that says "before I'd be a slave, I'd be buried in my grave . . ." Their physical bondage made them stronger and could not take away their hope for freedom.
"You can enslave a person but is hard to enslave their mind," McDaniel said, "and as long as you had the power to think and the power to know that there is a better place that you would be going after death (that kept you going)."
Who was Munday Dumbaly?
Not much is known about Munday, his son James or his wife, who is not named in this quit-claim deed.
Dumbaly's name itself could be telling of his heritage, said Ras Michael Brown, an associate professor in history and Africana Studies at Southern Illinois University.
"Munday" is what Brown calls a "day name," a naming practice that originated in Africa and which was and is still common in West and Central Africa, the two major areas from which enslaved Africans were captured.
This does not mean that Munday was from the Gold Coast, because day names became fairly common for people born here, Brown said. 
"Dumbaly is more revealing, as this is a West African family name (Doumbali) and a region in Senegal." Brown wrote in an email. "I would (propose) that this indicates that Munday himself (or at least one of his parents or grandparents) came from the region of 'Senegambia," which is modern-day Senegal, Gambia, Guinea-Bissau, Guinea and western Mali.
Dumbaly was, in fact, born in Africa, according to the 1850 U.S. Census for Jackson County. His age is listed as being 53, which would place his birth somewhere around 1797.
You have free articles remaining.
On Aug. 5, 1807, Munday Dumbaly was entered into court records as being the "property" of James Gill. He is then estimated to be about 10.
It's 30 yerars later, in 1837, that Dumbaly purchases his son back from Dr. Logan.
After Dumbaly bought back his son, he continued to live in Jackson County, but probably died before 1860, Jones said. That 1850 Census document records him as living with a man and wife who took care of those who were indigent, too poor to care for themselves, Jones said.
Jones said that by 1850, Dumbaly's son James had moved to Randolph County, which had a larger settlement of Africans who had been previously enslaved by earlier French settlers.
Jones believes that Dumbaly's wife, who had come to Illinois with the Logans, died before 1830. He said he was unaware of any pictures or drawings of the Dumbaly family.
The Logan family owned other enslaved people, whom they sold before moving to Illinois; they did not have other indentured servants in this area, based on Census records and Logan family tradition, Jones said.
The tool, 'indentured servitude'
When indentured servitude was first introduced into this country in the early 1600s, the servants were mostly Europeans — primarily those from England, though there were some Africans — who were used to work the tobacco plantations in the southeast. That classification was used by those wanting to learn a skill or craft or be prepared to join any type of union-like organization, said Kay J. Carr, an SIU associate professor and chair of its history department.
The early colonies had a complicated relationship and view of slavery, she noted. African indentured servants were always treated harsher by their masters and met with harsher discipline than did their white European counterparts. Slavery, though, as a legal institution only solidified and expanded in the 1600s, she said.
In the late 1600s and early 1700s, the French settled in an area that included southern Illinois, and, eventually, also depended on the African enslaved labor.
When the English took over the Mississippi River Valley in 1763 and the Americans took over in 1783, slavery was allowed to continue, she said.
In 1787, the Northwest Ordinance was drafted, which outlawed slavery in the new states and territories of Illinois, Indiana, Ohio, Michigan and Wisconsin.
That had significance for Illinois, which on Dec. 3, 1818, became a state — because of the ordinance, the new state constitution had to prohibit slavery, except in certain circumstances, Carr said. That meant that neither slavery, nor involuntary servitude could be allowed, except for the punishment of crimes.
For example, since slavery was already in existence in the areas formerly owned by the French, enslaved people were grandfathered in, Carr said.
"There was also continued informal slavery under the guise of indentured servitude and a group of discriminatory laws known as the 'Black Codes'," Carr said. "I mean we know this today … we pass a law today, but it doesn't mean people are going to obey the law."
Carr said many of the people who wrote the state's original constitution wanted to allow slavery in Illinois, but were forced to prohibit it by federal law. Some wanted to amend the 1818 constitution to officially allow it in the state.
The issue came to a head when Edward Coles became the state's second governor in 1822. Coles, whose family enslaved Africans, lived near Thomas Jefferson's in Virginia, was an abolitionist, Carr said.
After the death of Coles' father, "He inherited enslaved people from his father, and then brought them to Illinois and freed then," Carr said. That happened in April 1819 in Edwardsville; those enslaved Africans were not aware before that Coles was going to emancipate them. Coles wrote about the people's surprised and overjoyed reactions.
Slavery again came to the forefront of public consciousness in this state in 1824, when there was a debate over whether to amend the Constitution at a special convention, she said. The pro-slavery faction championed for the convention, and the anti-slavery faction championed against it. The anti-slavery voters narrowly defeated the pro-slavery faction, helping Illinois remain a legally free state.
Carr said today some people struggle with the notion that what happened then has any impact on today.
"They're saying that we can't blame these people in the past, and I say, 'yes, you can'," Carr said of those who enslaved people. "… We're not really talking about the past, we're talking about the present. Yes, people do make choices, and you have to hold them to that."