MARION — Fresh U.S. beef cooked to order and surrounded a lightly buttered and toasted bun. Yep, those are the main ingredients of a Culver's ButterBurger, which can now be found in Southern Illinois.
Husband-and-wife franchise owners Maria and Aaron Jones on Saturday, Dec. 3, were joined by city officials to celebrate the grand opening of Culver's, a fast-food chain restaurant specializing in frozen custard and signature ButterBurgers made with Midwest beef and dairy.
"We are excited to be in Marion and to be here and to have the opportunity to work with the people of this community," Jones said before the ribbon cutting ceremony. 
"Thanks to the mayor and the city, our friends and our families. Everybody has been awesome and we couldn't have done it without you." 
The couple began their business venture in December of 2015.
"Our process actually went very quickly," Jones said.
"We decided Dec. 28, 2015, that we were going to do this and were going to be selling ButterBurgers by Dec. 5, 2016. So it's been just less than a year."
The Joneses are residents of Thompsonville, some 20 miles northeast of Marion. Jones said their decision to establish their franchise in the city is an obvious choice for Southern Illinois.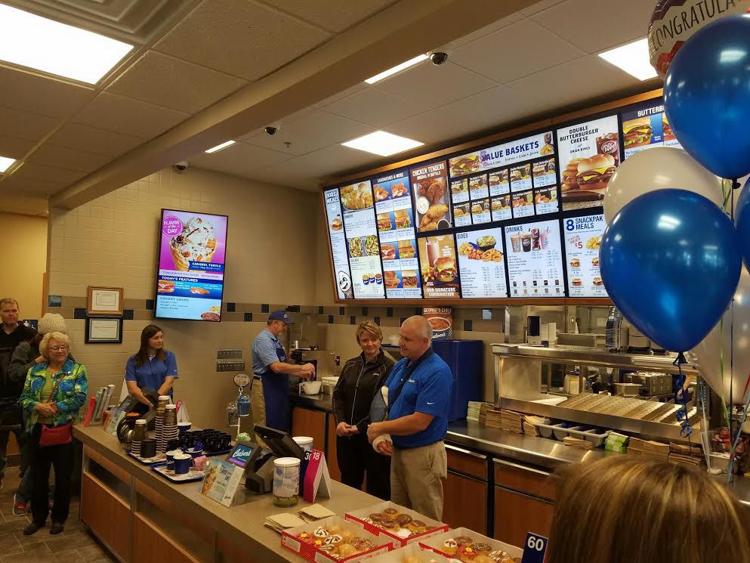 "It's an awesome city here in Southern Illinois, and an obvious choice to bring a business and introduce a new brand name," he said.  
Doug Kimmel, chair of the Marion Chamber of Commerce, said the support that the franchise gathered at the ribbon cutting ceremony is related to the business' family values.   
"When we broke ground here earlier this year, we made point of the small town family value that this business started on, and that certainly is true as I look around at the support of the town and their hungry eyes," he said. 
"One of the other things you would find is that we have a great appetite, and certainly, I cannot wait to have a ButterBurger."
Mayor Bob Butler deemed the new franchise a success for both the business and the town.
"This has been an auspicious occasion and I have to congratulate you for your good judgement," he said.
"You have shown that you are wise folks when you decided to come to Marion. Now of course the question is why did it take you take so long?"
The restaurant is located at 2605 Blue Heron Drive. Hours of operation are from 10 a.m. to 10 p.m., except some holidays.