MARION — Friends and family gathered Tuesday for a final farewell to former Marion Mayor Robert L. Butler at Marion Civic Center. Butler died April 22 at the age of 92.
"We assemble once more to honor the life of Marion's first citizen," the Hon. G. Patrick Murphy said, remembering an April 2013 ceremony honoring Butler for 50 years as mayor. A statue of the mayor, dedicated during that ceremony, stands watch on Tower Square.
The hearse transporting the casket of Bob Butler passes by the statue of the former Marion mayor it circles Tower Square before heading to Ros…
Murphy talked about working as a paperboy for Homer and Bob Butler at the Marion Daily Republican, calling Bob Butler "keenly intelligent" and a voracious reader.
He explained that paperboys often needed two bags to hold the papers they had to deliver. Butler would keep the second bag dry and until it was needed. Murphy said he was always reading, and built a large library.
He described Butler as a devoted and faithful father and kind-hearted son who was devoted to his parents, adding that Butler never tried to benefit from his office.
"It would be impossible to corrupt Bob Butler," Murphy said.
Murphy also read Butler's words from a service on Memorial Day 2013 when talking about Gold Star mothers. He said we are aware of the debt, but could never compensate for that debt.
"We can only be the best citizens we can be and comply with the admonition to do unto others as you would have them do unto you," Murphy read from Butler's speech.
During that 2013 service Butler also said, "There are certain immutable laws of nature, put in place by God. As surely as man is born, he will die."
You have free articles remaining.
The Rev. Bill Rucker said Bob Butler loved Marion as much as anyone could. He served as mayor from April 1963 to Jan. 30, 2018, but Butler was more than mayor. He was a son, brother, husband, father, uncle and more.
Butler played Santa, and was even seen driving the family car dressed as the jolly old elf.
Rucker also talked about Butler's service to his church, the importance of his faith and his love for the King James Version of the Bible.
"Bob had the only autographed King James Version of the Bible," Rucker joked.
He said Job 14 asks if man who dies can live again. Rucker said the answer is a resounding yes. He called death a comma in the sentence of life. That comma in Butler's life came on the day that would have been his last as mayor, if he had not retired a year early.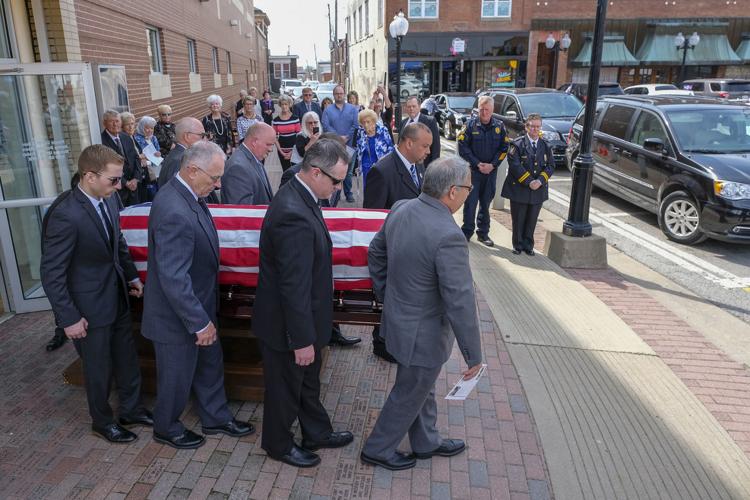 "I believe God and Bob had it all worked out that he would die that day," Rucker said. "Bob is here, but what are we going to do without him?"
The service included piano music by David Stotlar and Holly Kee, as well as duets by Lori Creamer and Bill Ewell, and Elizabeth Byassee Shore and Stotlar. Victoria Shore sang "The Star Spangled Banner." The Junior Air Force ROTC presented colors.
Butler's daughter, Beth, and Jarod Garrison sang, "A Flower Remembered." Elizabeth Byassee Shore sang "The Lord's Prayer." The Marion High School Choir Ensemble sang "The Blessing of Aaron."
Rucker, the Rev. Virgil Walton and the Rev. Victor Long read scripture. Jared Garrison read a poem and gave closing statement.
The casket was carried from the Civic Center while Les Lannom played his bagpipes. A private interment followed at Rose Hill Cemetery. The procession, led by Marion Police and Fire departments, took a lap around Tower Square before heading to the cemetery.