MARION — When Nadine Rogers of Marion sought help from Lutheran Social Services of Illinois, she lacked the skills and confidence to secure a job. Through a training program funded through Illinois' ground-breaking Future Energy Jobs Act, also called Solar for All, Rogers has hope.
"Before the training, I didn't feel it was possible to get a job. Now, I do. I feel like I was made for this industry," Rogers said.
The new solar job training program took 10 trainees from Lutheran Social Services of Illinois and trained them to install solar energy systems. They received hands-on training at the home of Lisa Shepard, which is a Habitat for Humanity home.
Habitat for Humanity of Williamson County, Lutheran Social Services of Illinois, Advanced Energy Solutions, Elevate Energy and Grid Alternatives combined to make the project possible. The groups hosted a dedication for the solar installation on June 13.
Marilyn Tucker, program coordinator for Lutheran Social Services of Illinois, said LSSI is glad to be a partner on the project.
"This will give our clients the opportunity to pursue a career in the solar industry," Tucker said.
Marla Smart, LSSI solar employment skills school coordinator, said the program not only offers a training for a job, but also is training for employment that will last.
LSSI recruits clients who are unemployed to attend job readiness classes. They learn the skills necessary for finding and keeping a job, from basic computer skills to ethics and getting along with coworkers.
"This cohort, with help from Elevate Energy, Grid Alternatives, AES solar and Habitat, focused on the solar industry. In addition to the classes, we had training, actually onsite lab work, to learn the trade," Smart said.
Rogers, nearly 50 years old, did not attend high school and has three grown children. She had to learn a lot of new skills to complete the program.
She had tears in her eyes as she said she really had no hope of bettering her situation and talked about her new skills.
"We got to learn computer skills and a lot of things," Rogers said. "This has given me hope."
Three trainees spoke during the dedication: Mary Lou Evans, Michelle Clements and Michael Welch. They all talked about the great opportunity provided through the training.
"It's a great opportunity. It's really made me positive about getting into the industry," Welch said.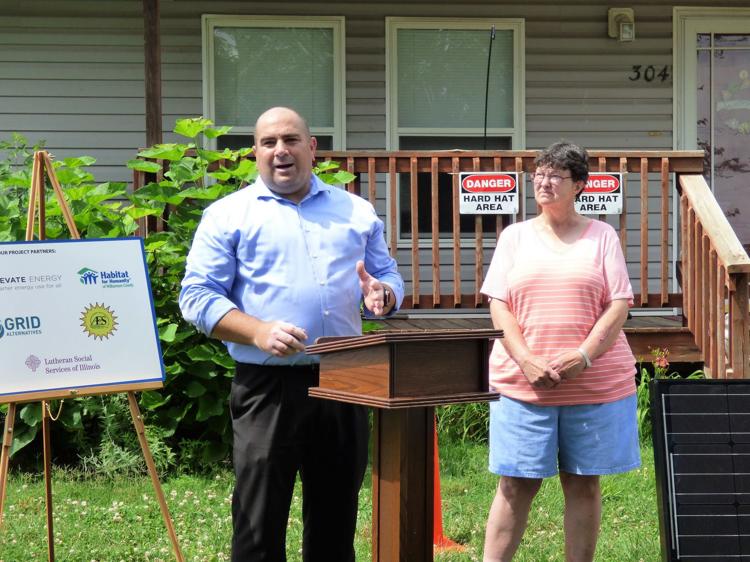 Besides those in the training program, one additional person will benefit from the program, and that is Shepard.
When John Barnett of Habitat for Humanity called Shepard to talk about installing solar energy at her home, she said all she heard was solar panels, and she was ready to participate.
"The next day I had to call John and found out all they wanted to do was use my roof," Shepard said.
She is really excited about saving energy and lowering her electric bills. Shepard moved into the home in 2005.
Barnett said they worked with AES Solar and Aur Beck to pick out the most appropriate homes with the right orientation and enough space on the roof to handle the installation. They narrowed the list down and chose Shepard's home.
"She has been such a great partner along the way that we couldn't think of anyone else," Barnett said.
Beck and AES celebrated 19 years in the solar industry in Southern Illinois on June 4.
"I'm very excited to solar going mainstream. It fills my heart with joy," Beck said.
Other speakers at the dedication included State Rep. Dave Severin; Marion Mayor Anthony Rinella; Sylvia Ewing, director of communications for Elevate Energy; and Anna Bautista, vice president of construction, GRID Alternatives.
"This is what life ought to be about — helping others," Rinella said.