MARION — The Black Diamond Family of Businesses celebrated the opening of Oasis Outdoors — Home Center Friday afternoon with a ribbon cutting and party. The new business is located at 3119 Civic Circle Boulevard, just north of Target.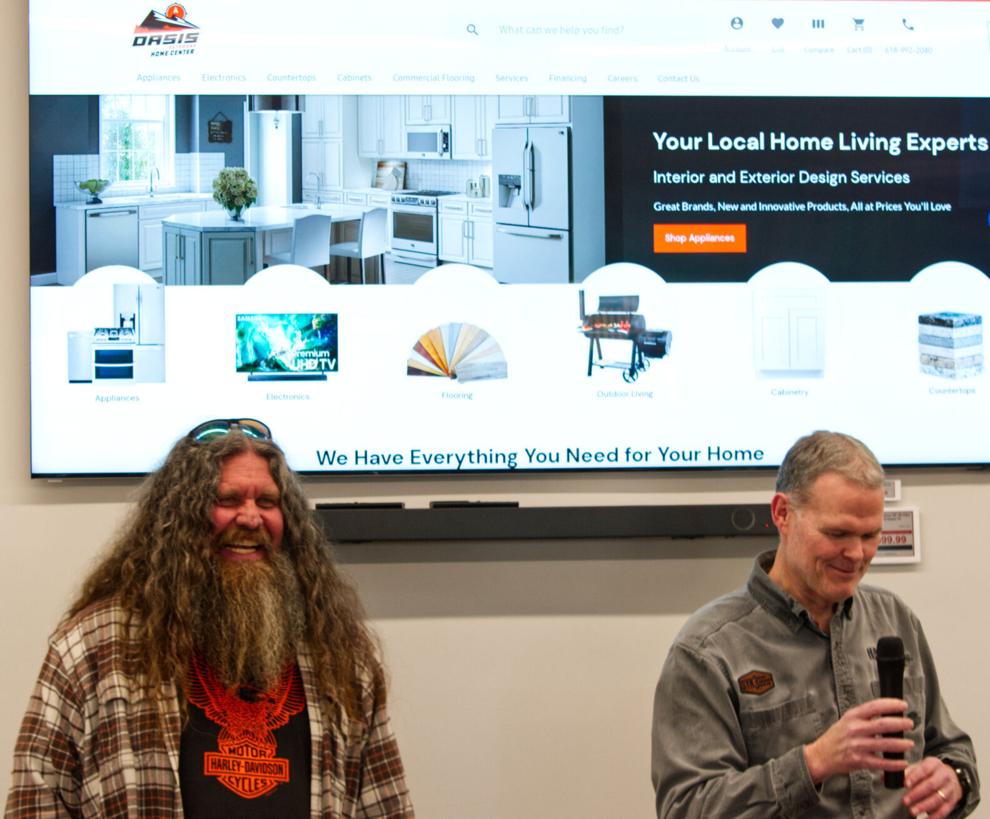 Shad Zimbro, one of the founders of Black Diamond, said they decided they needed a home center when they added the line of modular homes to their businesses. People can buy a home and get the things they need for it, like appliances and flooring.
Rich Huskey, operating partner in Oasis Outdoors — Home Center, said the home center has products that are not offered anywhere else in the area.
"We have a fantastic mix of price points to satisfy any cost needs," Huskey said.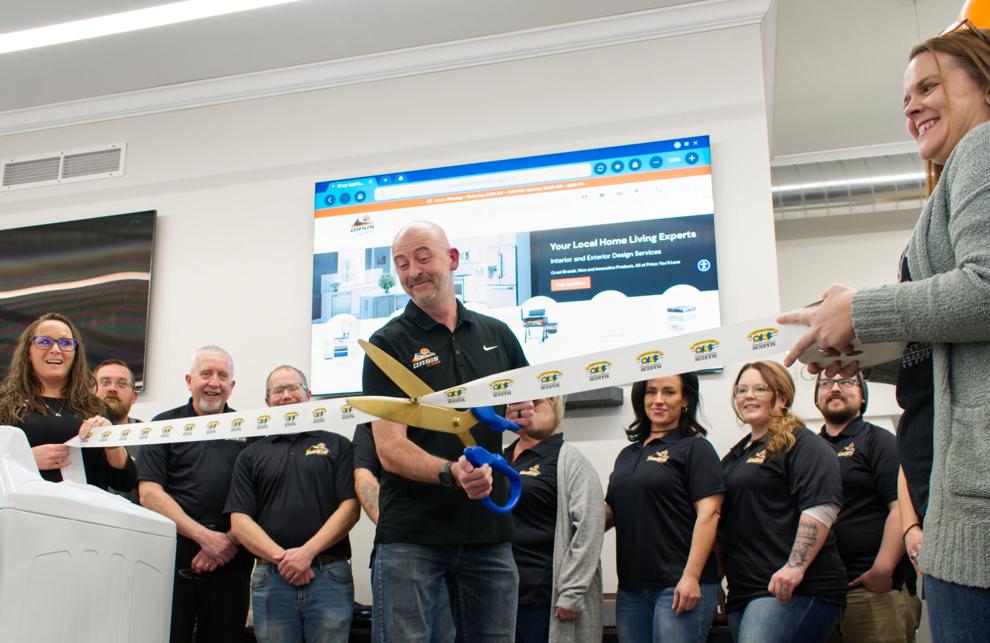 Some of those unique products include Silhouette, under the counter beverage coolers and GE's Café line of backlit refrigerators. Husky said they are the first to offer the Monogram Signature Kitchen Suite and Viking appliances.
The business has plenty of electronics. While they have televisions you might see in other common places, they also carry a unique television that has a frame. When the television is not on, the frame displays art. Owners can remotely turn the frame to portrait or landscape orientation, depending on the picture they wish to display.
"We also have a fantastic assortment of flooring from Happy Feet, Shaw and Engineered Floors," Huskey said.
One of the new products displayed with washers and dryers was a style made by LG. The appliance de-wrinkles and sanitizes suits and other clothing. It will even press the seams in trousers.
During opening ceremonies, several people from the business, the Marion Chamber of Commerce and the city of Marion spoke.
Marion Mayor Mike Absher said the name "oasis" was borrowed from him.
"For years now, I have been referring to Marion as an oasis of opportunity, because that's how I see our town. In the midst of lots of things in the Midwest that don't go as planned or right, because we are all struggling to have jobs and commerce and residents, I see Marion as that oasis in the desert," Absher said Friday afternoon.
He also reminded everyone of the importance of spending their money at locally owned businesses.
"You want to talk about building your economy, retaining jobs, and having your housing market booming, having our mall filled back up again, we have to change our perspective and make a real concerned and dedicated and purposeful effort to spend our money right here," Absher said.
He also gave a new motto to help remember that.
"Before you click make your money stick—right here!" Absher said.
Black Diamond founders Rodney Cabaness and Shad Zimbro also spoke during the opening ceremonies. Zimbro joked that when they opened Black Diamond Harley-Davidson, he thought they would have a small Harley dealership.
That first business has now grown to a family of businesses in Marion, and Oasis Outdoors —  Home Center is the latest to open.
"All these projects that we've been doing, and others that are still to come, we couldn't have done it without our employees," Zimbro said. "Thank you guys!"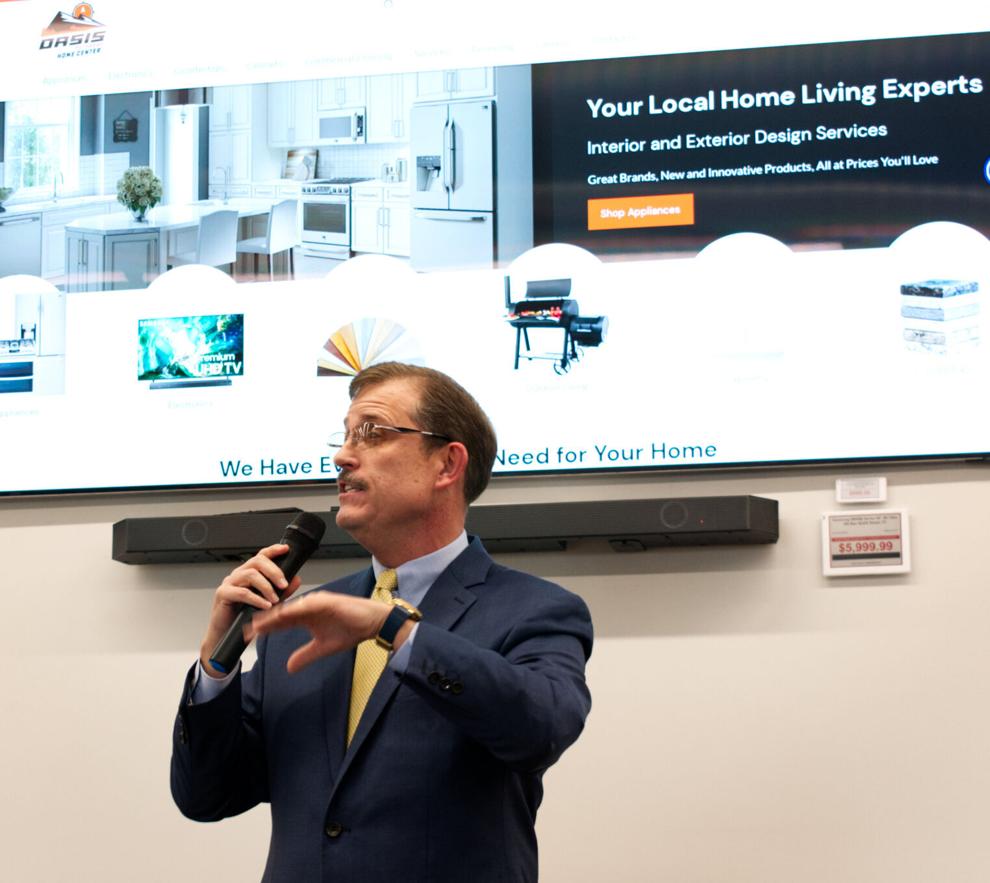 "Marion is such an amazing, amazing place to do business," Cabaness said. "I think if we keep going, we'll have enough businesses that everyone on the planet can do business with us."
Herby Voss, who acted as master of ceremonies, got the crowd excited at the beginning of the ceremonies by saying more than 7,000 people voted on the name for the new Prospect League baseball team and the team has a new name. Hopes were dashed when he said the team's name will be announced Feb. 23 at a party at Rent One Park.