MARION — Williamson County Regional Airport will be known by a new name.
The airport opened its new terminal Friday and announced its new name during the dedication of the building on Veterans Day. The airport, at the intersection Illinois 13 and Illinois 148, is now called Veterans Airport of Southern Illinois.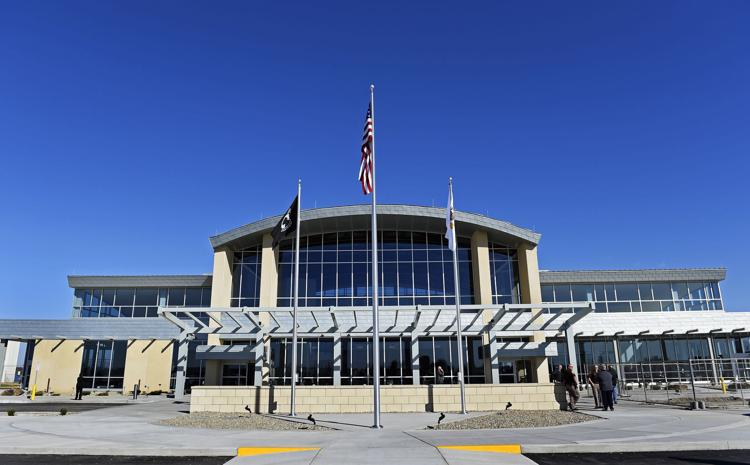 Bernard Paul, chairman of the airport authority, said the name reflects the regional nature of the airport, as well as honors veterans. Paul was commissioned as a second lieutenant in 1958, and served six and a half years of active duty, including during the Cuban Missile Crisis. He then joined the Illinois Air National Guard and served 25 years.
The airport was a "patch of grass" with a wooden terminal building when Paul started flying. He has seen it grow over the years.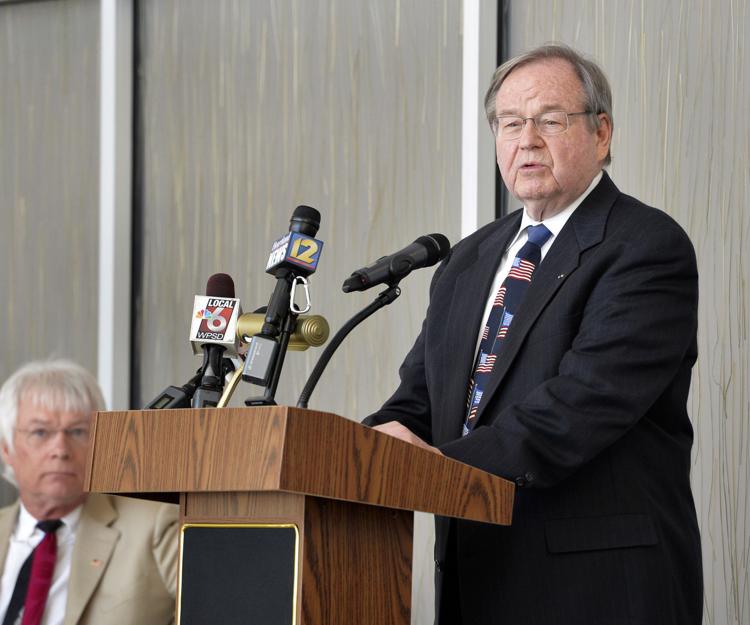 "We have a new airport. We have a date with the future," Paul said.
Doug Kimmel, airport director, said it was an honor to rename the facility Veterans Airport of Southern Illinois on Veterans Day.
The new terminal itself was named the Capt. Robert W. Duncan Airline Terminal. Capt. Duncan served in the U.S. Navy during World War II and the Korean War, and as chairman of Williamson County Airport Authority from 1980 to 2001.
Duncan was the first pilot on the USS Yorktown to become an ace when he shot down his fifth Japanese plane on Feb. 16, 1944. He shot down seven enemy aircraft in his career, flew more than 100 missions and is credited with sinking a Japanese cargo ship.
Kimmel said the project began 10 years ago.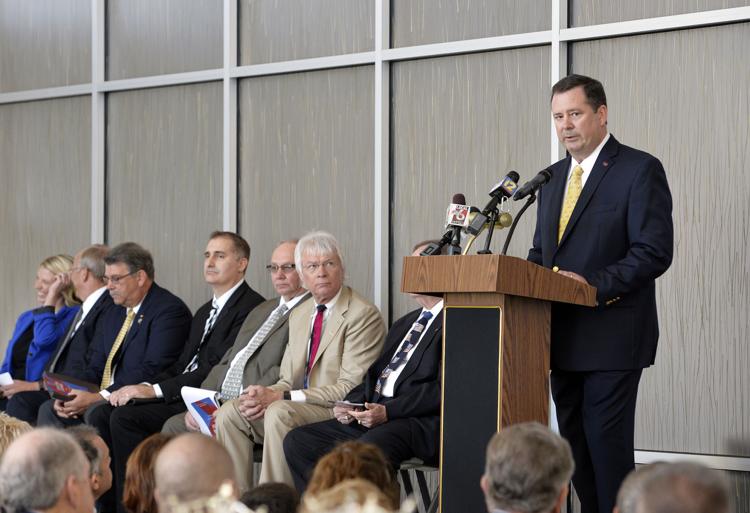 "We stayed the course, and it has not been an easy road," Kimmel said.
During the course of the project, the airport authority faced a change in airlines, reduced passenger counts and a state budget crisis.
Although the new terminal was built with federal and local airport monies, the airport authority had to suspend construction on the new terminal June 25 after notice from IDOT that all work had to cease by the end of June. Work only was suspended a few days before a stopgap budget was signed by Gov. Bruce Rauner.
You have free articles remaining.
Brandi Bradley, representative of U.S. Sen. Richard Durbin, said the airport has created more than 200 jobs and has an economic impact of $21 million.
"Our office looks forward to your continued success in the heart of Southern Illinois," she said.
Cape Air, the only airline offering commercial flights out of the airport, celebrated its seventh anniversary in Marion on Nov. 8, according to Matt Reinhardt, Midwest regional director for Cape Air.
"Cape Air is thrilled to be moving into our new home," Reinhardt said.
Cape Air will begin flying out of the new terminal Sunday morning.
When entering the new terminal, visitors immediately notice the light. Large glass windows throughout the building let in natural light. The lobby has a check-in counter and lounge area. To the left is a baggage claim and secure waiting area. To the right of the main lobby is a charter flight lounge that can also be used for events.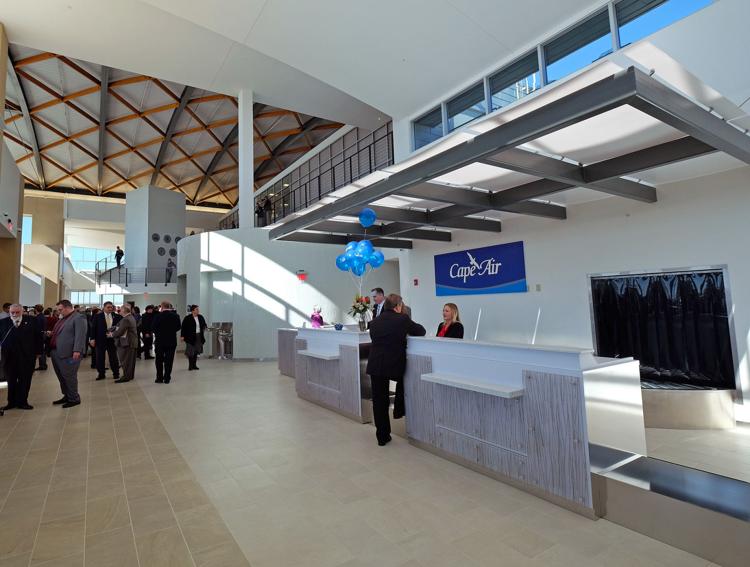 "Large groups fly in and out of the airport on a regular basis. Its layout and design is to accommodate those large groups," Kimmel said.
A spiral staircase with an elevator leads to second floor administrative offices and operations, including a board room and break room. An observation area runs across the back of the second floor, an idea Kimmel said was borrowed from the Joplin, Missouri, airport.
The new building is ADA compliant, and is a modern airline terminal. It has a curbside canopy for loading and unloading, modern passenger waiting areas, more direct access from rental car offices and parking, an area for a modern baggage carousel system, enhanced security and surveillance systems, more efficient energy systems and the ability to expand to meet future growth.
"It was built to last 50 years at least and designed to easily add on to," Kimmel said.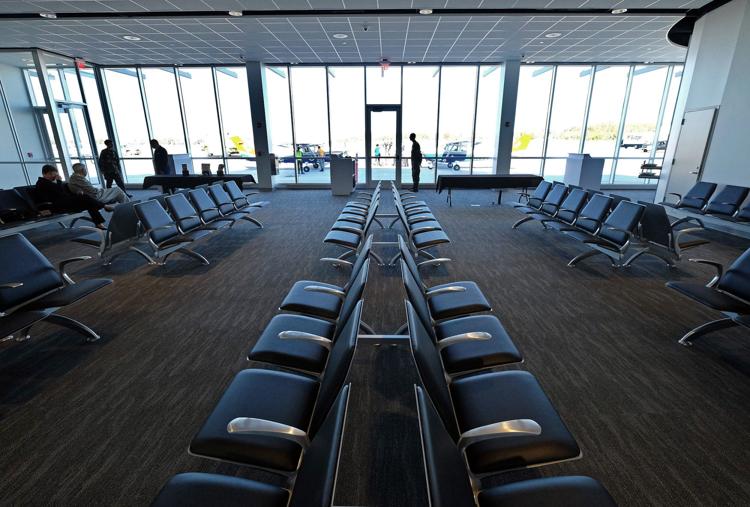 Nancy and Gale Beachum of Herrin were excited to see the new terminal. Nancy owns World Wide Travel/Five Star Tours. The couple flies out of Marion on a regular basis.
"It's a beautiful facility with plenty of room for growth," Nancy Beachum said.
"What a pleasant surprise to see how they named it," Gale Beachum said. Gale also is a veteran.
"We are so proud to contribute this piece to the Southern Illinois landscape for both Southern Illinoisans and people from all over world. This means a lot to us," Kimmel said.