MURPHYSBORO — Lugging two flat totes filled with food, Alinda Heron made her way across a field littered with the remains of cut soybean plants, the red soil sinking at each foot step.
The totes were filled with baggies of sandwiches, carrots, chips, cream pies and other snacks for the crew that numbered two dozen, who had gathered at her family's farm Wednesday to help with the harvest.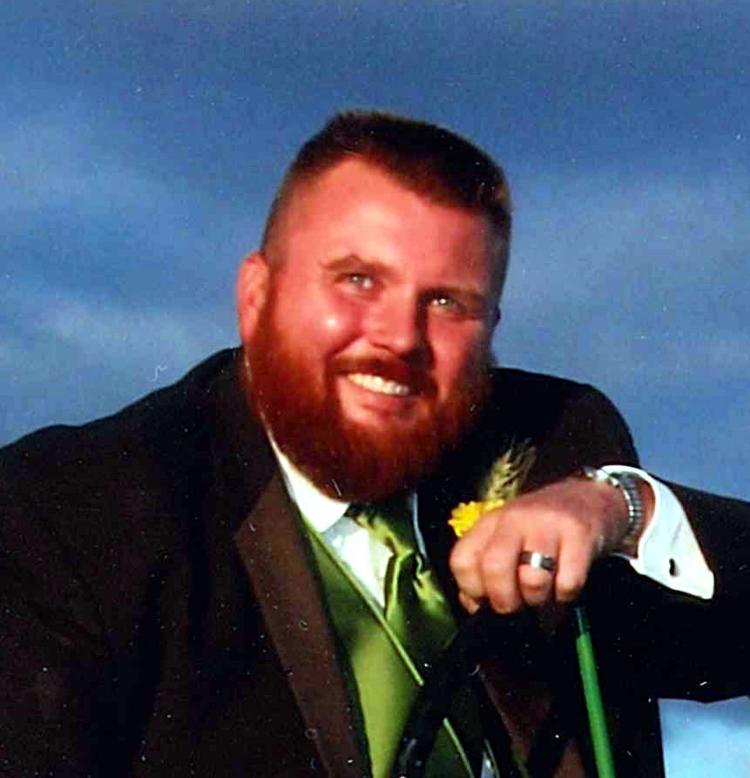 It was bittersweet, this outpouring of support for her family. Until their lives changed, it might very well have been her 40-year-old brother, Ben, working with her father to start the harvest of the soybeans. Ben Arbeiter lost his life in a tragic accident with an antique tractor in the early morning hours of Aug. 6.
"It's one of the greatest days of my life to see how Ben's friends came together to (make this happen)," Ben's father, David, said, standing at the edge of one of the fields northeast of Murphysboro. "You don't see it on TV — this is the good news."
In the distance, plumes of a dusty red cloud hung in the air, the byproduct of the combine cutting the two-feet-high soybean plants, leaving behind the bare nubs of what once was. Plumes of dust were also kicked up in the air from the combines cutting the soybeans behind the family's house on Arbeiter Road.
Alinda said around two dozen farmers and other workers came together to harvest the soybeans that were ready from the Arbeiters' crops. Ten of them drove the large combine harvesters through the beige-bronze fields to cut the soybean plants, seven others operated auger carts, or buggy trucks, which took the soybeans from the combines, and 11 others drove the large semi-trailers that transported the harvested soybeans to a grain operator.
The work contributed would have taken her brother and father about six weeks to complete, she noted. Heron said her family was so encouraged by the farming community's embrace — displayed with the physical labor to harvest the crops.
"This isn't about us," she said. "It's about the community, the farmers that came together."
Just what farming communities do
Those working Wednesday were doing so in honor of Ben, born Benjamin David Arbeiter on July 7, 1977. Ben died after an antique tractor accident on his property in the early morning hours of Aug. 6. In addition to his father, mother and sister, he is survived by his wife of almost four years, Holly, another sister, Rhonda Kings, and her husband; nieces and nephews; his mother-in-law and other relatives.
He served in the U.S. Marine Corps and was a trustee of the Somerset Township Board.
When he thought about the pending harvest, Ben's father, David Arbeiter, said he thought about hiring someone to bring in the crops.
"I was going to hire a visiting operation to come in and do it," David said. "And Ben's friend Mike (Imhoff) said, 'No, you're not, we've got it all taken care of.'"
As soon as word spread about Ben's death, local farmers started calling to offer their help, Imhoff said. Such efforts are not uncommon in the farming community, he said, noting that he has not been able to participate in one until now.
Assisting with the planning was one of Ben's business associates, Tony Boyle.
"Ben would have done the same thing for my family that I'm doing for his," said Imhoff, who served as best man at Ben's wedding almost four years ago. "And that's why I'm doing it. I'd rather Ben be here and (harvesting) his own property."
David said he is committed to keeping the farm in business. 
"We're going to keep the farming operation going," he said. "We're just going to have to adjust."