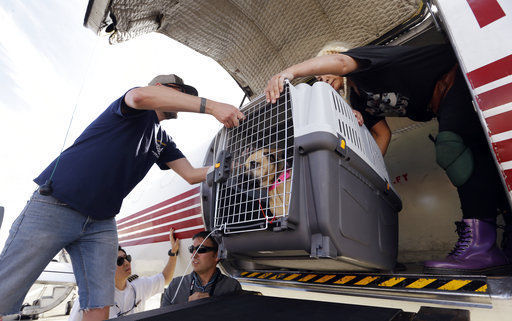 MURPHYSBORO — Staff from two Murphysboro animal rescue agencies are headed to the Houston area to provide relief to animals and shelters there.
St. Francis CARE Animal Shelter and MARS of Illinois — Midwest Animal Rescue Service of Illinois, a smaller dog rescue agency — plan to start the 10-to 12-hour drive toward Houston sometime about 4 p.m. Friday, according to Christin King, event coordinator for St. Francis CARE.
The two agencies will be operating independently in Texas, but decided to make the trip together, she said.
St. Francis staff plan to give donated items to area animal shelters, treat injured animals and then bring back some of the animals already housed in Houston-area shelters to make room for the pets of people whose lives have been disrupted by Hurricane Harvey. Traveling from that agency will be Dr. Kay Creese, the agency's veterinarian, and board members Lynda Kuether and Dawn Boyd.
St. Francis is collecting donated items to take down to area shelters; King said St. Francis has enough food supplies, but is now seeking donations of:
Towels
Gauze
Dish and laundry detergents
Leashes, collars and harnesses
Flea and tick medications and antibiotics
Other veterinary supplies.
The items will be loaded into the agency's adoption bus, a former wheelchair-accessible vehicle that has been outfitted with 13 affixed steel kennels. King said the St. Francis CARE staff plan to put a few more kennels in the aisles, hoping to bring at least 20 pets back to Southern Illinois, where they will be adoptable.
"The community has really stepped up," King said. "We have received so many monetary donations to help with meds … so the community has definitely stepped up, and we're very proud of our community right now."