MURPHYSBORO — Music didn't build the Murphysboro Knights of Columbus Hall, at 606 Plum St., but it sure helped pay it off.
Over the last eight years, the local band Nine88, made up entirely of current and former Knights, has paid off over $45,000 of the hall's mortgage with the proceeds from its gigs.
On Nov. 29, the band made the final payment.
"That was a fantastic feeling," said Pat Cook, one of the Nine88's vocalists. "This was something we had been working toward."
Nine88 began as a church band, playing for Mass at St. Andrew Catholic Church in Murphysboro, said pianist Ken Carr.
Then they started jamming at a Murphysboro bar called Brews Brothers, playing bluegrass, country and "whatever else you want to hear," for beers and tips, Carr said.
Since then, the band has landed some big-time gigs, playing street festivals across Southern Illinois, in addition to shows at SIU Carbondale and the Anheuser-Busch brewery in St. Louis.
Now with about 245 shows under its belt, the band continues to be surprised by its own success.
"Our goal was to pay the mortgage off by 2020," Carr said. "We had no idea we'd be this popular. It took on a life of its own."
You have free articles remaining.
The group is a mix of retirees and younger guys, almost all of them Murphysboro residents: Carr is on piano, John Groninger plays banjo, Jeff Ripperda is on the mandolin, Dave Barger plays guitar, and Kevin Lipe and Bob Nadolski, both of Makanda, share vocalist duties with Cook.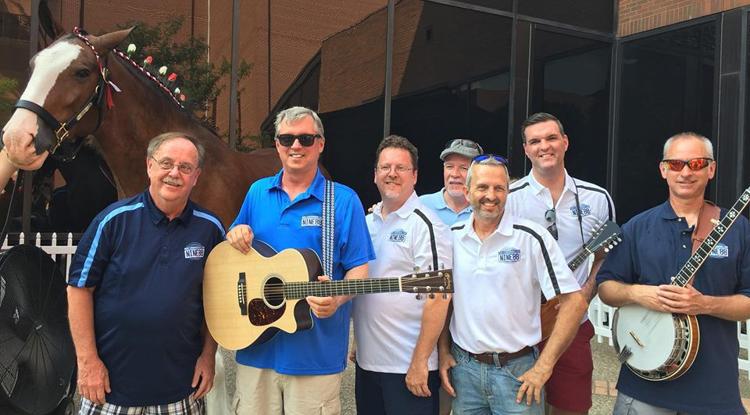 In eight years together, the group hasn't taken any proceeds from its music.
They upgraded their sound system and bought a trailer to haul gear, but every penny beyond that has gone back to the Knights, the church and the community, Carr said.
Besides the mortgage payments, Nine88 has been a consistent supporter of local church youth programs, and S.T.A.R.T., a nonprofit that provides vocational training, life-skills classes and employment to the developmentally challenged in the Murphysboro area.
And with its most expensive charitable initiative now achieved, Carr and Cook said the members of Nine88 will soon be sitting down to decide what to donate to next.
"It will go to charity of some kind," Cook said, "to those who help the less fortunate in the community."
Nine88's next performance will be during Mass at St. Andrew on Dec. 30, Carr said. The group is also working to book a show at Murphysboro bar Molly's Pint for sometime in January.
The Knights of Columbus Hall will host the Murphysboro Community Christmas Dinner on Christmas Day, sponsored by the Murphysboro United Methodist Church. The hall is also open to guests of any denomination for wedding receptions, fundraisers, and other community events, Cook said.