MURPHYSBORO — On her classroom smart board, Murphysboro High School teacher Stacie Tefft traced the dark line, running west to east, through some Southern Illinois counties.
The line marked the path that thousands of Cherokee men, women and children walked after they were forced to leave their ancestral homes headed some place west of the Mississippi River. The outlines of huts and fires — indicating trading posts or campsites at which some Cherokee might have stopped — were also visible along the line on the map.
Those notations are from the journal entries of a missionary minister who traveled with the Cherokee, cited from research done by Tefft and a colleague, Rachel Bottje Chamness. The two Murphysboro High School teachers completed the curriculum project, documenting the Trail of Tears through Southern Illinois, as part of master's class work at Southern Illinois University Carbondale.
Their curriculum work was honored Monday by members of the Trail of Tears Association, whose representatives presented each educator with a certificate and a stipend check. Funding for the stipend came from the Joe Crabb Memorial Fund, created in honor of Crabb, a former member of the Trail of Tears Association and Pope County historian who died in December 2015.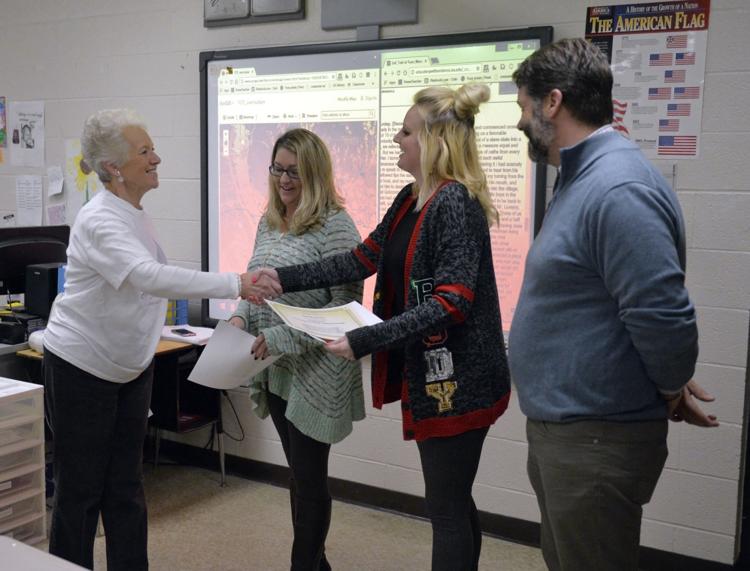 "For a lot of our kids, we give them a history book, and they're like whatever," Tefft said. "This … it's a lot of our kids' backyard."
"And it's their history … some of them, this is some of their ancestry," Chamness said.
Their work
The teachers' curriculum integrates work from the 1838-1839 journal of Daniel Butrick, a minister who traveled with the Cherokee across Southern Illinois, with a Geographic Information System (or GIS) map that notes the locations of the Cherokees' campsites along the trail. The curriculum and map are available online at https://tinyurl.com/SIUEWETrailOfTears.
The trail, Tefft noted, forked through Pope, Johnson and Union counties.
The curriculum project developed from master's level work the women were pursuing and was part of a collaboration with SIU's Department of Curriculum and Instruction, Center for Archaeological Investigations and the Trail Of Tears Association, said SIU professor Grant Miller.
Those involved with the curriculum development noted that it involves students on many levels and is not memorization and recitation of history facts.
You have free articles remaining.
Keep reading for FREE!
Enjoy more articles by signing up or logging in. No credit card required.
"This is good for our diverse learners, too, because it's hands-on," Tefft said. "It's not a book, and it's in their backyard, especially a lot of our populations from The Bottoms, and that demographic relates to this.
"It means something to them, and they relate to it and they get into it. It's not reading a history book, or someone's version of history. They're coming up with their opinion of what happened from different sources."
The women's work grew out of their master's level classes at Southern Illinois University, their professor, Miller, said.
Work applauded
For years, members of the Trail of Tears Association had hoped some educators might develop a curriculum for teaching about the Trail of Tears in Southern Illinois, Sandra Boaz, president of the Illinois Chapter of the National Trail of Tears, said after the award presentation.
The name for the trail reportedly came from a Choctaw leader who told an Alabama newspaper that the forced removal was a "trail of tears and death," according to history.com.
"(We) would like to say 'thank you' for your hard work — Dr. (Grant) Miller, Rachel and Stacie," Harvey Henson, treasurer of the Trail of Tears Association and an SIU professor, told the three on Monday. "You have helped us accomplish something that is very important to the mission of the Trail of Tears, and that is to educate the local Southern Illinois region, especially our students, on the importance of this significant historical event, and its relevance, even today."
Those involved with the project explained it on Monday.
The Library of Congress funded the project, and its curriculum can be used and accessed across the nation, Miller said.
"What's so exciting about this is this really gets into the kinds of literacy skills that we're asking history teachers to be teaching with their students, as far as analyzing primary sources, comparing those primary sources to maps, as you have here," he said. "It's pretty exciting … even on the new SAT, the PARCC exam the middle school students are taking, so this is not just memorization of names and dates …"
For Boaz, it was an assignment finally completed.
"It's been a dream for 13 years," Boaz said. "To see it reach its culmination, we're very excited."