MURPHYSBORO — John Garner was sitting with family and friends Wednesday playing cards and listening to music when he saw the smoke.
The group fled outside. Smoke was coming from a basement apartment in Garner's building locaated at 203 N. 15th St. in Murphysboro.
Murphysboro Fire Chief Steve McBride said the call came in at about 1:45 p.m. regarding a residence on fire, with people possibly present. He was in the second unit on the scene and said he and his crew found a fire burning in the basement.
McBride said everyone that was home got out safely, except two people who were in the basement at the time of the fire. He said one person was treated by Jackson County Ambulance, while another was taken off the scene by ambulance after being found by firefighters in the basement.
Basement fires are particularly "brutal" to fight, McBride said. Firefighters have to battle down through heat and fire to get to the source to put it out.
McBride said the fire was contained within 15 minutes and out within 30.
Mary Bland also lived in the apartment building. She said her dog, Rufus, ran out with her, and is now staying with her niece.
Around 3:30 p.m., Bland was sitting with the few items she could salvage: a trash bag and a reusable grocery sack full of clothes and other documents. The rest, she said, was too far gone with smoke damage. Garner said the same about his items.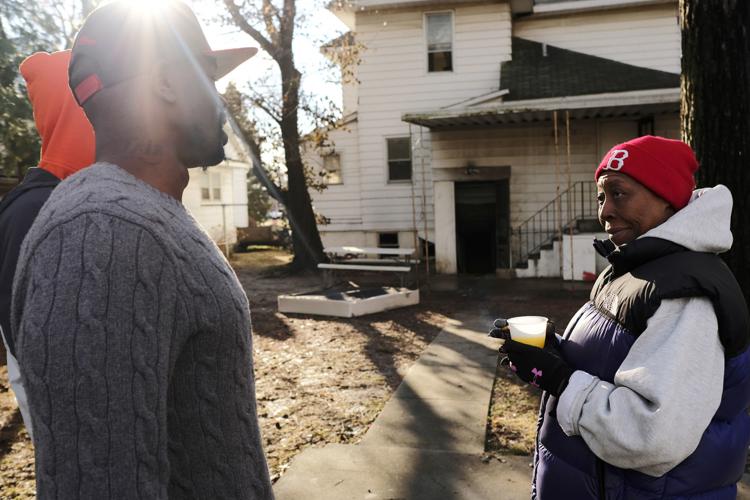 Bland said she wasn't sure what was next.
"I don't have nowhere to go," she said. She was sitting on a concrete pad behind the house having a drink with friends — her cup had orange juice, others had something stronger. She said she was waiting to see what assistance the Red Cross could provide.
She was still optimistic, though. She reminded herself that "God works in mysterious ways."
"Jesus is good," she said.
McBride said the investigation into what started the fire is ongoing.