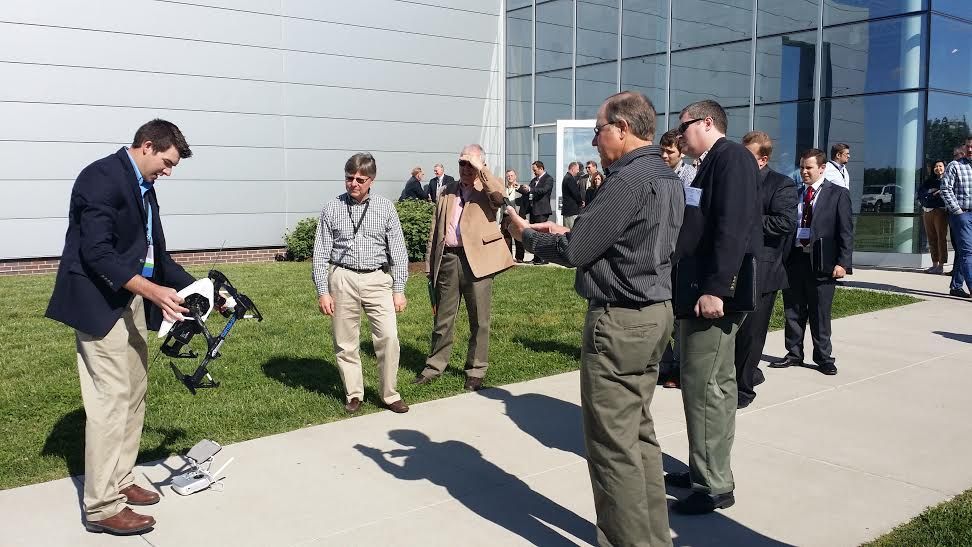 MURPHYSBORO — According to Patrick McDonald, airport operations supervisor at Southern Illinois Airport, airport authorities will be the first to use unmanned aircraft systems, also known as drones, as part of management and inspections.  
Airport authority would be one of the first to use Federal Aviation Authority's 333 exemption, and a certificate of operations, to operate on the airfield, McDonald said at the Illinois Aviation Conference Thursday morning.
"The airport authority itself would be the first airport to use 333 exemption and a certificate of authorization to operate on the airfield for daily part 139 inspections, wildlife management, things of that nature that we can use to (assist with) our manual inspection process to keep the airport safer, and continue to provide a safer airspace for the community," he said.  
Although skeptic about releasing such authorizations, McDonald confirmed that the facility currently holds a temporary license for UAS operations.
"(The FAA) are a little skeptical about releasing those abilities right away, so it's going to take a little bit longer for us to get our authorization in place," he said.
"But we are actively going after everything we need to operate UAS here on the airfield."
Additionally, as part of the two-day conference hosted for the first time in Southern Illinois, Matt Heyen, an aircraft and drone pilot, gave a presentation covering drone requirements and practices they would like to conduct at the airfield.
"We have to develop many manuals for both the safety operations," he said.
According to Heyen, this consists of pilot requirements, maintenance requirements, and pre-flight and post-flight checks of all manuals — among others.
"There's also a requirement for a visual observer for UAV (aircraft) operations; those also have testing requirements for commercial operations," he said.  
Heyen was accompanied by Joseph Sambadrosky, who shared with attendees the three components of a UAS — the operator, or human controlling the aircraft, the controller, usually a tablet or iPhone, and the aircraft — and the three categories of UAS operations — public operations, hobby or recreational operations, and civil operations.
Airport Manager Gary Shafer said, "We've got a nice, well rounded, group of people here. It's educational and the other important aspect of the event (was that it allowed SIU) aviation students to attend any and all functions free of charge."