MURPHYSBORO — Sharon Steele, a retired bank representative, was concerned that she might not be able to continue making contributions to a long-running scholarship fund named in honor of her son.
Her son was Clifford Stein, an 18-year-old Murphysboro High School senior who collapsed and died at the school on Oct. 8, 1976. Right before he started high school, Cliff, as he was called, had been diagnosed with hypertrophic subaortic stenosis, the same genetic disease that claimed the life of his father and other relatives.
It was Stein's classmates who led the way after his death in raising money to establish the scholarship for male athletes at Murphysboro High School; his coach, Tom Ashman, and Tim Bower, the school's principal at the time, helped to organize the scholarship fundraising and invested the funds in a bank CD. In time, Stein's mother came aboard, helping to raise funds, and for many years contributing to the annual $250 scholarship so that the scholarship principle would remain untouched.
Retired for more than a decade, Steele began to worry about whether she'd be able to sustain the contributions and about what would happen to the scholarship. She shared that concern with Ashman, who she said was like a father to her son.
"'Tom,' I said, 'I'm not going to be here forever to take care of this,'" Steele said. "'Do you think we should increase the amount (of the scholarships) and let it run out?' And he said 'no, we can't ever let it run out'."
Who was Cliff Stein?
Stein was born the second child, the only son, to Paul and Sharon Stein of Murphysboro, where he grew up. His sister, Paula, born two years earlier, does not have the disease.  Had he lived, Stein would have turned 58 this year.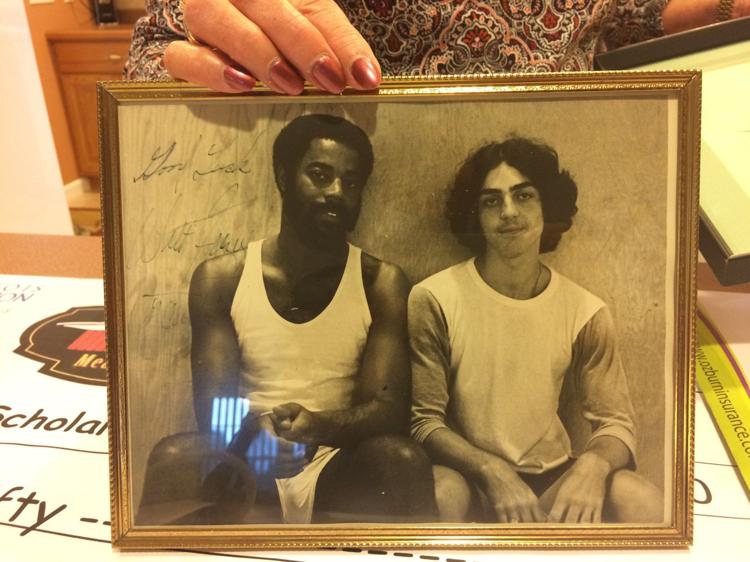 When Stein was 9, his father died from the same heart condition, Steele said. She said her husband was one of nine children, all of whom succumbed to the disease that they inherited from their mother.
After Stein suffered problems between his eighth-grade and freshman year of high school, his mother took him for diagnosis to the National Institute of Health in Bethesda, Maryland.  There, she said, doctors told them that he did indeed have the heart condition that had claimed his father's life.
One thing he wanted to know, she said, was if he could play baseball, which he apparently considered a less strenuous sport.
Steele said one of the doctors told her son: "But one day you hit that ball and never make it to first base."
It was when Stein entered high school that he met Ashman, who was in his first year at the high school.  Ashman worked to include Stein in the team, allowing him to dress out with the other athletes, said Jody Craine, who knew Stein.
Ashman attended a workshop, after which he was inspired to engage Stein by having him work with younger children to teach them basketball tricks to display during games and other places.  The group came to be known as the Zips.
One of those former Zips members was Craine, who now owns Craine's Heating and Air Conditioning in Murphysboro.  He referenced a YouTube video that shows Stein performing some of his tricks, overlaid with the theme music from the Harlem Globetrotters, and some of the younger Zips showcasing their tricks.
You have free articles remaining.
Keep reading for FREE!
Enjoy more articles by signing up or logging in. No credit card required.
In the 1976 to 1977 school years, more than 30,000 Southern Illinoisan residents saw the Zips perform, according to materials of Steele's.
A 40th anniversary benefit
Steele was initially contacted by Craine, who, along with others, wanted to organize the benefit celebration this past September.
In addition to Craine, others helping with the benefit were some of her son's friends and former pupils, including Bob Knope and his wife, Angie, of Jack's Meat Market & Deli in Murphysboro. Steele said she was thinking the benefit might raise $4,000.
"That just kind of took the weight off me," said Steele, who worked for 26 years at Murphysboro's City National Bank, rising from the ranks as a teller to a financial services representative. "Now, I don't have to worry about it again, and they're gonna take care of it, and they will determine how much the scholarship will be each year."
A few weeks later, she said Craine contacted her again, wanting to present to her a check from the proceeds of the benefit. The date was Oct. 8, the 40th anniversary of her son's death; the time they picked, 2 p.m., was almost to the hour the time that her son died, she said.
Though she gave her support for a benefit on the 40th anniversary of her son's death, she had no idea of the magnitude of the planning that went into the event. Coming back to honor her son was the first-ever scholarship recipient and friends and classmates from decades ago.
They presented her with a large paper check, rolled up. Craine told her that the foundation would no longer be giving out $250 scholarships …
When it was unrolled and she read the amount, she was overcome, she said: $13,250. It was enough to give out an annual scholarship of $750.
The money was deposited with the Southern Illinois Community Foundation, laying the groundwork for an endowment that would fund scholarships indefinitely, Craine said.
That's a welcome relief to Steele, who has also learned that her son will be posthumously inducted into the Murphysboro Red Devils Athletic Hall of Fame on the last Saturday in January 2017. Others can make contributions to the scholarship; for more information, visit www.sicf.org/CliffStein.
Steele said she feels that thanks is not enough and has many people she wants to acknowledge, starting with Jody and Dar Craine; Mike and Terri Clutts; Jeff Streeter, Marla Dallas; Kelly Mifflin, Regina Jones; and Larry Miles.
"We're hoping that it just keeps growing and growing and going forever — is what Cliff would have wanted, his memory to go on forever," Steele said.