CARBONDALE — A short-term journalist who is now a social work Ph.D. told a roomful of Southern Illinois' brightest students that there was probably not a lot she could tell them about being successful.
But, what she did share with attendees at the 47th annual High School Achievement Banquet were the two major things she said she wishes she'd been told early on: that she was not the only one who probably felt the "impostor syndrome" and that it is important to be mindful of people she met in passing, "the strength of the weak ties."
Beth Prusaczyk, a 2003 graduate of Frankfort Community High School, said she studied journalism for two years at Southern Illinois University before transferring to a college in the St. Louis area. She worked in journalism for about six months, before her paper was bought by another paper, leaving her without a job.
She eventually found a job conducting research for a psychologist from Washington University, which led her to return to college for a master's and a doctorate in social work.
In both instances, she said, she felt as if she didn't belong in those environments, as if she wasn't as smart as her fellow students who seemed to be doing just well and understanding everything happening.
One of her mentors offered her a helpful perspective.
"She said 'what you're experiencing is the 'impostor syndrome'," Prusaczyk said. "It's called the impostor syndrome because you feel like you're not supposed to be here … which you will probably feel at school or on your first job or which you could be feeling right now. …You feel like you're the only one in the room who isn't actually supposed to be here."
She said she learned that many others probably felt the same way.
In the other lesson, she said she learned about the value of being respectful and considerate to people she met in passing, as those kinds of people are most likely to make a significant impact on one's life. She called it the social network analysis of "the strength of the weak ties" — those people farthest removed from your inner circle, but who are sometimes most valuable in deciding significant events for you, such as future employment.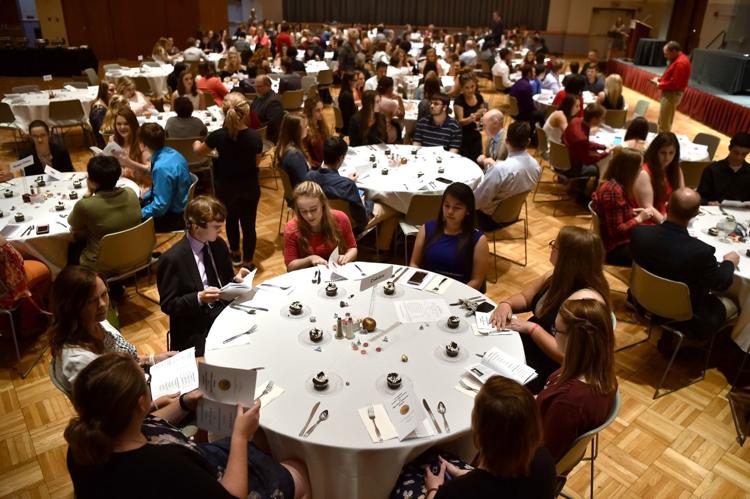 She was the guest speaker for the 47th annual Southern Illinois Society for High School Achievement Banquet, an event created decades ago by a group of area high-school counselors; the counselors wanted some way to recognize the academic achievements of high-school students.
Since its beginning, The Southern Illinoisan has partnered with that group to host each annual banquet.
"It's a really pleasant experience, because everybody here deserved to be here," said Executive Editor Tom English, in his first year helping with the banquet. "Everybody earned their way to be here, and it's great seeing kids recognized for academics and working hard and putting their minds to something that they know they can do."
Be the first to know
Get local news delivered to your inbox!