WEST FRANKFORT — Morthland College will soon unveil its not-so-small student housing complex, signaling a first for the tiny Christian college.
The apartment-style dormitory, which will exclusively house Morthland College students, comes at a total price of $3.2 million, ranking as one the largest projects West Frankfort has seen in the last several decades.
"It's not everyday that someone privately comes in and wants to build a multi-million dollar facility in your town, and in turn improve the look of it," said Tara Fasol-Chambers, a city commissioner.
Students will be able to move in Nov. 9, according to Kelly McMillin, the project's general manager. 
"They're unlike any dorms you've ever seen, they're very modern and they have everything a typical college student would need," McMillin said. "It's unbelievably nice and walking distance to the college."
The facility, which will be known as Mount Vernon House and is located on St. Louis Street, is being funded and built by Brad McMillin Realty Inc.
With a combination of four-bedroom and two-bedroom units, the facility could hold a maximum of 92 students. The units come fully furnished with kitchen appliances, wifi access, furniture and TVs. Students will pay rent, which should average around $500 per month, to Brad McMillin Realty Inc.
The majority of students attending Morthland College, of which there are at least 100, are from cities within a 100-mile radius. Some have been staying in local hotels as they've waited for the dorms to open.
Developers broke ground on the housing complex in August of last year, at the site of the old UMWA Hospital, a structure that had been vacant for several years.
You have free articles remaining.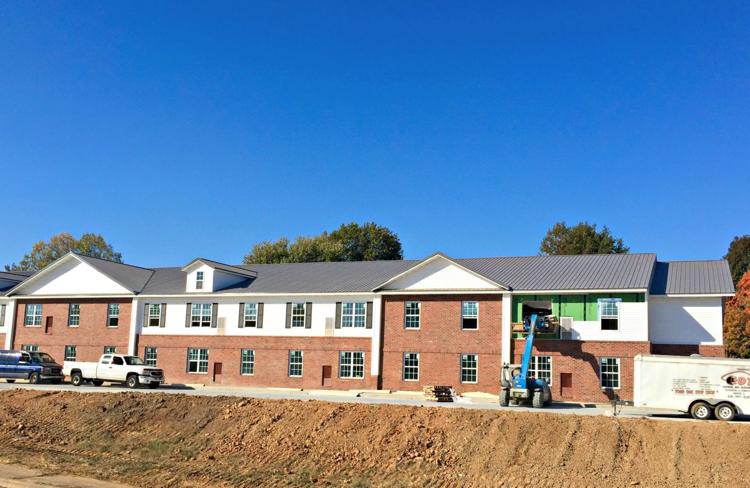 As the hospital had been an eyesore for years, city officials say the dorm project signals a positive shift in West Frankfort's landscape.
"It used to be a thing people would drive by and they would be kind of turned off by," Mayor Tom Jordan said. "It was in horrible condition and now it's this beautiful, impressive sight."
Fasol-Chambers agrees, saying it's a win-win.
"It's a historic site in this town, and people were really sad to see it get to that dilapidated state," she said. "But this really gives it a new, exciting face and it doesn't cost the city a dime."
As construction workers put the final touches on the dorms, the city is moving forward on a TIF project agreement with Brad McMillan Realty Inc. for the project. The agreement is worth up to $600,000 over 15 years.
"If no one built or developed here, we wouldn't have anything to show at all," Jordan said. "This incentive is something we have in our toolbox to lure people here."
Outside the window of West Frankfort's City Hall, there are dozens of empty storefronts and …