WEST FRANKFORT — Just a month into a new school year, officials from the Illinois Board of Higher Education visited Morthland College on Monday after the U.S. Department of Education earlier this year revoked the school's ability to access federal student aid funds and fined the college for an alleged "breach of fiduciary duty."
In a letter postmarked Sept. 11 to Tim Morthland, president of the college, from Daniel Cullen, Illinois Board of Higher Education deputy director of academic affairs, Morthland was notified that the college was to be the subject of an "official institutional investigation" based on a letter IBHE received from the U.S. Department of Education on Aug. 22. According to Cullen's letter, which was obtained by The Southern through the Freedom of Information Act, this communication with DOE indicated it was beginning an emergency action against the college, removing its ability to access any Title IV student aid funds. According to the IBHE letter, the DOE was fining Morthland College $2,016,789 "in response to the serious violations and breaches of fiduciary duty to the Department."
"The above referenced (Education Department) communication outlines troubling findings related to numerous financial and ethical issues," Cullen said in the letter.
This comes after a Jan. 20 letter from the DOE informing the college it had been placed on Heightened Cash Monitoring 2 status after a program review of the college produced "severe findings." The HCM2 status limited Morthland College's ability to handle student aid dollars — instead of drawing down financial aid for students from the federal government, covering the costs of a student's education, and eventually cutting a check to the students for the difference, the college had to pay everything up front and provide DOE with documentation of money spent in order to be considered for reimbursement.
The college's 2017 annual president's report, published on the school's Facebook page in August, cited financial strain on the institution.
In response to the notification that Morthland College had been placed on HCM2 earlier this year, Cullen wrote in the letter that IBHE had contacted the college, asking questions "specific to online education and admissions/partnership issues related to sports prep academies."
"The information received from the institution raised serious questions about the structure of the distance education offerings, contractual relationships, and online faculty interaction and qualifications," Cullen wrote in the letter.
Cullen also indicated that IBHE has received communication from Transnational Association of Christian Colleges and Schools, Morthland's accreditor, indicating that it, too, would be conducting its own review, investigating "possible issues of non-compliance with TRACS accreditation standards."
Cullen said in the letter that IBHE would be performing a site visit Monday to perform staff interviews and to review "relevant student records, institutional contracts, and financial statements."
The letter from IBHE states that according to the Illinois Amended Code 1030, notification of investigation is the first step in what could lead to the revocation of a college's certificate of approval to operate.
"During the investigation there may be a temporary hold placed on any of the institution's pending applications," that code reads. According to the code, after the investigation, the institution may be cleared. However, dependent on its findings, IBHE may also accept the institution's voluntary relinquishment of approval to operate, or IBHE may begin the revocation process.
The code details several conditions or actions that can lead to revocation, including violating the terms of the certificate of approval to operate, "Fraudulent conduct on the part of any person operating the institution … on account of which any student ever enrolled in the institution has been injured or has suffered financial loss," loss of accreditation and actions taken by state or federal agencies.
When asked for further comment on the investigation, IBHE sent a statement summarizing its letter to Morthland and declined to answer further questions because its investigation is ongoing.
Timothy Eaton, president of TRACS, confirmed what he described as a "review" of the college. He said they are working within the guidelines established for accreditors under the law. He said the review began in the winter of this year, coinciding with the initial letter from DOE announcing the HCM2 status.
Eaton said Morthland College has cooperated fully with their review efforts and have "self-communicated" with other agencies.
Eaton would not comment on whether Morthland was in danger of losing its accreditation.
Eaton did say that no action can be taken without an institution being given the opportunity to defend itself.
When Glenn Poshard was brought on as president of Morthland College on Feb. 14, he said he came in with eyes wide open and had no knowledge of the school's financial or administrative woes. He resigned within three months of taking the job after learning of a review by the DOE and intense scrutiny by the IBHE.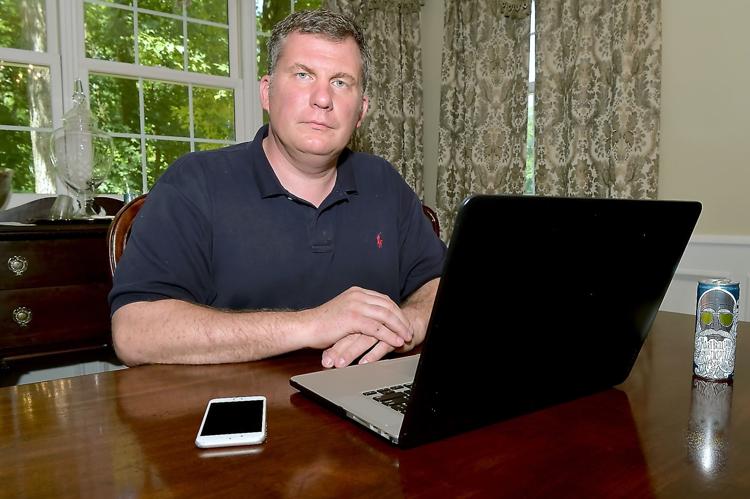 After several email exchanges and unreturned voicemails to Tim Morthland and Emily Hayes, the college's executive vice president, as well as multiple phone conversations with pro bono media coordinator Christen Drew in the weeks leading up to publication, representatives for Morthland College have failed to comment for this report.
A long time coming
Paul Lemon, a former administrator at Morthland College, was on the ground level when it began. Lemon said he started 18 months before the 2011 open date and left the college in December of last year.
Lemon said when the school began, it was a focused, academics-driven classical Christian institution.
"We had good faculty. There were a lot of good things there," Lemon said of the early days. He said he remembered a real excitement about the work they were doing, adding that he believed there should be an option for Southern Illinois students to receive a college education based around their Christian faith.
But, Lemon said, the wheels started to come off in 2015. He said it was then that Morthland, then acting as president of the school, and Emily Hayes, the college's executive vice president, returned from a conference with a big plan.
"They came back from a conference and decided we needed to dramatically expand our online program," Lemon said, adding that this created problems right off the bat. He said directives came down that all major programs needed to be fully attainable online and that their online components would be built in-house in about a month. He said this was the expectation despite several comments from staff that this was not possible.
Lemon said after being told by staff this could not be done, administrators made the decision to search for an outside provider of online education. They found just such a program in KEEN, which Lemon said he felt had a subpar product. He said the programs from KEEN were not universally embraced by the instructors who were asked to approve the courses. Lemon said there was a lot of implied pressure for instructors to approve the courses.
That summer, the stage was set and Lemon said Morthland College went live with its updated online curriculum. They built it, but few came.
"They had visions of this growing very quickly and it didn't," Lemon said. The quick infusion of cash the school was looking for was not as sure a thing as Morthland College administrators had thought, he said. This is where things really started to go south.
New leadership, same problems
Poshard said when he came to Morthland College earlier this year, it did not take long to realize something was amiss. He said in his first week, he had an emotional conversation with an unnamed employee who said the school had quickly enrolled students from sports prep academies, and that in or around January of 2016, staff felt pressure to enroll students from those academies.
"They had felt pressured by the administration to get a lot of these kids enrolled very quickly," Poshard said. He said the employee told him that "they threw up red flags about this process. That they didn't have complete files on some of these students. That they didn't think the students were academically qualified in some cases." Poshard said this person felt like Morthland College was not following all the rules.
The original notice of HCM2 status indicated that the reason for the status change was tied to the "documentation of attendance, application of the school's admissions policy, and the treatment of withdrawn students."
Over as soon as it started
Coach Michael Carson has big dreams for the students who come through his Georgia Prep sports academy in Atlanta. His program takes academically challenged high school athletes and pledges to help place them into college athletic programs. Carson said some kids just need some more game footage to send to recruiters, while others need a boost in their ACT/SAT scores or GPAs. So, to assist with this, they work with educational institutions to help fill this need.
Carson said Morthland College did just that — it provided the academy's educational component. Georgia Prep was one of many such schools to which Morthland College appears to have provided similar services.
"Our relationship with Morthland was for them to be able to, you know, provide the online courses for our student athletes here at Georgia Prep as well as an opportunity for those students to get financial aid through Morthland to have them cover their overall cost of the program," Carson said.
Carson said he received a visit in January 2016 from Jason Dorris, an administrator at Morthland College, after Georgia Prep and Morthland College had been connected by Knowledge Elements, an educational management company.
"Based upon that meeting and going forward, we had, like I said, probably 15 to 20 students in the spring program and those students was actually registered with Morthland for online courses," Carson said.
Georgia Prep advertised Morthland as an "educational partner" on the academy's website.
Of the sports academies the newspaper could reach, none still use Morthland as their education provider.
However, Carson said Morthland wasn't the right fit for his students in Georgia.
"We have some students that really, the online format didn't really benefit them at all," Carson said, explaining that to him, there did not seem to be the kind of support for students he thought there should have been.
In fact, Carson said there was at least one class where the instructor provided no feedback to students and posted grades late. He said despite trying to track their progress, the students couldn't get word back from their teacher, and many of them failed the course as a result. Carson did say, though, that the college let students retake the course. Carson said as the college grew its online program, it also got harder to deal with.
"We have parents literally calling about the financial aid process, never being able to talk to anyone there," he said. Carson said that there was a lot of "passing the buck" when it came to solving problems or answering questions.
Ultimately, though, Carson said the relationship with Morthland ended because some students were not paying tuition to Georgia Prep from their student financial aid checks. He said he was frustrated because Morthland College would not pass student financial aid refunds through Georgia Prep.
Living beyond their means
Since the tap of federal dollars was turned off earlier this year, Morthland College has struggled to make ends meet. Poshard said he routinely received calls from creditors demanding payment. Some had been waiting months.
Patricia Soto, of Lubbock, Texas, said her daughter, Anastazia, went to Morthland College on a softball scholarship last fall. She said her daughter was immediately disappointed in the program and did not return as an on-campus student in the spring.
Patricia Soto said after a month of calling the college, she got confirmation four months after the end of the spring semester that her daughter's check had been mailed.
Allen Patten, Poshard's vice president of finance during his tenure at Morthland, said he came in to develop a budget for the school. He said he intended to start by looking at the current budget and make cuts from there. He said the budget he was shown for the 2016-17 school year included a large federal aid component, however, he noticed there were only 176 students enrolled at the school — not enough to account for the money it had budgeted for that year. Patten resigned at the same time as Poshard.
Lemon said this surplus was anticipated to come from a large influx of students that never came — these students were anticipated to come from prep academies. The school bolstered its infrastructure to accommodate the growth, hiring several employees.
"I think they thought they were going to hit a gold mine somewhere and that didn't pan out," he said.
"Morthland College had almost no money or no money," Patten said. He said Morthland College was surviving on grants from what Patten called "his (Morthland's) Health Service Foundation."
The college's annual president's report, which was published on Aug. 7 on the school's Facebook page, admits finances have been tight.
"Our vendors have waited and some are still waiting for reimbursements, as the trickle down of our federal delays have hurt more than just our sphere of academia," a letter included in the report and signed by Emily Hayes and Tim Morthland said. However, in the post announcing the report, the college indicated a successful fundraising campaign to provide student scholarships for the coming school year. The #ForgingFutures campaign raised $320,000 and the post said the Morthland Foundation donated $203,893.27 in cash and in-kind donations to the college, the post reads.
Educational partners
Tim Morthland has denied any formal involvement with prep academies. In a series of emails, obtained through the Freedom of Information Act, exchanged in April 2017 between the college and IBHE assistant director of academic affairs Amanda Winters, Morthland explained that the college was simply available for prep academies to use as an educational component, but that there was no formal agreement to provide any services.
In an April 27 email to Winters, Morthland explained that any student from such an institution who contacted the college was informed that Morthland College was not affiliated with the academy through a written letter.
In an April 28 email, Winters replied.
"A quick review of the materials submitted, however, has given me pause," she wrote. "You indicated that the institution has no affiliation with any sports academies, which Dr. Poshard and I discussed briefly on our phone call." Winters said after some cursory research she found four academies that listed Morthland as an "academic partner" and asked Tim Morthland to clarify the discrepancy.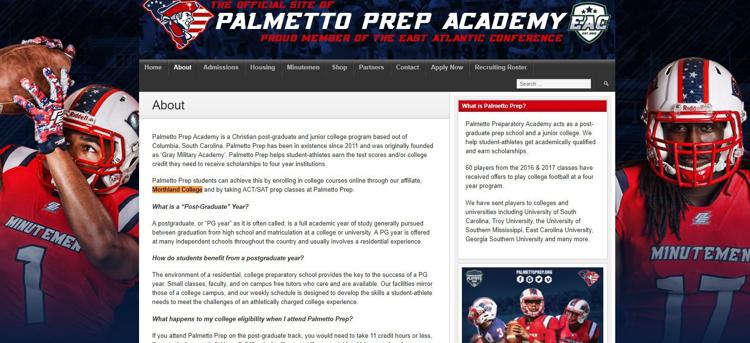 In his response, Morthland said the school never recruited students from prep academies, though he did admit the school received students from the programs. But he maintained there was not an official partnership — he said no contracts were signed.
However, more than one of the academies the college was involved with indicated that early in their relationship, representatives from Morthland College came to visit.
"They contacted me," said Ronike Haynie, a coach with prep academy the Delaware Gamecocks.
A 2016 post to the Delaware Gamecocks website advertised a meeting where Morthland representatives would be in attendance.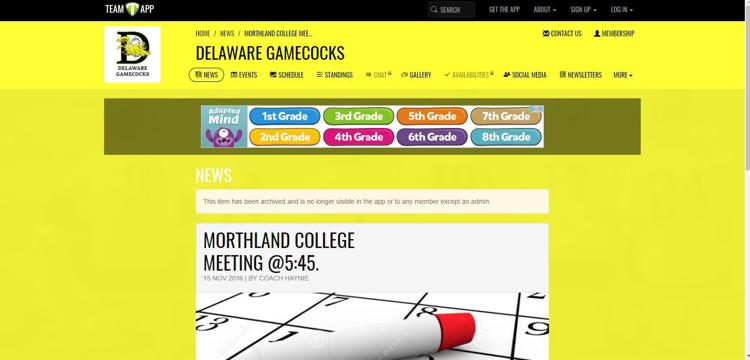 "Please don't forget to bring all required paper work," the post reads. "Also be kind and respectful to our guest from Morthland College. Don't forget to bring Important paper work that you may need."
'Right is right'
Poshard said in his short time at Morthland, he saw a lot. The dealings with Winters and IBHE are what convinced him to leave.
In the initial correspondence between Winters and Morthland College administrators, Winters asked that the college answer a series of questions by April 28.
Those included detailing the financial plans the college had to sustain operations during HCM2 designation. Winters also asked how many academies the college was affiliated with, as well as the locations of each, the number of students enrolled from each and the admissions criteria and information shared with the students about transfer and financial aid. Winters also asked that the college provide a list of the online classes currently offered at Morthland College along with the course syllabuses and curriculum vitae of the faculty teaching the courses.
Poshard had prepared to answer Winters' request, but said Morthland and Hayes disagreed with his assessment of the situation. Poshard said Morthland and Hayes had planned to tell Winters the school had no official relationship with sports academies.
"When Ms. Winters emailed and copied it, about our conversation, back to Dr. Morthland and Emily Hayes, they immediately became upset, and I thought, panicked," Poshard said. He said he asked to meet with Hayes the next morning to be given a "complete revelation of the relationship" Morthland College had with the sports academies. Hayes did not come to the meeting. Poshard said when he saw the letter Hayes wrote and intended to send to Winters, he'd had enough.
"It was at that point that I left the college," Poshard said. "There was no way I was going to be president, knowing what had transpired to get them in trouble with DOE, (having) listened to the employees of the college talk about how that happened and at the same have absolutely no control over the finances and so I wrote a letter of resignation."
His resignation became public May 3.
WEST FRANKFORT — After just more than two months on the job, Glenn Poshard has resigned as p…
Poshard said he knows what he told Winters about the college's relationship with sports prep academies is the truth, despite arguments from Morthland and Hayes.
"In my judgement, they did have a relationship with the sports academies. They sent the chancellor to meet with people from the sports academies. They set this all up," he said, reiterating that staff had told him, "in no uncertain terms that they enrolled (the students) under pressure," believing they were not meeting DOE rules and regulations.
"So, I didn't want to be a part of sending anything to the board of higher education that I didn't think was correct," Poshard said.
"Right is right," he said explaining that he had more than his reputation to uphold.
After Poshard's resignation, the board moved to reinstate Tim Morthland as president. Based on the emails the newspaper obtained through FOIA requests, it appears Morthland responded to Winters' questions, providing the documents Winters had requested, and denying the school was involved with prep academies.