METROPOLIS — The greater Massac County region is rallying behind David Hannan, the school district's longtime band director, as his battle with brain cancer has recently forced him to take leave from his teaching position.
He is at home, being cared for by his family, and is receiving hospice services, his wife, Mandy Hannan, told The Southern Illinoisan on Friday afternoon.
Numerous fundraisers have been held or are planned for the coming weeks to help the family through this trying time, said Angie Runion, a band parent who created the Facebook page Banding together for the Hannans. More than $25,000 was raised in the last week alone, a testimony to Hannan's broad reach, Runion said.
Hannan's dedication to the arts in Southern Illinois has left an unquestionable mark.
He has taught hundreds of students to play instruments and imparted in them the gift of music creation. He has been with the Massac County Unit School District 1 for 18 years. It was the first teaching job he accepted after graduating in 2001 from Southern Illinois University Carbondale. 
Superintendent Jason Hayes, also a longtime friend of Hannan's, said that even as the school district's student population has declined in recent years, the band has continued to grow. He attributed that to Hannan's special touch.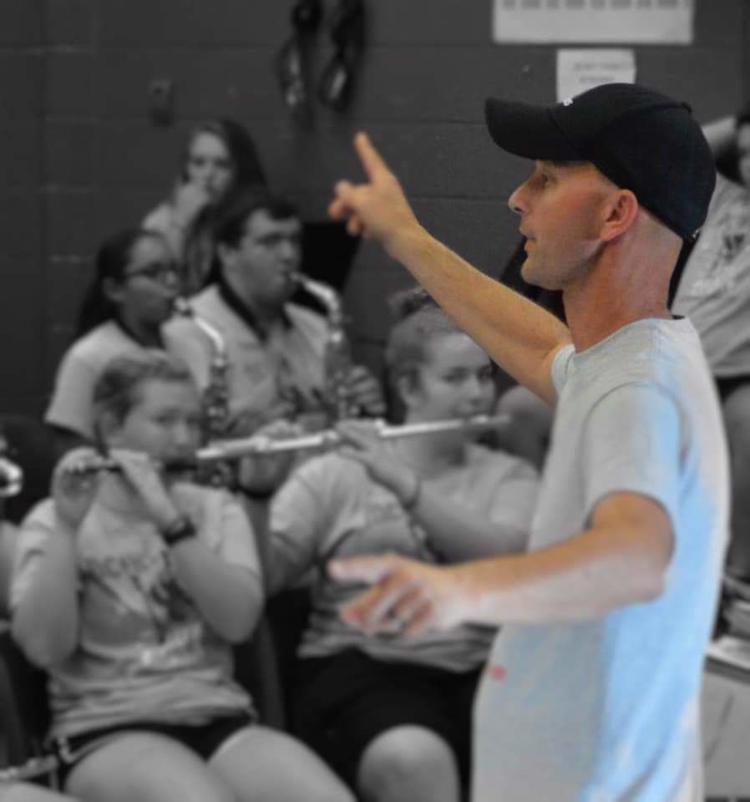 "David is not only talented musically, but he also has that gift to connect with kids," Hayes said. 
His mantra, according to his students, is practice, practice, practice.
"I think his favorite word is practice," said Summer Nalley, an 18-year-old senior who plays the clarinet. 
"Mr. Hannan is very encouraging and will push you, but never break you," said Owen Westbrooks, 17, a Massac County High School senior and guitar player. "Many times, there have been moments where I thought I could not do something but he always pushed me to be the best musician, and person, that I could be."
"If it wasn't for him," Nalley added, "I wouldn't be the player I am today. He would work with us on music until it was perfect." 
He encourages others to share in his sense of optimism and fun, his student say, and his joie de vivre is contagious. He greets each student at the door with a "good morning," plays "Happy Birthday" on the piano every time a student celebrates another year, and occasionally breaks into spontaneous song. "No matter what is going on, Mr. Hannan has a smile on his face," Westbrooks added. "He loves his job and is always happy to be there." 
Mandy Hannan and her brother, Dr. Michael Boyd, a neurologist, provided a joint statement to the newspaper about David Hannan's years-long health battle. His story, they said, "is uniquely tragic." 
In September of 2015, Hannan developed headaches, neck pain, sudden and significant nausea and vomiting during a family Labor Day weekend get-together. He went in for MRIs of his head and neck. Doctors discovered a large left frontal lobe tumor that required urgent resection. But there was hope: His doctors said it was a Grade 1 tumor, meaning it was likely to grow slowly, and the chance of survival was good.  
"Ecstatically, David carried on as usual," they said. "Unfortunately over the next 16 months, as tragedy goes, with scheduled imaging, it became apparent that the tumor was recurring and he was referred for a second opinion." The family turned to Northwestern Memorial Hospital for care, and he underwent a second tumor resection in 2017. This time, the tumor was categorized as Grade 4 glioblastomas (or GBM), one of the most aggressive and fastest-growing types. The average life expectancy with this type of tumor is 12 to 18 months, with fewer than 10% of people surviving five years. 
Dr. Boyd, Hannan's brother-in-law, and Mandy Hannan explained that there is a subset of "secondary GBM" diagnoses where previous lower grade tumors develop into more malignant tumors later. As in Hannan's case, this typically occurs in patients under 45. He was treated with chemotherapy and radiation, "and he seemed to thrive, returning to life as usual," they said. In November of 2018, however, Hannan's condition declined, with headaches, confusion and speech difficulties. Imaging revealed significant disease progression. He underwent a third resection. Within a few weeks more than the last time, Hannan was back to work.
You have free articles remaining.
"Certainly with each surgery, and the interval treatments, David was not 'back to normal,' but if asked, he would tell you he felt fine, and refused to complain," they said. This December, he began to decline again. During an oncology evaluation earlier this month, imaging showed marked disease progression. His tumor had basically spread to the entirety of his brain. "In classic David fashion, when presented with the available options to proceed, 'do nothing' was not an option," they said. His plan was to pursue immunotherapy and ongoing chemotherapy. "Unfortunately, days later, David began to rapidly deteriorate." Hospice care was initiated on Jan. 9. 
He continued to teach until Jan. 7, according to Hayes, who described his friend and employee as a fighter who carried on for years as the same affable person they all loved. 
Hannan has helped countless students develop confidence in their teenage years, a time when some struggle more than others to find themselves, said Runion, whose son is in the band. "My son, when he first started, he was very shy. He wasn't outgoing and he wanted to stay home all the time. He got into band with Mr. Hannan, and he's a totally different child now. He's very outgoing. He's confident in himself and what he's passionate about."
He demands the best from his students, but also keeps them laughing, said Donovan Bryce Crim, a percussionist who graduated in 2017.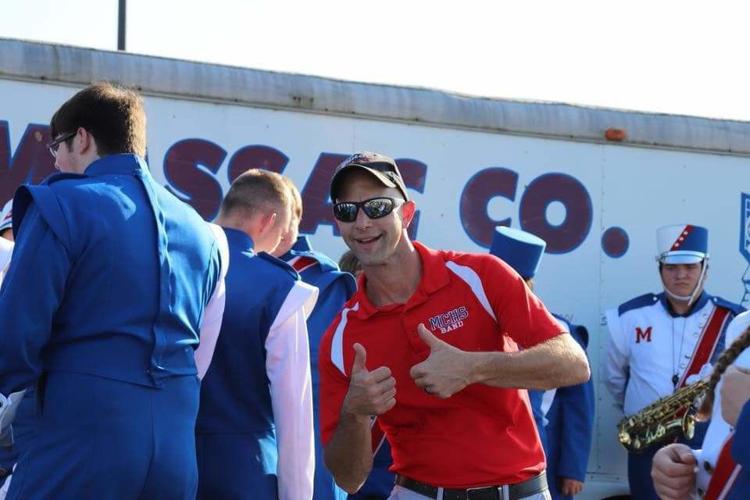 "His humor was by far one of the many ways I got through my days in school. Whether I passed him in the hallway, saw him outside of school, or even in class, he was always happy, smiling, or laughing," Crim said. "It's almost like happiness comes to him easily. It is something he is just good at, and he doesn't have any problems sharing his happiness."
He teaches marching band, concert band, pep band, jazz band and piano, Hayes said. When Hannan started offering a piano class, "it had a huge impact on some of our special needs students because we didn't have a lot to offer them," the superintendent added. Hayes said that for some of the students with emotional disorders, learning to play the piano seemed to bring them a sense of calm and stability. The pep band is also a standout, he said. Hayes said Hannan modeled it in the style of the old-school Vienna High School pep bands, known for their high energy and classic rock numbers. Hannan is a 1997 graduate of Vienna High.
"Over the years, even when our ball team lost and wasn't having a good season, people would say — even fans from the opposing teams — 'You know, that pep band is awesome,'" Hayes said. Hayes, the district superintendent, said Hannan's dedication to the arts helped set Massac County schools apart. The district has also added a drama teacher and class, and the school puts on an annual play.
"The whole fine arts area, partly due to David's influence, and the colleagues he works with, has expanded over the years, and that's really unique," he said, noting that many small, rural schools struggle to offer music and art education because of financial restraints and recruitment challenges.
Even though most people knew that Hannan had a terminal disease, Hayes said, his sudden decline in recent days has been heartbreaking for the school and the greater community. Outside of his role as teacher, Hannan has also been a member of several bands — "Minimum Wage" "Empty Handed" and "Crestview Kings" — performing at venues throughout Southern Illinois.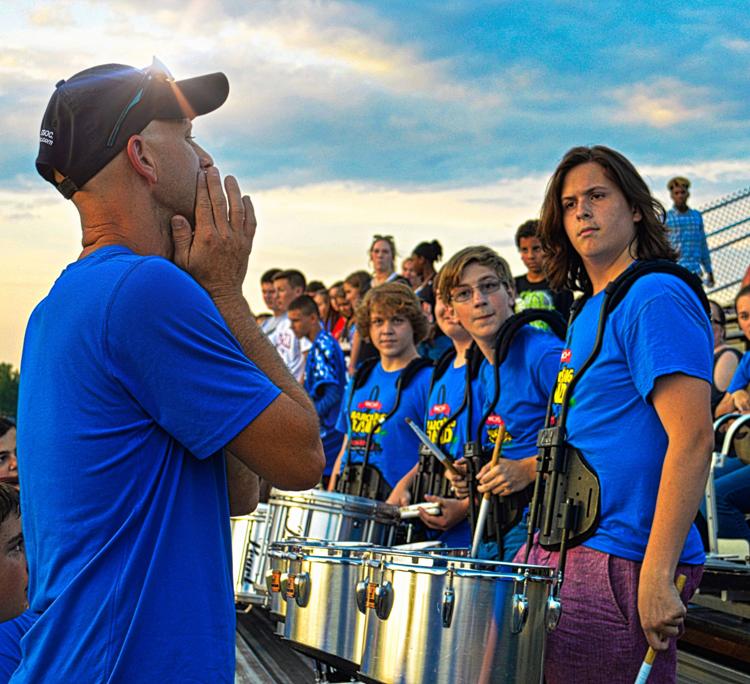 Aaron Melcher, a 17-year-old saxophone and guitar-playing Massac High senior, said Hannan teaches his students that they can do anything they dedicate themselves to. He has "touched the lives of thousands of kids around the area," Melcher said, "and I couldn't ask for a more awesome band director." 
Added Ashley Dominguez, a former alto saxophone band student who graduated in 2018: "Mr. Hannan taught everyone so much more than music. He doesn't just teach, he inspires."
Hannan's many fans are encouraging all who are attending the opening of the Superman Classic boys basketball tournament on Monday at Massac County High School to wear blue — Hannan's favorite color. Vienna and Massac County play each other at 7:30 p.m.
There are also numerous ways to give to support the Hannan family, Runion said. 
A fundraiser is scheduled for 5 p.m. to close Tuesday at El Tequila Mexican Restaurant in Vienna. Donations can also be made online via the "Banding Together for the Hannan's Fundraiser" on Facebook.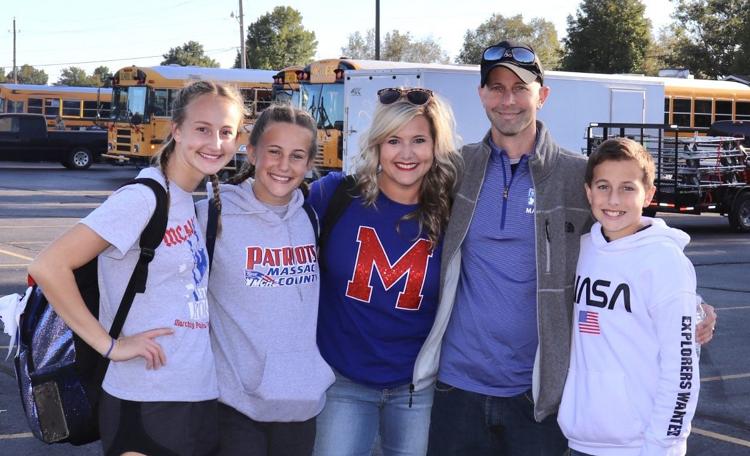 "I don't know if there are words to describe the recent show of support for David and our family," Mandy Hannan said in an email. Mandy also works at the district. A registered nurse, she teaches health occupation classes at the high school. She also coaches the color guard, and Junior High School cheerleading squad, and is assistant cheer coach for the high school squad. Mandy, of Anna, and David, of Vienna, met in 1997 at Shawnee Community College, where they were in band and choir together. They married in June 2002 and have three children: Katie, 16, Alli, 14, and Kyle, 11. 
"With tears as I write this, I am humbled by the outpouring of prayers, love, and overwhelming generosity from our community and friends and family, near and far," Mandy wrote to The Southern. "I can honestly say that David has impacted the lives of many students over the past 18 years by doing what he loves and giving his time to his students. I could not be more proud of David and all he has accomplished in his career and the impact he has had on our school and community." 
618-351-5079
On Twitter: @MollyParkerSI ​