The Johnson County community and beyond is rallying behind Southern Illinois families reeling from a fatal early Sunday morning crash that left three teenagers dead and three teenagers in critical condition fighting for their lives in St. Louis hospitals.
The single-vehicle crash happened just after 2:45 a.m. Sunday near Camp Ondessonk in the unincorporated Johnson County community of Ozark. The teens were traveling westbound on Ozark Road near Locust Road when their vehicle ran off the roadway and struck a tree, according to the Illinois State Police.
The driver of the vehicle, Jordan Williamson Davidson, 18, of Goreville, died in the crash, as did 17-year-old Brayden Riley King and 15-year-old Aidan Roger Baker, both of Vienna. Davidson was a senior at Goreville High School, King a junior at Vienna High School and Baker a sophomore at Vienna High School.
The three survivors of the crash remained in critical condition in St. Louis-area hospitals as of Monday evening, according to Vienna High Superintendent Josh Stafford.
Max Koehler, a Vienna High sophomore, is at Barnes-Jewish Hospital; Dylan Harris, also a Vienna High Sophomore, is at Cardinal Glennon Children's Hospital and Macie Turvold, a Harrisburg student who also has recently attended schools in Massac County, is at Cardinal Glennon.
In the short time since the accident, there have been several prayer vigils in Vienna and Goreville, a fundraiser started to support the families and an outpouring of support across the region. Vienna High and Goreville High held school on Monday, though most of the day was dedicated to helping classmates and close friends of the deceased process their grief. Students created banners to support their families, as well as to show support for the three hospitalized.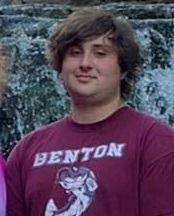 Kathy Poole, King's mother, said she is appreciative of the community outpouring of love. Her son was a Christian, she said, and would want nothing more than for everyone to come together during this difficult time and support one another and "know they are loved, they matter, and they matter to God."
"I can definitely feel the prayers for the community," she said. Poole attended two vigils in Vienna on Sunday for the boys, and was headed to another in Goreville Monday night. "They make you feel like people care and people want to be there for you, and it makes a big difference," she said. Poole said that what she needs most now from the community is their continued prayers. "Pray for us and the other two families who lost people, and the three in the hospital still," she said. "There's so many prayer needs and I'm so thankful that Johnson County is a faith-believing community."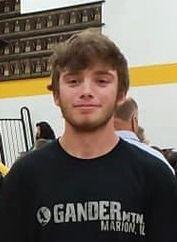 Steve Webb, superintendent of Goreville High, said Monday was difficult for the high school students who were close to Davidson, a senior student-athlete, and King, who also attended Goreville for a short time before transferring back to Vienna High a few weeks ago.
In a small school like Goreville High, everyone knows one another and classes tend to be tight-knit, said Webb, whose son is also a senior at the school. Counselors were on hand Monday to talk with students and will be all week. "We certainly were not worried about school today," he said. "We worried about them."
Goreville Principal Jeri Miller described Davidson as a student with a "great sense of humor and a kind heart." She said that if she were to get frustrated with him, he had a way of cutting through that feeling with a mischievous grin "that as soon as you'd look at, it was hard to stay upset with him." The loss of Davidson has hit the senior class of only about 55 students hard, she said, and it has affected many underclassmen, too. "Their emotional well-being is our top priority this week."
Miller said King, who attended Goreville High for a short period, also left a big impression on his classmates and teachers there. He was kind, outgoing and "loved to put on a show for anybody that would watch."
Stafford, the Vienna High superintendent, said all of the boys who died were special people.
Baker and King, he said, were both students who could "walk into a room and be very well received by their peers."
Stafford said it is evident that they touched many lives by the fact that several hundred people came out to the prayer vigil held Sunday evening in the Vienna High gymnasium, despite only having a few hours notice.
"I think one theme I feel like I walk away with myself is that we have an enemy and that enemy is not each other," Stafford said. "And if you see the response of our students, our students know that. There's a lot of division in the world right now, but there's no division in Johnson County right now."
A service honoring the life of King is scheduled for Wednesday at 6 p.m. at Fellowship Baptist Church Family Life Center, with visitation hours from 3 to 6 p.m. Graveside visitation for Baker will be held Friday from 2 to 4 p.m. at Pleasant Ridge Cemetery, also in Vienna, with a service honoring his life to immediately follow. Arrangements for Davidson had not been released as of Monday evening.
Poole said she wanted to express how grateful she is for the outpouring of support to her family during this time, and to remind people to love each other and remember what is important in life. Her son, she said, loved his siblings fiercely, and also life in general. He had a special gift of putting people at ease. "He would walk into a room and it could be so tense and full of anger, but he could bring a smile and it was contagious. He loved to laugh. His laughter was contagious …
"He was the candle that lit up the room."
Stafford said many people have reached out asking how they can support the affected families with monetary donations. While donations are being accepted via places designated by families as customary during funeral arrangements, the Vienna High and Goreville schools are also accepting donations.
Online donors are asked to select JoCoStrong and complete the remaining required information.
618-351-5079
On Twitter: @MollyParkerSI ​