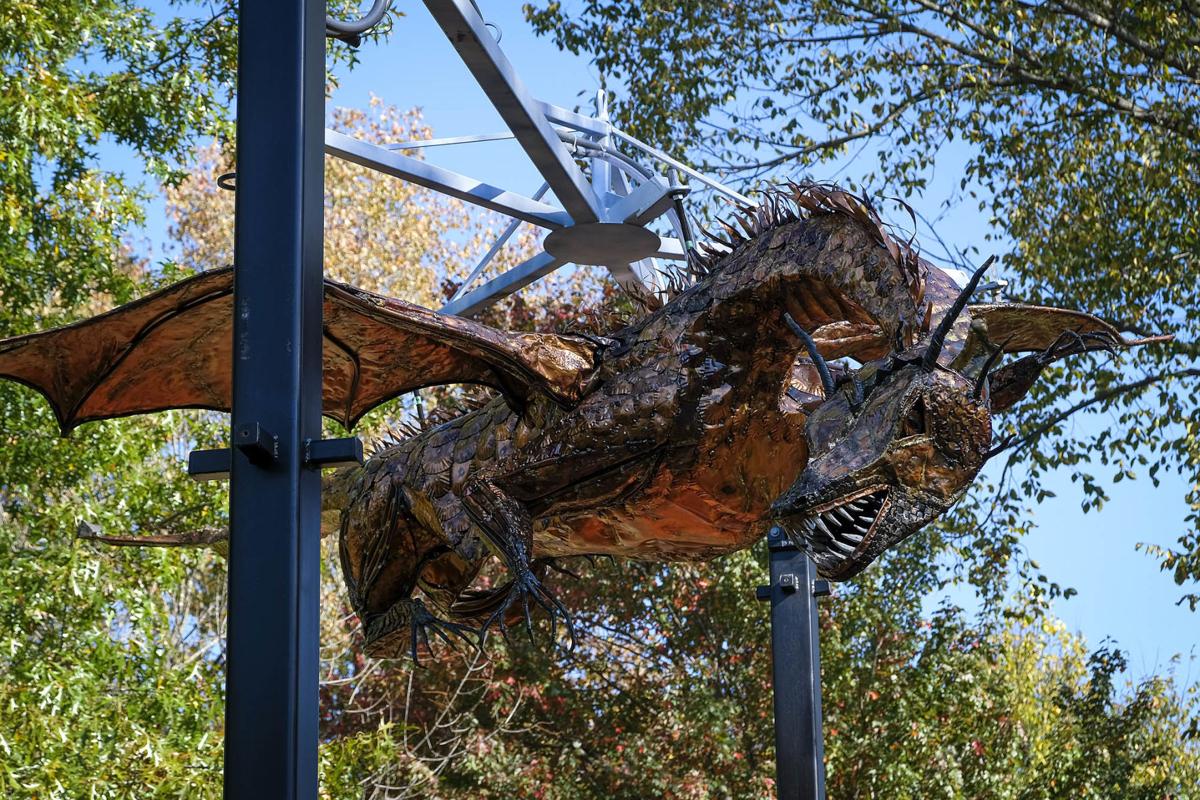 CARBONDALE — Mike Page installed his 18-foot-long, 450-pound dragon sculpture in the Copper Dragon bar more than 20 years ago. Now that it's in its new Carbondale home, he said revisiting the old beast has been a welcome experience.
Page has worked with Barrett Rochman and his family this year to move the dragon from its old home in one of Carbondale's most storied nightspots to Jeremy "Boo" Rochman Memorial Park, also known as "Castle Park," south of town. Rochman built the park for his son, Jeremey "Boo" Rochman, who died in a car accident in 1994 at age 19 and was a big fan of the role-playing game Dungeons & Dragons. The park features a landscape of explorable, fantasy-inspired installations.
The job of moving the sculpture began more than five months ago, when the dragon was removed from the now-closed Copper Dragon and taken to Page's shop, where he reengineered the support system for dragon, making it suitable to be displayed outside.
"It took a little bit of figuring," Page said.
After a wet summer delayed concrete-pouring plans, Page and his team got the dragon installed this month, and they plan to complete the installation before November. The new display has new decorative columns the sculpture sits within, and will have a redesigned smoke machine to blow clouds from its mouth. The dragon also will have new, glowing eyes.
Page said a lot went into the design originally that will make it ideal to be on a playground.
"It was just a matter of making everything as bullet-proof as you can," he said. That was needed in the original design because he said if a drunk customer at Copper Dragon wanted to ride the dragon — which was not permitted — it needed to hold them up.
The installation of the dragon at Castle Park has a special place for Page, also. His son works with him and knew Boo Rochman and "had a connection."
"I kind of revisit that thought and I think the park Barrett made for his son is a great memorial to him," Page said.
Page said he thinks the park is also a huge benefit to local kids, especially as they are kept cooped-up by COVID-19.
"(It's a) really good place for them to exercise fantasy," he said.
When asked where his dragon looks the most menacing, in the dark abyss of Copper Dragon's ceiling or in full sun at a park, Page's answer was the park — you can see more of its ferocious detail now.
"It's a dragon, man, it ain't a puppy dog," he said.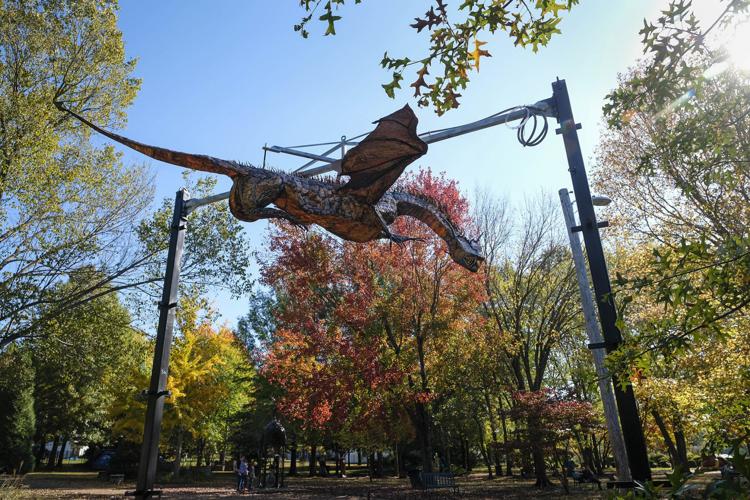 Barrett Rochman said in February that he wanted to be sure the dragon stayed in the area after he found out the Copper Dragon was closing.
"When we knew it would be for sale, we thought we did need the dragon for the park. It shouldn't leave Carbondale," Rochman said in February.
For his piece, Rochman said the installation of this dragon is significant.
"It feels like it finally completed the park," he said. The work has been ongoing there for 15 years, he said.
The Jeremy "Boo" Rochman Memorial Park is at 31 Homewood Drive in Carbondale.
---
Photos: Castle Park is a magical memorial in Carbondale
Photos: Castle Park is a magical memorial in Carbondale
Children are instantly transported to a fantasy world upon entering Jeremy "Boo" Rochman Memorial Park, also called "Castle Park." Adults are mesmerized by the life-size art of varying mediums. Locals know it's a must-visit place for out-of-town guests.
The idea for the park came about after Jeremy died on Aug. 22, 1993, at the age of 19, in a car crash. The Tolkien-themed park is modeled after a role playing game Jeremy enjoyed, and opened to the public in 2005. 
Jeremy Rochman's father, Barrett Rochman, hired sculptors, carvers, painters as well as SIU art students to help create the fantasy park including stairs and parapets which are defensive walls. 
The park is at 31 Homewood Drive in Carbondale. 
618-351-5823
On Twitter: @ismithreports
Get local news delivered to your inbox!
Subscribe to our Daily Headlines newsletter.